Katja is a GardenFork fan who is now a contributor to GardenFork, she lives in The Netherlands with her Chocolate Labrador!
Bear with me people, this is my first attempt at blogging, I'm sure it will be a learning curve although I have written several short stories for a course in creative writing.
I'll start with a little info about myself to provide some context to this ambition of writing a blog about good dog food and treats you can make yourself.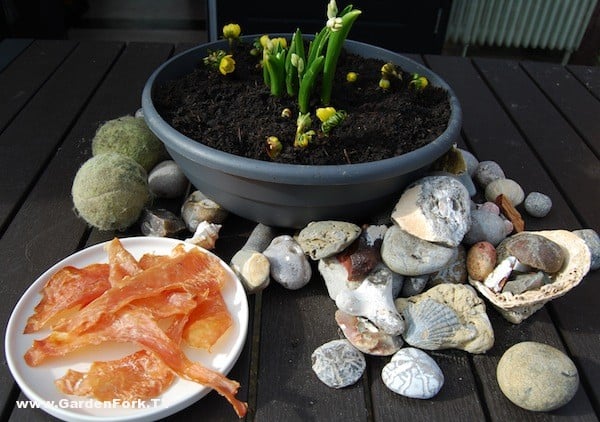 I am a cook by trade, not working as such anymore but I have a great curiosity about learning how to do things myself and to provide good nutritious food for my family and of course that includes my 4 ½ month old Chocolate Labrador puppy, Roisin ( Roshi for short )
Things have changed drastically since we started out with dogs 17 years ago, ideas about good dog food and how it should be prepared have changed and there are all kinds of ideas floating around on the Net these days.
You can feed your dog kibble, prepare EVERYTHING yourself, only give him/her raw meat
–I know a person who does that- anything is possible.
At the moment my little one is on 4 square meals a day and will be for a couple months yet.
Most of what she eats is self prepared, it takes only minutes to put a few ingredients together and simmer them for half an hour. This mixture of meat, vegetables and brown rice will keep for a couple days in the fridge and is supplemented with a good quality dog kibble and a few spoons of Greek yoghurt.
But, today I want to tell you about Dog Jerky, easy to make, cheaper than the hideously expensive stuff you can buy in pet stores and not unimportant, seriously low in calories.
Dog Jerky
Preparation time: About 20-30 minutes
Oven time: About 2 hours
Boneless skinless chicken breast or turkey breast fillets
Oven rack
Grease proof paper sized to cover the oven rack slitted a few times to allow for air circulation
Plastic wrap
Sharp knife
A rolling pin, a glass with a flat bottom, a meat tenderizer any of these will do
-I use a pound of chicken breast because I can fit this in my oven, if you have a smaller oven use less or use two racks and swap them top to bottom halfway during the cooking-
Cover the rack with grease proof paper. Preheat your oven at 200 F or 100 C
Slice the meat along the grain just like 'real' jerky and make the slice about quarter of an inch thick. If you can slice them thinly to about one eight inch thick you can skip the 'poundin' bit.
Place a couple of these slices between double thickness plastic wrap but keep in mind they will spread so allow enough room for that.
Flatten the meat evenly to about one eight inch thick by firmly but carefully tapping with the glass, hammer or rolling pin.
You want a more or less even thickness so the meat will dry as evenly as possible.
It needs to be thinned but not paper thin.
Transfer the meat slices to the greaseproof paper, they can be quite close but must not overlap.
Place the rack in the middle of the oven and set the timer for an hour.
Check, maybe swap racks around and set the timer for another hour.
Your jerky should be a nice dark golden colour and will smell like roast chicken. If there are lighter thicker areas give the jerky another 20 to 30 minutes, not much more or it will crisp.
Let the jerky cool before bagging or transferring to an airtight container.
It will keep in the fridge for 3 weeks or 8 months in the freezer.
Baking chicken like this will cook it through and destroy bacteria that might cause food poisoning.
Always be very careful with raw poultry meat!
Recipe adapted from one at www.dogtreatkitchen.com
Many thanks to them, Roshi adores this jerky and has to be warned fingers are NOT jerky every time she gets a piece.
Category: Articles, Cooking - Recipes, Dog Stories