Plans for a simple cheap cold frame hoop house in this GardenFork video. Using the cold frame as a cheap greenhouse allows you to harvest greens later into the fall, and start your vegetable seedlings in winter. Follow these cold frame plans, using recycled lumber and PVC pipe will make this a free hoop house. We use 3 mil plastic from the hardware store, you can also use greenhouse UV rated plastic.
Click here to buy the thermal greenhouse vents. Depending on your local weather, you may have to use two thermal activated vents, one on each end of the hoop house greenhouse. The vents open up at about 50F and close around 35F, pretty neat to use.
We use the thermal vents because a hoop house greenhouse can get real hot in the middle of the day. Solar power is pretty powerful. The vents open up and allow the hot air to vent out. If one does not use some sort of vent, you will have to go out on mornings where it will be sunny and prop open the hoop house, and then remember to go back out and close the hoop house greenhouse at then end of the day. I'm all about simple, and the automatic heat vent makes my life simple.
Our cold frame hoop house greenhouse is based on those built by Eliot Coleman in his book, Four-Season Harvest. Click here to purchase book.

and if you follow the procedures outlined by Elliot in his book, you can harvest food all winter. nice.
A cool thing with the hoop house cold frame greenhouse is how it can warm the soil in late winter, watch this video we made about winter seed starting with our cold frame here.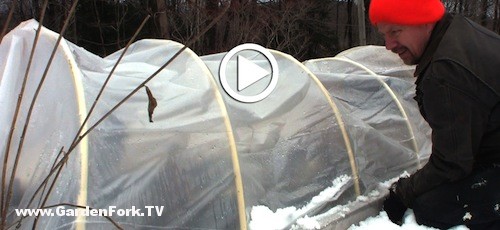 Click here to watch How To Set Up a Hoop House GreenHouse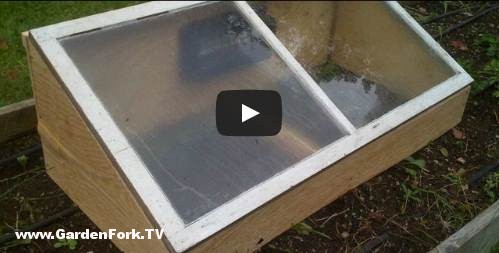 Click here to watch How to build a cold frame video.
Do you use a cold frame? have you built one? let us know below: