As the temperature drops here and we move into fall, what do I start thinking about? Outdoor shower plans, of course. Here are some photos of an outdoor shower a friend of mine built at his house.
(also see the neat DIY wood stove tile floor protector they built, link at end of this post)
The walls are slatted cedar I believe, which you can buy, or perhaps salvage from someone residing their old house. The floor is a few flat stones found in the woods. The shower valves are simple to assemble. you may be able to find a utility sink valve setup that may work, or just solder two valves with a T for the shower head. I would not use PVC or PEX for this.
Most important is that the outdoor shower has cut off valves inside the house where you can turn off the flow of water to the outside shower and drain the water that is in the shower pipes. If you don't drain the pipes, the water will freeze and burst the pipes. Not a good thing.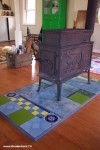 See the neat DIY wood stove floor protector here.