Learn today how to make a potato cannon, aka spud gun or potato bazooka. Build this cannon with PVC and hand tools, let it dry overnight, and you are good to go.
"My husband must never know of this" is the best comment I've had on the Bazooka video.
Use the information at your own risk, OK? Be very careful, if you are not an adult,  have an adult around to make sure everything is done safely. Wear safety googles and ear protection and never point this at anyone or anything.
A big thanks for William Gurstelle for writing his book "Backyard Ballistics"
Mr Gurstelle is the author of some really cool books:

There is a new kind of PVC pipe on the market now that you CANNOT use for this project. It is not solid PVC, it has a foam core, and will break if you try to use it. Don't. You want to use Schedule 40 solid PVC pipe.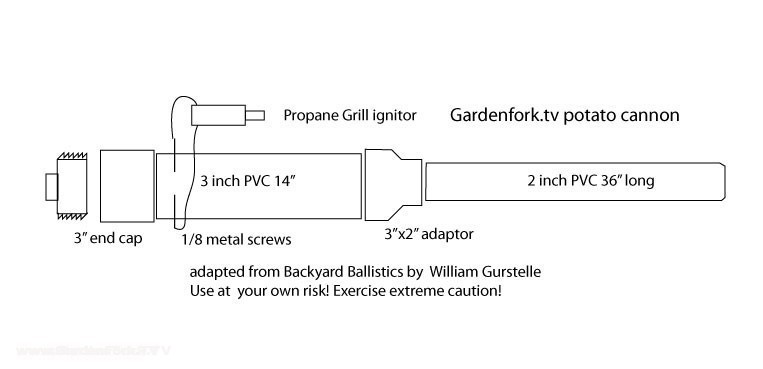 Here is a drawing of the potato cannon we made. Its based on Mr Gurstelle's plan, there are other designs on the web. I like Mr Gurstele's book because you learn about physics and make cool stuff. Be sure to let the assembled potato cannon dry completely overnight before use.
I've gotten a few queries about the ignitor and a few compliments as well - not often that happens. Some people have not been able to get the ignitor to spark in the tube. I started with the ignitor screws almost touching, and making sure it sparked, then I slowly backed the screws away from each other to the widest point where I had a spark.
If the ignitor stops working after a bit of use, clean the two spark screws, they can get coated with hair spray.
Another viewer suggested using brass screws, which conduct electricity better. This is a good idea. Its also important that the connection from the ignitor wires to the screws is a good one. I used crimp on connectors, maybe you could solder them as well.