A new Squash Vine Borer treatment to control Squash Vine Borers and keep them from eating your squash plants. Squash Borers live inside your squash plant and eat the plant from the inside out until you have a dead squash plant. Are your Zucchini plants dying? Summer Squash too? The culprit is likely the borer. Here's a video how to on a new squash vine borer treatment that uses Bt.
Many times I hear of people who walk into their vegetable garden and find all their squash plants wilting and yellowing. Check the base of the stem, where it enters the soil. If you see this orange frass that looks like wet sawdust like in the photo below, you have squash vine borers in your plants. If left untreated, there's a good chance you will lose the squash.
How this squash vine borer treatment works
In this video we are using Bt, Bacillus thuringiensis var kurstaki . This is a naturally occurring organism that, once it enters the gut of the borer, causes it to stop eating. Bt is considered an organic treatment, allowed by the OMRI ( Organic Materials Review Institute )
The adult moth of the borer lays its eggs in the soil at the base of the squash plant, then the eggs hatch and the borer chews a hole in your squash plant, enters the stem and starts eating. The Bt is injected into the stem of the squash plant at several intervals. The goal here is to get the borer to ingest some of the Bt, so you want to inject the Bt in front of where the borer is currently chewing. Watch the video for how to do this.
This Bt is not to be confused with GMO BT, which has been genetically spliced into plants. This is a naturally occurring organism that we are harnessing to kill caterpillars. Below are our other videos on how to prevent squash vine borers, let us know any suggestions or comments below: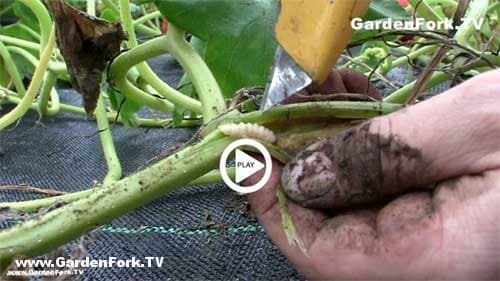 Squash Vine Borer Treatment method #2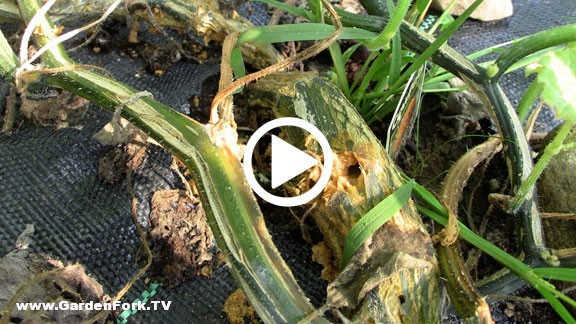 Squash Vine Borer Prevention and Treatment method #1

Check out our Squash Recipes Here