The best grilled cheese recipe I've ever made. Inspired by a BuzzFeed video, I had to make our version of this grilled cheese. It tastes wow.

Childhood memory of slices of process american cheese, unwrapped from the plastic, laid on top of white bread, and put in the toaster oven. I'm thinking processed slices of cheese like that were made for grilled cheese. I did not move on to grilled cheese recipes that used two pieces of bread for awhile. Then in college I discovered you could add ingredients into the grilled cheese. First came tomatoes.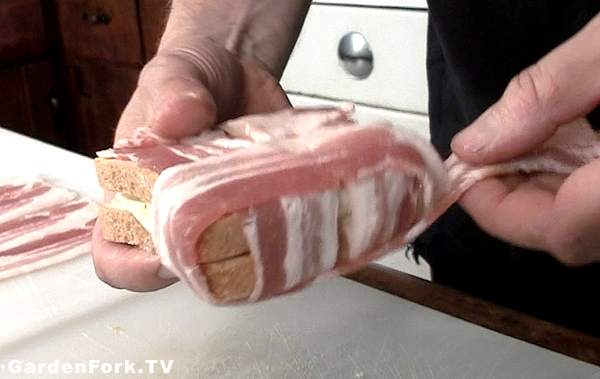 That sandwich was in the dorm cafeteria at college. Friday was chili and grilled cheese. Its still a great Friday sandwich now.
Some thoughts on this Grilled Cheese Recipe
I made this and it was instantly my favorite sandwich recipe. You can't eat this everyday, but you can make it in about 10 minutes. Plus it smells great in the kitchen while making it. And the dogs become very attentive during the whole process, not leaving the kitchen.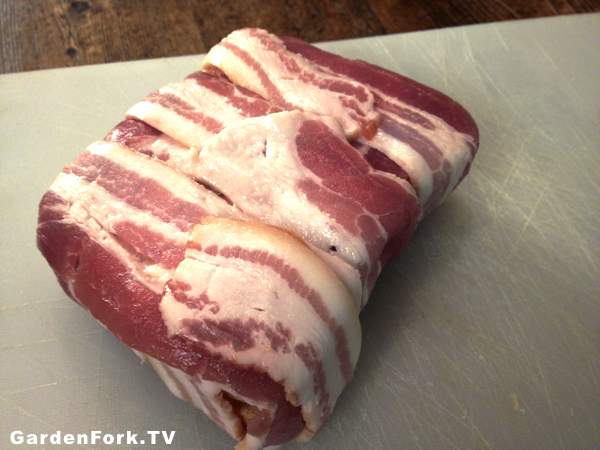 I found that square bread did better, as did thicker bread. Probably the best bread would be a thick potato bread, but I couldn't find any, so we went with a sturdy white bread and cut it into a square.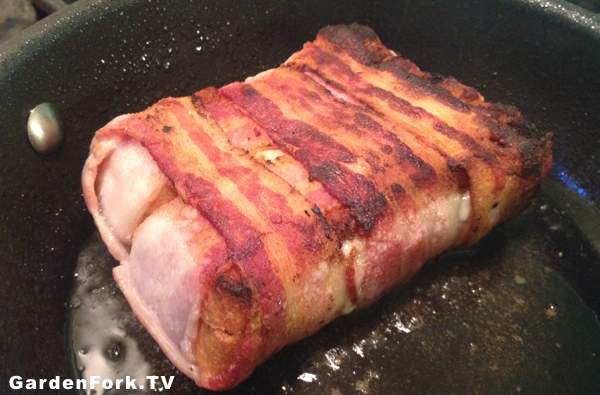 For cheese I used a grocery store sharp cheddar. You can argue all day about the best cheese to use in a grilled cheese sandwich, but to keep it simple, we used cheddar. I have seen recipes where they grate the cheese over the bread, I used slices. Works for me.
The bread was not buttered or oiled. The bacon takes care of that plenty well. What was surprising was the bacon grilled cheese was not very greasy. You do not have to completely cover the bread with the bacon wrapping. You do have to hold the sandwich on its side to cook the side bacon. Important.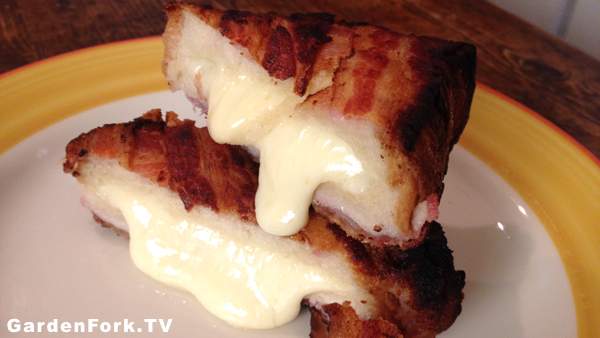 Thanks to BuzzFeed for the inspiration.
Bacon Wrapped Grilled Cheese Recipe - GF Video
Author:
Prep time:
Cook time:
Total time:
A grilled cheese recipe better than any other I have found.
Ingredients
2 slices thick white bread
4 slices cheddar cheese
6 slices bacon
Instructions
Square off the bread slices
Insert the cheese between the bread
Wrap bacon slices around the bread. Wrap one direction, then turn sandwich 90 degrees and wrap again.
Cook in a fry pan on medium heat, use tongs to hold the sandwich on its sides to cook bacon wrapped there.
Crisper bacon yields a better sandwich.