This batter bread sandwich loaf recipe is similar to the no knead bread recipe we have done, but its even easier. Plus it makes a sandwich loaf bread, which is a lot easier to use for making sandwiches than artisan bread.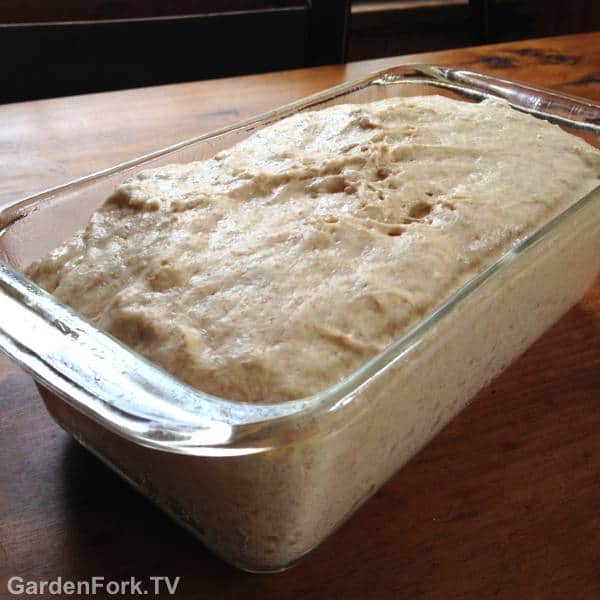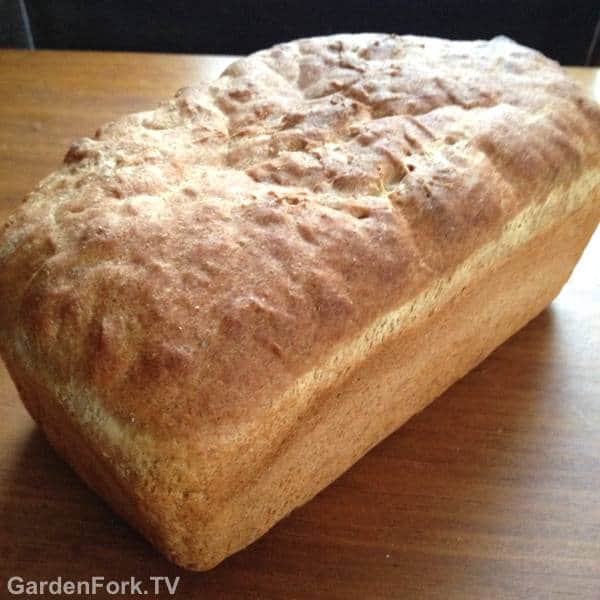 Batter Breads have been around for a long time, but recent recipes by Fleischmann's and Cooks Illustrated have offered some improvements, our recipe is adapted from them.
1 ½ cups bread flour   9 ozs  260 grams
¾ cup whole wheat flour   3.4 ozs  96 grams
1 packet or 2 ¼ teaspoons active dry yeast
1 ¼ cups hot water 10 ozs  283 grams
1 tablespoon honey
2 tablespoons melted butter
1 teaspoon salt
2 tablespoons hot water
1 egg optional egg wash before baking
2 tablespoons wheat germ or bran optional
Add the bread flour, whole wheat flour and yeast into a standing mixer with a dough mixer blade attached. Put in the wheat germ/bran if you want to use it.
Mix in standing mixer for one minute on low speed.
Add in the melted butter,  honey, and 1 ¼ cups hot water, not boiling, just 100 - 120F hot, OK?
Then mix the batter for 4 minutes on medium speed. If the dough sticks to the sides too much, stop halfway through and scrape down the sides.
Be careful about putting the spatula in the mixer bowl while it is running. Learn from me.
Detach the dough blade from the mixer and remove it and the bowl from the mixer. Scrape the dough off the dough blade, but let the blade sit in the dough in the bowl.
Cover the bowl and blade with a towel. Let rise for 20 minutes in a warm place. I use the oven that I have preheated for a few minutes. A warm furnace room, or a hot sunny window works also.
Put the mixer bowl back on the mixer. Dissolve the salt into the 2 tablespoons of warm water then add to bowl of dough, mix on low speed to incorporate.
Use vegetable oil spray to coat a 8 ½  x 4  ½  loaf pan. This is the more narrow kind of loaf pan, it will give a higher rise.
Pour the bread dough into the loaf pan.
Cover the pan with plastic wrap that has been sprayed with oil. When the dough has risen to just below the lip of the loaf pan, remove the plastic wrap and let the dough rise to just above the rim of the loaf pan.
Optional: you can glaze the dough with an egg wash at this point. Scramble the one egg and apply lightly.
Bake in a 375F oven  for about 45 minutes, when the internal temp of the loaf is about 208 - 210 degrees, its done.
After putting on a cooling rack, unwrap the end of a stick of butter and rub it over the top of the loaf to give it a sheen and more flavor.