This post may contain affiliate links, it helps us pay the bills, more info here.
The best cast iron seasoning instructions, hands down. First watch the video, then read more about our easy step by step process to restore cast iron.
At the end of this article are links to how to remove rust from cast iron and how to remove the seasoning from cast iron, where to buy cast iron, and cast iron videos.
So you have a brand-new cast iron pan you just bought or you have an older pan that you just strip the seasoning off of. I ruined the seasoning of one of my pans awhile back, and is one of the reasons I created this cast iron seasoning and care video series. While we show a skillet, this process works for how to season a cast iron dutch oven or griddle as well.
Our cast iron seasoning instructions are based on a blog post by Sheryl Canter, who did a lot of research into this and saved us all from having to do that same research. The secret to cast iron seasoning is you want use an oil that is called a drying oil. When drying oils are applied to a surface like cast iron and heated, the oil goes through what's called polymerization. The best edible drying oil is Flax oil. You have to buy this in the health food section of a food store and it has to be kept refrigerated, as it can go rancid fairly quickly. Flax oil is the food grade version of linseed oil,  I would not suggest you use linseed oil to season your cast iron pan.
But a more affordable and easier to find oil that works well is Sunflower Oil. I have found its great. And if you can't find any of these oils, regular old vegetable oil or Crisco does just fine.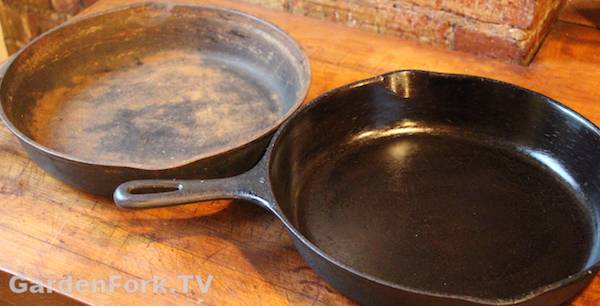 For this cast iron seasoning method, the more oil application and heating cycles you do, the better the seasoning. Our cast iron seasoning instructions are based on Sheryl's, I modified it a bit. This process is for new pans, or pans that have had all the previous seasoning removed, watch our video here for how to remove cast iron seasoning.
Cast Iron Seasoning Instructions
On the stove top, heat up the cast iron pan. This makes sure the pan is dry and opens up the pores of the metal a bit.
Add in a tablespoon or two of oil into the pan. Use a paper towel to coat the whole pan, inside and out, with the flax oil.
Grab a new paper towel, and wipe out excess oil. You only want a thin film of flax oil in the pan. No drips or globs of oil.
Turn the oven to 500F and place the pan - you can do more than one, stack them if you want- into the oven.
Heat for one hour, turn off the oven, allow the pan to cool.
Repeat the oil coating and heating 2-3-4-6 times. Whatever works for you.
The more you do this initial seasoning, the better the pan will be.
The cast iron seasoning process puts out a bit of smoke, so I'd suggest using your outdoor gas grill. Turn the grill burners on high, close the lid to heat it up, put in the pans. My gas grill will not get to 500F, but it got close, and that worked well for me.
I oiled and heated one of my pans 4 times and it looked great, more and it is even better.
I think new cast iron is just as good as old cast iron, but there are many arguments about that. You can get good cast iron on amazon here. This post may contain affiliate links which won't change your price but I earn a commission from. Thx!

Soap On Cast Iron? Video               Remove Old Seasoning From Cast Iron Video

Remove Rust From Cast Iron Video       Cast Iron Skillet Cornbread Recipe Video