How To Make Rice Pudding Recipe Video. I love rice pudding, here I show you how to make rice pudding in the oven. There is also a stove top rice pudding recipe, which we will show you soon. Rice pudding is a comfort food, it reminds me of diners and maple syrup. Plus rice pudding is super easy to make, even I can make it .
Many people make a bouron sauce for rice pudding, but I prefer honey or maple syrup. I'm not big on the bourbon sauce, I find it too sweet and boozey.
Plus this is another use what you got recipe, in that you can put in nutmeg or cinnamon or a combo of both. At the local diner, they sprinkle the cinnamon over the dish of rice pudding just before baking it rather than mixing it into the batter.
Other additions that I've seen are chopped apple, lemon or orange zest, dates, currants, and other dried fruit. Try some stuff in your cupboard and let us know what works for you in the comments below.
In testing for doneness, its eye of the beholder, some people like pudding firm, and others like it more loose pudding like. I think a lot of it depends on what you ate as a kid. I remember a lot of Jello pudding as a kid, so i tend toward the firm side of puddings.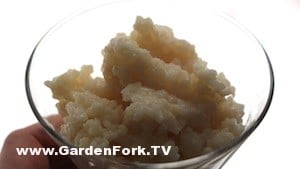 Best Rice Pudding Recipe
Ingredients
• 2 cups cooked rice, long, short, or brown
• 1 ½ cups milk
• 4 eggs
• ⅓ cup sugar
• 1 teaspoon vanilla
• 1 teaspoon salt
• 1 teaspoon cinnamon or nutmeg
• ½ cup walnuts or raisins ( optional)
Cooking Directions
1. Preheat Oven to 325F
2. Mix together everything but the rice.
3. After the eggs are well mixed, add in the rice.
4. Pour the batter into a greased 8x8 or 9x9 dish
5. Bake for 25-30 minutes
6. Pudding is done when its the consistency that you like pudding, some like it firm, some like it jiggly.
7. I prefer to serve warm with honey or maple syrup.