After a year, one of our birdhouses we made from a birdhouse kit had been chewed open by the squirrels to the point where the entrance hole was too large for most birds. The cavity nesting birds we attract to the yard are mainly Chickadees and Nuthatches. In addition to having several kit birdhouses, we also have made several birdhouses, click here to watch out how to build a birdhouse video and get free birdhouse plans.
I've seen number of yards with wooden birdhouses made from kits or birdhouse plans that have had the entrance holes chewed apart by squirrels, and somewhere I saw this simple solution for repairing the birdhouses.
Here I've used piece of metal roof flashing, which you can buy a small roll of, to cover the enlarged entrance hole. You could also use some leftover sheet metal, or even a flattened out piece of aluminum from a soda can.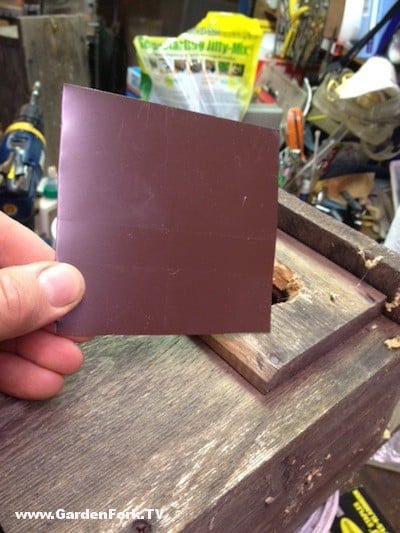 Most smaller cavity nesting birds will use a birdhouse with a 1 ⅜ diameter entrance hole, so I happened to have a hole saw that diameter.
I cut the sheet metal to overlap the existing birdhouse entrance hole, and nailed it onto the front of the birdhouse. I then drilled out the sheetmetal hole. I used drill press, but you can do this with a hand drill as well.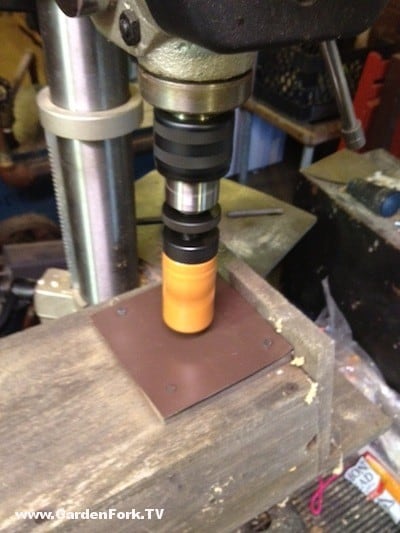 While you are doing this repair, check to see if there is any screening on the inside of the front wall of the birdhouse. The young birds need to be able to climb up the side of the wall of the birdhouse to get out of the nest. I put some leftover hardware cloth on the inside of the front of the birdhouse, extending down from the entrance hole to the floor of the birdhouse, to make a climbing wall for the young birds to get out.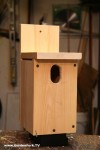 Here is a video on how to build a birdhouse