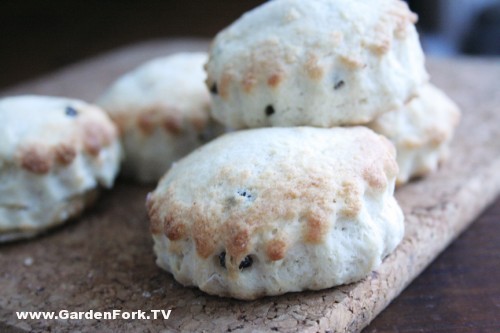 Who doesn't enjoy a hot a flaky, buttery scone with jam? This recipe uses orange essence to complement the tart flavor that the buttermilk lends to this British party. Much like a good southern biscuit, it's important not to overwork this dough. It's best eaten within a few hours after baking. Frankly I don't know what they're like the next day, there's never anything left
Yield: about 12 to 14 biscuits (not sure, I keep eating the dough)
2 cups all purpose unbleached all-purpose flour
1 ½ tablespoon baking powder
3 tablespoon sugar
½ teaspoon salt
½ cup unsalted butter, chilled and cubed
½ cup dried currants or small golden raisins
½ cup melted butter
Orange Slurry: Mix these together and chill
2 teaspoon orange blossom water, or ½ teaspoon orange essence
¾ buttermilk
¼ cup ricotta cheese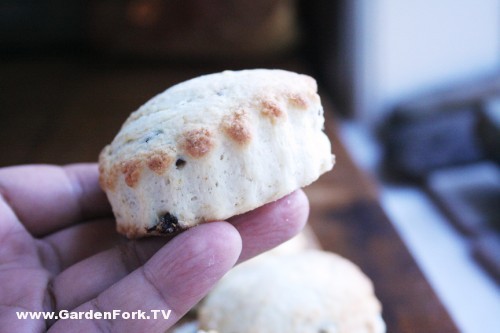 In a large bowl whisk flour and dry ingredients together, except for currents. Add chilled butter cubes to bowl and coat them well with the flour mixture, use your hands to break up clumps. Then incorporate using a pastry cutter until the texture resembles gravel and sand. If you use a food processor, pulse until you get the gravel and sand texture. Add chilled orange slurry. With a rubber spatula add currents a tablespoon at a time and mix to form a loose dough. Transfer dough to lightly floured board and knead a few times but do not over work. Refrigerate and let dough rest for 20 minutes.
Preheat oven to 450°. On lightly floured surface roll dough into a circle that is ¾"to 1" in thickness. With a long knife or a pastry scraper divide into 8 pie-cut wedges. Note that cutting method is important. You must push straight down without a dragging the knite to create a clean edge. This type of edge allows the scone to rise on the cut side. Brush tops with melted butter and bake for 12 to 15 minutes, or until tops brown and scones have risen.
USING A BISCUIT CUTTER:
Roll out a large rectangle that is ¾" thick. Dust biscuit cutter with flour and push straight down into dough. Dust biscuit cutter after five cuts to maintain a clean edge. Cut biscuits closely, and separate from the outer areas minding the cut edges. Transfer to a cool ungreased baking sheet. Roll leftover dough into a sheet and punch more biscuits. Carefully brush tops with meted butter and bake. Note that round shaped cutters (fluted or straight) create a biscuit that rises straight up. Angular or long oval shapes tend to create a loaf shapes as the rising point is more at the center.
If you're making a whole mess of scones keep the dough refrigerated until you're ready to cut. You can make the dough in advance and freeze it for use later. Just let it thaw over night in the refrigerator and roll it out when you're ready to cut and bake.