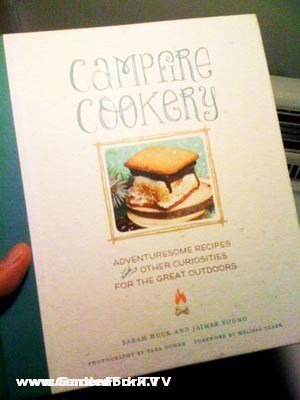 The publishers of Campfire Cookery were nice enough to send us a copy of Campfire Cookery: Adventuresome Recipes and Other Curiosities for the Great Outdoors

, by Sarah Huck and Jaimee Young, to give away to the GardenFork audience.
The book is full of recipes that you can cook outdoors, either in your backyard or your backwoods campfire. It also includes campfire songs, stargazing, foraging, and other fun stuff to do outside. read our foraging articles here Its more than just a cookbook, its an outdoor adventure how-to.
How to enter the giveaway: Giveaway is closed!
Post a comment on this page, telling us your favorite campfire recipe, tips, or recollection of past campfires. That's it, you're entered into the giveaway. You can leave one comment everyday. Each comment is one point. Giveaway ends November 23rd, 2011 at midnight.
To increase your chances of winning the book giveaway, you can do each of the 4 following things, for one additional point each:
Follow GardenFork on Twitter
Like GardenFork on Facebook
Twitter. this giveaway on Twitter
[SFBSB button="button" style="float:left;"] . this giveaway on Facebook
Leave a comment below to enter and lets here your campfire stories!