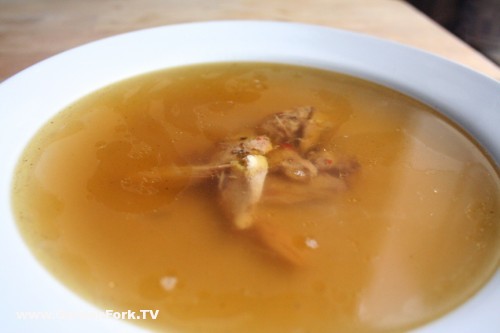 Eric and I stopped into Naruto Ramen ( Park Slope, Brooklyn ) the other day for lunch. We were in awe of the oil-drum size stock pot they use for making their soup base (the scallion cutting machine is equally impressive). It was simmering with whole onions, Napa cabbage, peeled ginger root, kelp, pork and chicken bones — all that good stuff. The ramen lunch with gyoza was excellent.
Stock and broth differ in that a stock uses both bones and meat. I prefer to make my own. I know what's in it, especially the amount of salt. It's a healthy, good use of bone, meat and vegetable scraps (mushroom stems, tops of peppers and carrots,  peelings, leek roots... etc.). Onions skins give it a warmer golden color than turmeric. As I cook I store everything into a large bag that I keep in the freezer. I use just about any vegetable except for squash, potatoes and yams. They tend to make the broth cloudy and starchy. A good soup stock isn't hard to make, but it takes a watchful eye.
You'll Need:
2 12 quart stock pots
1 large colander
large mesh strainers, medium and fine mesh grades
large wooden spoon
10 quarts of water
1 lb of chicken scraps, skins and bones
1 lb vegetable scraps
3 tbs of sea salt
2 tbs unrefined sugar
1 whole fresh onion, peels and all
8 cloves of garlic, whole and crushed
1 tbs black pepper corns
scant sage and thyme to taste
peel from one orange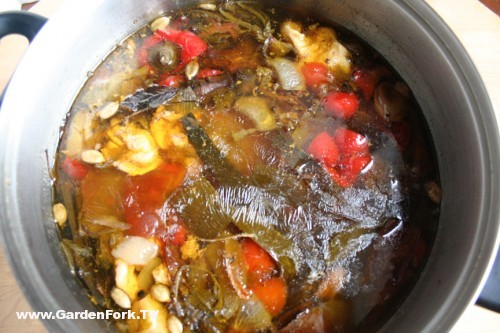 Step 1: Bring a large stock pot of water to a fast boil and add salt and sugar. Add bones, meat and vegetables, then lower heat to simmer. Make sure that your contents are 2" below the rim — remove water if needed. Add all herbs and spices. Cover and simmer for about 4 hours (or longer) on a low-medium flame. Stir occasionally. You'll know it's done when the broth has clarified and a silky layer of fat has risen to the top of the pot.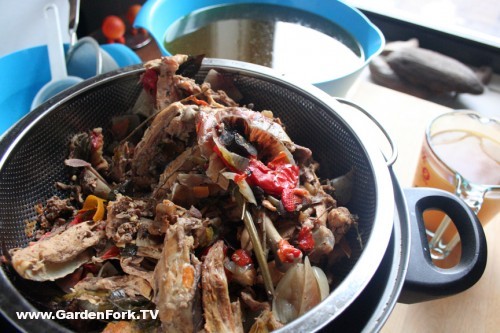 Step 2: You'll need another stock pot of equal volume. Remove  stock pot from heat and let it cool for about 30 minutes. Set up another large pot with a large colander and pour the hot stock through. Clean any residue from the first stock pot and set up a large medium grade mesh strainer. Pour the stock through. Clean residue from the other stock pot , set up and a fine grade mesh strainer and pour stock through once more. Discard all stock solids as you sieve.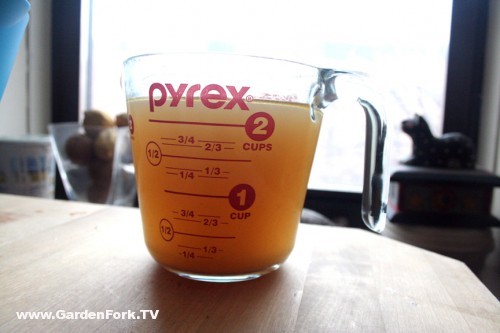 Step 3: Your stock should be translucent and golden. Finally, simmer the stock once more for another hour, or until it reduces to 90% of volume. Salt to taste. Let it cool and store away in containers. Stock freezes well in air-tight containers — you can keep it frozen for up to four months.
Vegetable Stock
To make a vegetable stock, follow the same instructions but use twice the amount of vegetables. Before you simmer brown everything first. Coat vegetables evenly with one cup of olive oil and roast them in the oven on a baking sheet.
Seafood Stock
If you're making a seafood stock wrap everything in gauze — fish heads, tails, fins, skin, bones, shrimp and lobster shells. Fine bones and shells break down easily and tend to get gritty when they simmer. For this kind of a stock I would sieve everything through a gauze lined colander to catch any sediment.