Here's a Halloween Treats Recipe for those of you who want to go the DIY way and make their own treats for the trick or treaters.
As you know I love chocolate almost in any form, and I was watching Jacque Pepin's TV show More Fast Food My Way and he did a quick little recipe for these DIY Halloween treats, he called them Chocolate Rochers, similar to my last name. Very simply just melted chocolate with a couple different crunchy items dropped onto parchment. They were brilliant, really simple and I thought that's a GardenFork Halloween treat if I ever saw one. Click Here to buy Jacques Pépin's Book More Fast Food My Way
Our Halloween Treats Recipe is based on his, pretty straightforward. Taking crunchy items like Rice Crispies, Cornflakes, toasted almonds, you could also use toasted hazelnuts or toasted walnuts. It's really what do you like, if it's crunchy and goes good with chocolate, it probably works. I'm a big fan of peanuts as well, you could have peanuts that you toasted in the fry pan.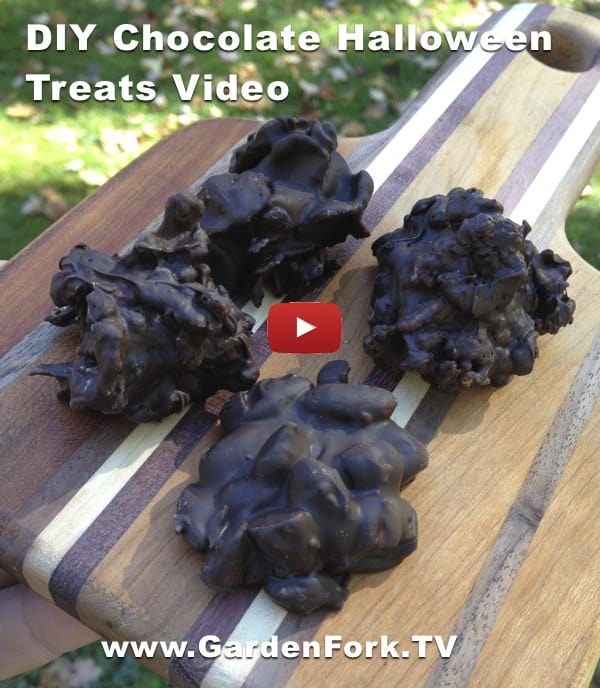 As far as what kind of chocolate to use for the chocolate Halloween treats, we were using semi sweet baking chocolate which I preferred or a big bar of Hershey's dark chocolate, both of which you can buy at almost any grocery store. Experiment and buy a couple different ones and see what you like.
Be very careful when melting the chocolate! You can melt it in the microwave with short pulses of about 30 seconds and you wait a minute or two and then zap it for another 30 seconds. I found that a simple homemade double boiler works fine for mem. A small saucepan pan with about an inch of water in it, a metal bowl on top works very well as a double boiler.
So there you go, our version of a DIY Chocolate Halloween Treat. What is your favorite kind of halloween treat that you can make? I would love to hear in the comments below, it's great to hear from you all.
Chocolate Crunchers, a DIY Halloween Treats Recipe
1 box of semi sweet baking chocolate or whatever chocolate you like.
2 cups of Rice Crispies, Corn Flakes, roasted nuts such as almonds, walnuts, hazelnuts.
In a double boiler, break up the chocolate bar into pieces and melt the chocolate. Do not over-melt it, you want it such that it is thick.
Take the bowl off the boiling water and add in the chosen ingredient(s). Be careful as the bowl is hot.
If you are working with kids, scrape the melted chocolate into another bowl.
How much of the crunchy ingredients is up to you. I prefer most of the nuts be covered in chocolate.
Drop tablespoon sized amounts of the melted chocolate onto parchment paper and let the chocolate cool.