Not your bland banana bread recipe, this one has a few twists to make banana bread stand on its own. Too often, banana bread is this dense wet slice of cake that is overpriced in the artisanal cafe. Not this one. Watch the video, the recipe is below.
Banana bread brings up those memories of being raised in the Midwest. You came home from school and your mom had made banana bread. You carved off a big slice and life was good.
My aim here was to make a banana bread that wasn't like that kind of dense stuff that they sell in coffee shops now. I put in a couple of twists that I've been thinking about for a while: first I added whole wheat flour, which I think adds a different flavor definitely in a little bit better structure I think. And I added coconut which I happen to love - if you're not a big coconut band that's okay this banana bread recipe taste great without coconut.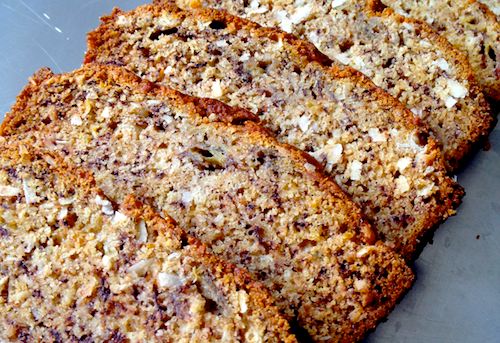 Source your bananas from the discount rack at your grocery store. Somewhere in the produce section in the far corner is probably a rack of vegetables and fruits that have been discounted because they might have some dents or they might be a little brown or have some spots on them, but they're perfectly edible. And they're super cheap! I got this bunch of bananas for $.69 which is a beautiful thing.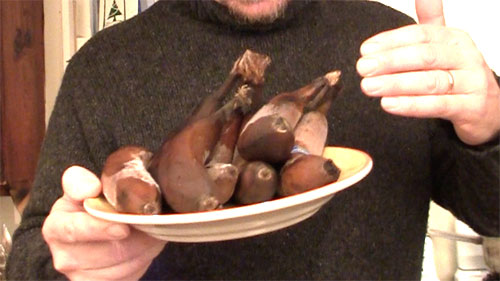 If you want a higher loaf you should use a slightly smaller loaf pan. There is a standard loaf pan which is 9" x 5", but there's also one that they sell that just slightly narrower 8.5" x 4.5" (buy here) and that'll make this pop up a bit more. You could also amp up the baking soda, but the careful if you add too much baking soda it starts to have kind of a chemical taste to it.
What are your banana bread recipe favorites any suggestions you have any thoughts about the recipe or just your memories of banana bread let me know in the comments below thanks.
Coconut Banana Bread Recipe
4 super ripe bananas - ok to use less than super ripe
½ cup Whole Wheat Flour
1 cup all purpose flour
1 ½ teaspoon baking soda
¼ teaspoon salt
½ cup sugar
1 cup sweetened coconut
½ cup (1 stick) melted butter
1 egg, scrambled
¼ cup milk
Mix the dry ingredients together in a bowl.
Add in the wet ingredients, be careful with the butter, its better if its cool, don't want to burn anyone.
Pour into a buttered or oiled loaf pan, I like butter better for this one.
Bake in a 350F oven for about an hour, the sides may smell toasted before the center is done.