Composting! Learn how to compost in this video. What food can you compost? What food should not go in the composter? What kind of bin should I buy or build? Watch the show and let us know your thoughts in the comments below.
To compost in your backyard, you'll need a bin of some sort. You can buy one - here are a few models - or you can build one - here are some GF videos with compost bin plans.
Composting Ingredients
Here is a brief list of things you can compost:
Eggshells
Coffee Grounds
Salad Greens
Corn Cobs
Vegetables
Newspaper, napkins, paper towels
Light cardboard
Stuff you should not compost:
Meat
Foods saturated with oil
Cat Litter and Dog Waste
Cheese & Dairy Products

Most backyard composting takes months to break down, because of the lack of a large biomass, the pile cannot achieve the ideal temps for hot cooking of the material. But this isn't a reason not to do it. Taking food scraps in to the backyard instead of the trash can is a super eco green way to live, and its real easy. There's really no wrong way to do it.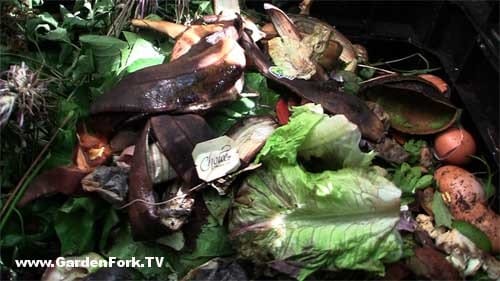 Backyard Composting can be as simple as a pile of leaves and yard waste in the back of the yard, or in a more structured bin, its up to you. Whatever type you go with, be sure to aerate the pile, turning it over on itself, or lifting it up and poking holes in it. The pile needs air to work.
I've found that most of the compost accelerators don't do much more than a good shovel full of manure will. What do you think? Let us know below: