You can cook garlic scapes, who knew? Here is a video I made about how to. Scapes taste great, and are easy to cook.
Why Cook Garlic Scapes?
To me, garlic scapes are free food. You are growing the plant for the bulb, but up come these curled stems with immature flowers on them. You can cook garlic scapes as you would scallions, but they also make a great pesto. Be aware, its a powerful pesto, maybe you want to add in some parsley too.
When growing garlic, you want all the energy the plant creates to go in to growing the bulb, so the scape is something farmers want to get rid of. Thankfully, scapes taste great. If you are harvesting scapes in your own garden, keep a few on the plant, they serve as a sign that the plant is ready for harvest. Scapes uncurl and point up when its time to harvest the garlic bulb. (Bet you didn't know that)
If you want to order seed garlic to plant this fall, I suggest Filaree Farm. I've listed a few suggested garlic growing books below as well. Watch our garlic growing videos here.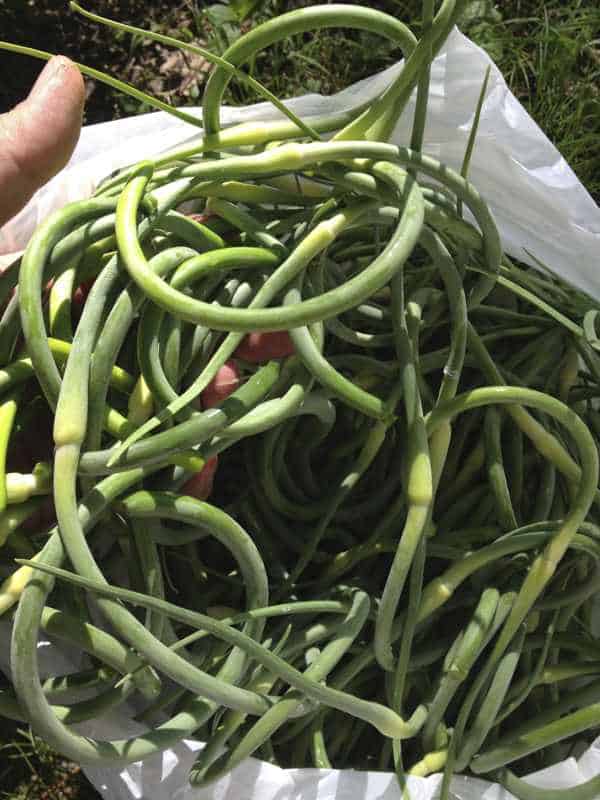 Scapes are like most alliums, they will keep for a while in the fridge, but they get kinda soft. The flip side of that is when you snap off the scape, you don't want to cut it off to far down the stem, or it is too stiff. Kinda like asparagus that way. The most common way of cooking scapes is a simple saute, but the get along well with other foods.
Like we show in the video, I think grilling the scapes is the way to go. Especially if you want to show off the neat taste scapes have by themselves. Salt them after cooking, it works nicely.