This post may contain affiliate links, it helps us pay the bills, more info here.
Deep Fried Twinkies, coated in a Beer Batter Recipe, and rolled in Corn Flakes. wow. There is a long history of deep frying candy bars, snacks, cookies, treats, most anything. From what I know, people who work in fish and chip shops have tried to deep fry all sorts of food. Some foods work, some don't.
But do Deep Fried Twinkies work when Eric makes them with his Corn Flake Beer Batter recipe? Watch and learn here on Gardenfork.tv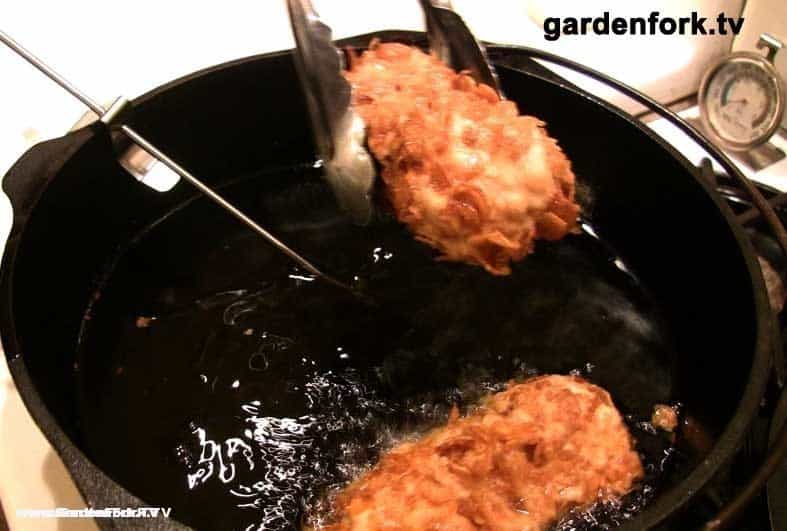 Eric's Corn Flake Beer Batter Deep Fried Twinkie Recipe:
Put your Twinkies in the freezer for at least 4 hours.
Fill a large pot - a cast iron dutch oven works well - with peanut or vegetable oil to a depth of about 2-3 inches.
Heat the oil to 350 F and then turn down the heat to hold the oil at 350 F.
Batter Recipe:
1 ½ cups flour - all purpose, bread, organic, all work -
1 can of inexpensive lager beer - Pabst Blue Ribbon is my favorite
1 egg
approx 3 cups of corn flakes, crumbled to about their original size.
Roll the Twinkie in the beer batter, coat it around all sides.
Now roll the Twinkie in the crumbled corn flakes.
Using tongs, place the coated Twinkie in the deep fryer.
BE CAREFUL! stand back from the oil, as it may spit.
Turn the Twinkie over after about 2-3 minutes, its cooked when its nicely light gold-brown all over.
Drain on paper towels, and allow to cool a bit.
Then eat, and savor.
Have you tried this? let us know below. And tell us your deep fry stories. thanks, eric.