Easy Apple Butter Recipe made in a slow cooker and making your own pectin start our show with Noreen of Noreen's Kitchen video show on YouTube. Noreen tells us how to make your own pectin, though its ok to buy your own. Noreen says if there aren't many apples near you, you can make peach butter too.
Best way to make the apple butter recipe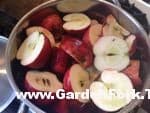 The slow cooker does the best job of making apple butter, both Eric and Noreen agree.
We move onto a peanut butter recipe. Start off with 2 cups of peanuts, salted or unsalted, put them in a food processor. The peanuts will start to release their oil. Add a little stream of peanut oil or other oil, and then add some sugar syrup, Noreen likes cane sugar syrup. Keep the peanut butter in the fridge, pull it out 15 minutes before you want to use it. This is a great recipe for kids to make too, its just like the peanut butter making machine at the health food store. Noreen says you can freeze whole raw peanuts. She keeps most nuts in the freezer to keep them from going bad. She also keeps nuts in vacuum sealer bags.
We move onto making tortillas. Fresh tortillas are not available in many places, so Noreen tells us how to make tortillas based on her tortilla video, which we've place below. Noreen makes flour tortillas, rather than corn tortillas. She rolls them out by hand, and says you can use a tortilla press for corn tortillas.
We talk about the underground food economy of Eric's neighborhood, with the guy who has the cooler of tortillas and tamales on his bike, who sells them on the avenue. Neat.

But making your own flour tortillas is super easy. Noreen prefers to use lard or organic shortening. We both agree lard is good for crusts and tortillas.
Preparing Thanksgiving dinner how to follows. Noreen makes it a stress-free event. The biggest key is making a menu! The need to sit down and plan. And if you have not roasted a turkey before, you might want to start with a chicken. Noreen has several thanksgiving recipes on her YouTube channel here.
Noreen also has several great ebooks, including one on Holiday Cooking Check them out here .