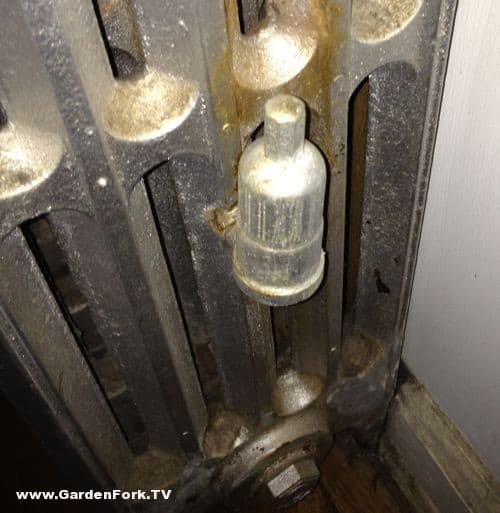 Is your apartment too hot winter? Learn how to fix overheating steam radiators yourself below.
If your radiators are hissing or leaking, its time to replace the radiator vent, aka radiator valve, on your radiators. Radiator valves have a finite life, and its probably been too long since they have been replaced.
Replacing the radiator vent valve with an adjustable valve allows you to control - to a point - how much heat that radiator puts out. This is a great way to balance the radiators in your home, so the radiators heat the house evenly.
This is an easy DIY Home Improvement project for those of you with older homes.
In our current apartment, when the heating season started, we got loud hissing on 3 of the radiators, and this told me it was time to replace the radiator vents. Without going into a dissertation on how steam boiler heating systems work, the radiators have to be able to vent out the air that is in a steam system when the system is cold, to allow the steam coming up from the boiler to enter the radiators.
You may not realize this, but if you have what is generically called a one pipe steam system, you also have steam vents or valves at the end of the steam riser pipes. These valves may be above the ceiling, if the steam riser pipe juts into the ceiling.
My mode of operation is to replace all the steam valves at once, if possible. Steam vents are not cheap, but if you replace them all at once, you solve a lot of problems, i think. Another benefit of replacing all the valves at once is you can balance the vents at the same time. New vents either have specific vent ratings, or are adjustable - in other words, you can adjust how much venting each vent does.
I use the adjustable vents - link to buy them here - they are much better, I think than the pre-set valves.
This is important, as large radiators need to be able to vent more air than smaller radiators, and this helps you attain the goal of steam heat getting to all the radiators at one time. I use radiator vents that are adjustable, they have a small tang that juts out that you move to adjust. Other companies make a series of vents that have different vent ratings, each vent lets out a certain amount of steam.
Your local hardware store will sell radiator vents. I suggest the adjustable ones, and don't cheap out when buying them, you get what you pay for.
Most of life is like that, good things cost money, and these radiator vents are worth it. Many times the steam radiators are wedged behind furniture or whatever, and just getting to the radiator is a pain, so do them all at once and get it done with.
So there you go, a DIY home improvement project that is do-able and will improve your heating system.