Foraging for edible plants in the spring includes looking for edible wild greens like wild garlic, also called spring garlic. This edible wild food is one of the first plants to start growing after the long winter, and is ready for your dinner plate. Wild Garlic looks like a young scallion plant or chives, and is edible. The taste has a slight garlic aroma, but its definitely in the onion taste family. You can find this edible plant growing in lawns and forest edges. Many consider it a weed, however we think it a great addition to salads or meals.
Be Safe In Your Foraging!
Double check with a good plant identification book! At the end of the post are some books we suggest. Always be sure with your plant identification before adding this to your soup.
According to Wikipedia, when cattle eat wild garlic, it can give a garlic-like taste to the milk and beef, interesting. It is native to Europe and considered an invasive here in North America.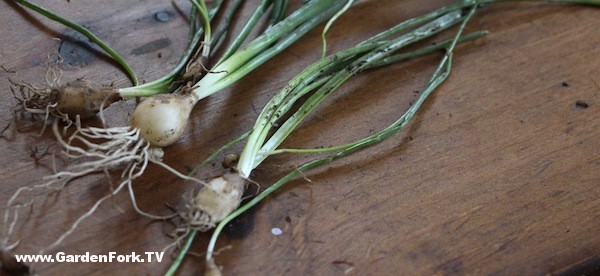 I see this edible plant growing in yards a lot. I'm sure the homeowners don't realize they have food growing in their yard! To harvest the wild garlic, its best to use one of those 3 pronged garden fork hand tools. You have to dig down a bit to get out the bulbs, or you can snip off the green stems and they will grow back. As the plant matures, unfortunately the stems get woody and aren't good eating. If you pull this plant out of a park or someone's yard, make sure it hasn't been sprayed with an herbicide. Not a good thing to be eating that stuff.

Let us know what you know about this plant or any questions below: