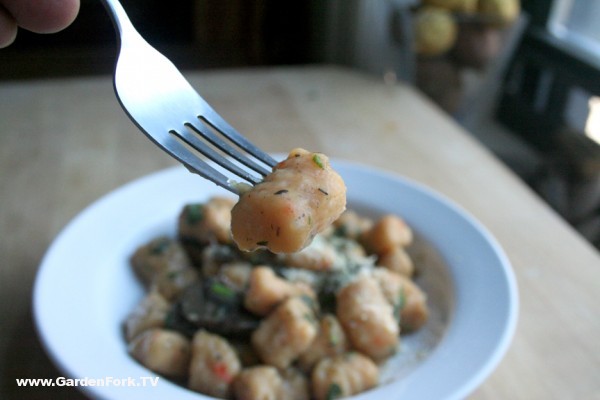 Gnocchi is an Italian dumpling made with wheat flour, egg, and potato (nocchio means "knot"). Although this hearty dumpling was a military staple during the early Roman Empire, the potato was introduced into European cuisine only since the 16th century. Making your own Gnocchi is a minor task but it's absolutely worth all the effort. The real challenge is to create a dumpling that is light, firm, and velvety soft — not dense like NYPD grade rubber bullets. These instructions are guidelines as to how the dough should feel before and after cooking.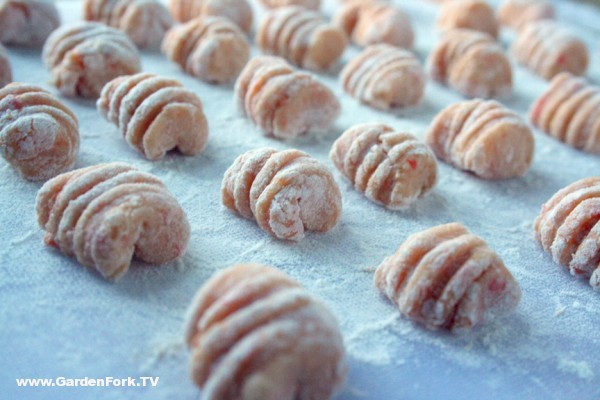 Gnocchi varies by region — with cheese, without egg, with breadcrumbs... etc. Shapes vary as well, they can be crenellated, rolled into small balls, or cut into pillows. In this recipe I use yam for a slightly sweet nutty flavor, a soft salmon color, and a silken texture. Yam, the sweet potato's close cousin, has a higher sugar content by nature which makes it very starchy and sticky. This also makes it a bit challenging to work into a smooth dough. Gnocchi works best when made on a large cool surface like a stainless steel or marble counter — I have neither. But after much exploration I found a few steps that work for the small urban kitchen. You'll need two large cutting boards and a clean space in the refrigerator. You'll also be dusting with flour a lot. Would it kill you to wear an apron, Mr. Big Shot?
Yield: 6 servings
You'll need:
1 medium size yam
2 medium size potatoes
½ a large carrot
2 tablespoon sea salt
1 small egg, beaten
1 ¼ cup white flour
½ cup flour, for dusting
1 ricer
1 sharp knife
2 large plastic cutting board
2 medium size mixing bowl
1 rubber spatula
1 slotted spoon
1 stock pot with lid
1 colander
1 dinner fork (optional)
The mushroom sauce recipe is at the end of these instructions.
Add 1 tablespoon of salt to a boiling stock pot of water. Peel yam, potatoes, and carrot then cut them into slices of equal size. Peeling before boiling removes some of the starch. Lower heat, add everything to the boiling water, and cover. When you can push a fork easily through the thicker pieces, remove contents to a colander to cool and drain. Carrots will take longer, they should be absolutely "smooshy" when they're ready. After everything has cooled, remove any bruised or blemished parts. Reserve the water, you'll use it to boil these dumplings — then later make a quick mushroom sauce.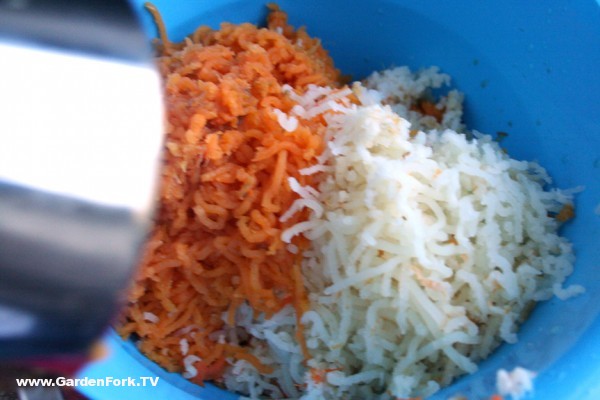 YOU DON'T OWN A RICER?
A ricer makes the perfect texture for this type of dough. I think it's a must-have tool in the kitchen. It extrudes dense tubers into a light, smooth starch while removing any extra fiber. Don't skimp, go out and buy a good one. Rice yam, carrot, and potato slices in alternate layers into a mixing bowl. Discard any fiber that remains in the ricer. The texture should be a little dry and airy.

DOH!
The trick is to not overwork the dough — it's a common mistake that makes it hard and rubbery. Mixing aside, this dough is kneaded only once. Add 1 tablespoon salt, a beaten egg, and half the amount of flour to the bowl. Mix it with a rubber spatula from the bottom back to the top. Dust with the remaining flour in small amounts and mix until the dough takes on an even salmon color, and it no longer sticks to the bowl. Feel the dough, it should be very soft and smooth and it should not stick to your hands. Flour your hands and knead the dough for two minutes. If you need more flour don't use more than a ¼ cup — there's more flouring ahead.
Plunk the dough onto a lightly floured cutting board to flatten it out. Do not knead. Dust it with flour and cut it into four pieces. It's easier to work with smaller portions. Place each piece into small well-floured containers and place them and the cutting board in the fridge for 20 minutes. Check your email, text a friend, get your cat to talk, fold laundry... etc.

PILLOW TALK
Take one portion of dough and the cutting board from the fridge. Lightly flour the board and roll the dough into a ball. Flour the top of the ball and flatten it with the palm of your hand to a depth of 1". With the broad side of a knife, form the dough into a square by pushing the sides in. Cut 1" wide strips and roll them into long cords that are about ⅝" in diameter. Be sure to roll from the center of the cord out. Cut the cord into ¾" pillows and dust them lightly with flour. Place them on a freshly floured cutting board and let them rest in the fridge for another 10 minutes. Meanwhile back at the range, bring the water back to a boil.
FORKIN' AROUND
Here are some instructions for crenellating your Gnocchi with a fork. I prefer this type of treatment, it holds more sauce and it makes a better presentation. Make sure your hands are absolutely dry, flour your fingers.
Step one: Rest a dinner fork, face-up, at a slight angle on the board (about 10°).
Step two: Place a pillow of dough at the top of the tines and with your thumb make an indent into the dough while dragging your thumb to the end of the fork. The dough should curl away from the fork.
Step three: With your other fingers roll the dough into itself so that the crenellated side faces out. Set it aside on floured board and make more.
If the dough sticks clean the fork with a paper towel and dust it in flour. Place them on a freshly floured board and let them rest in the fridge for another 10 minutes (uncovered). Was that really so hard? Give it a shot.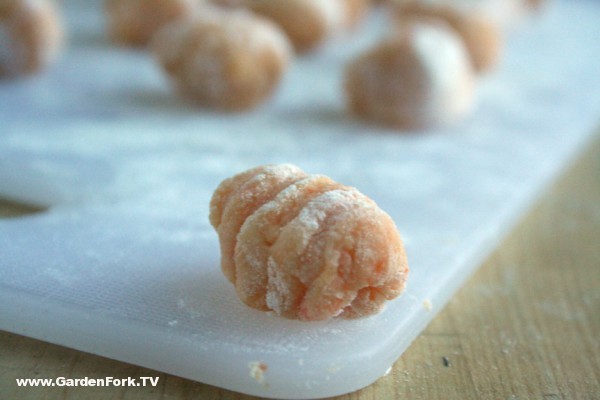 BOILING MAD
You'll need two mixing bowls — one with plain tap water and another with ice water. These two baths stop the Gnocchi from cooking further. Gnocchi will collapse into mush if it's overcooked. Carefully place Gnocchi into the boiling water, 10 or 15 at a time. When the they rise to the top wait for another 15 seconds. Transfer them to a bowl of tap water with slotted spoon. When they sink to the bottom transfer them into the ice-water bath. Repeat. When everything has been boiled and cooled, drain everything into a colander.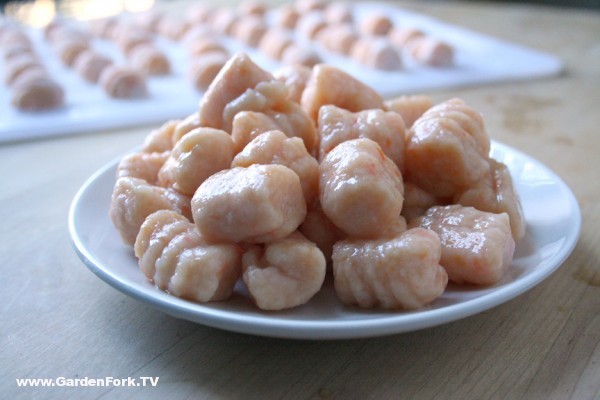 Taste a few but resist from eating everything. They should be firm, light, and slightly sweet. Now you can store the Gnocchi away in the fridge for another night, or sauce them up and eat them right away. You can use a basic red sauce, sauté them in butter and garlic, or make a quick mushroom sauce.
GET SAUCY
Wait! Don't throw out that pasta water! Reserve 1 cup to make this mushroom sauce.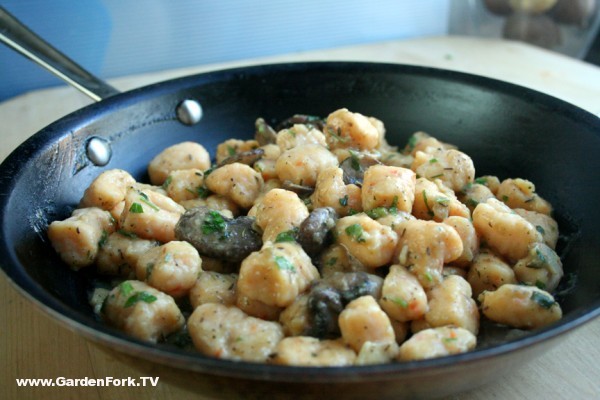 You'll need:
4 tablespoon olive oil
1 tablespoon unsalted butter
6 large cremini mushrooms, sliced
3 cloves of garlic, minced
¼ cup chopped shallots
½ teaspoon dried sage
½ teaspoon fresh thyme
½ teaspoon salt
1 cup of pasta water from the stock pot
fresh parsley
Parmesan cheese
1 sauce pan with a lid
In a non-stick sauce pan heat up olive oil and butter, add mushroom slices and salt, cover and reduce heat. When mushrooms release a little liquid, stir in garlic and shallots. When shallots have clarified add spices and pasta water. When liquid reduces by one-third add the Gnocchi into the pan, salt and pepper to taste. Let the Gnocchi sit in the sauce until they are properly heated. Carefully transfer to a bowl and top with Parmesan cheese and fresh parsley. Impress your spouse. Take a photo and brag to your FaceBook friends. Eat 'em up and enjoy.