This is the second DIY Hoop House Cold Frame we have built in our video series. Easy to build, this mini greenhouse allows you to grow plants in winter. Watch the video here, plans and photos are below as well as links to our other DIY Hoop House Cold Frame Videos.

This cold frame uses a wire mesh that's usually used for concrete, but it works really well as a cold frame form to hold the plastic up. I like how it works
You can buy this concrete reinforcing wire at a local lumber supply yard. It comes in two thicknesses, you want the thinner gauge wire, the thick wire is too much, I think. This wire also comes in rolls, but the it is a pain to work with. The mesh I bought was 10' x 5'.

To cut the wire mesh we use a right angle grinder with a metal cutting disc. Be sure to wear ear and eye protection and wear gloves while you're handling this material, it can cut your skin.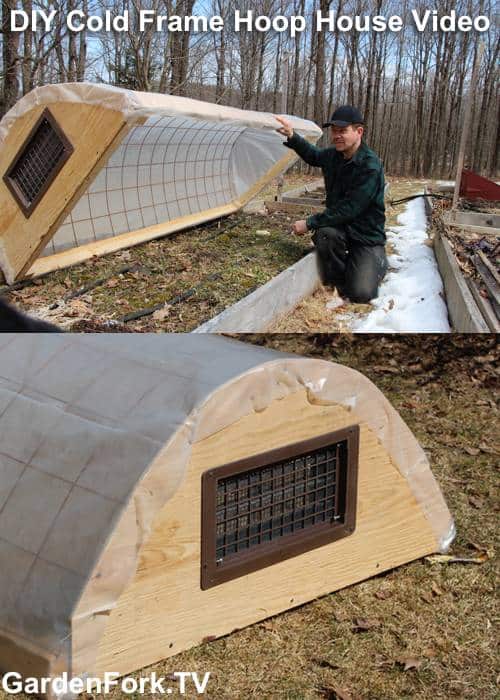 Be sure the cut end of the wire mesh faces the plywood end, else the plastic can get sliced by the sharp ends of the wire. You can put pieces of old garden hose along the end of the wire mesh where the plastic bends over to form the end wall, as well as on the plywood end to protect the plastic from the hard edges of the wire and wood.
But you can build this! It's not hard and I really like it. Another great version of the hoop house cold frames that we've built, we have a whole series of them - link here - and every time we make one we get better and better. The super cool part is that you can extend your growing season in the fall and you can use one of these cold frames to warm up the soil in your vegetable beds in late winter and plant seeds even earlier than you could normally. Cold frame hoop houses are especially good for salad greens, radishes, sugar snap peas - plants that are cold tolerant.


You can use scrap wood to tie the corners together, or use brackets.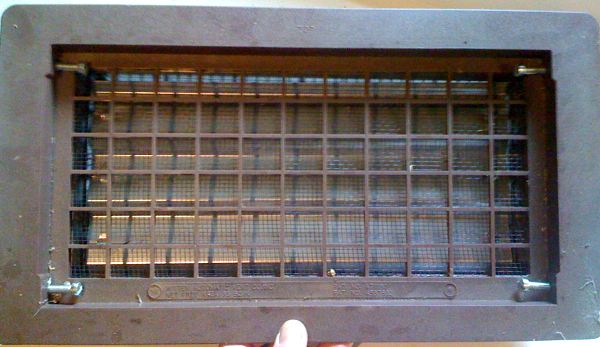 The automatic vent that we use is kind of a specialty item but that they're not that expensive. Here is the link to buy it.
You could put one vent in or you could put in two vents. With two vents you would put plywood at both ends of this cold frame. Having a vent on both sides allows more warm air to exit. Cold frames can get quite hot, you don't realize how much solar energy the sun has even in the winter. You will need to vent the hoop house, you can go out on sunny days and manually vent it if you want by lifting up the cold frames, but I'm not there all the time. So I like the automatic vents.
Have you made a cold frame? Do you have anymore questions? Pease leave them in the comments below.
My cold frame experiences have been greatly influenced by these books by Eliot Coleman and Niki Jabbour.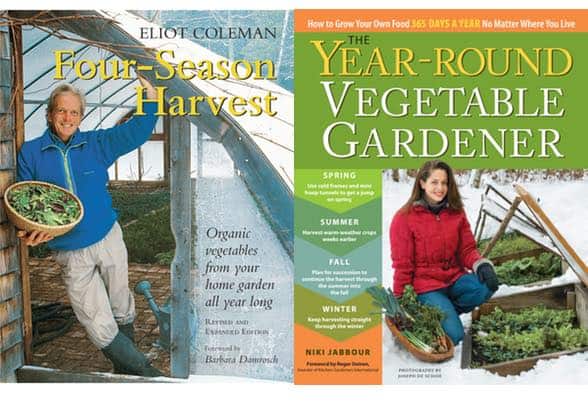 Four-Season Farm Year Round Vegetable Gardener (affiliate links)
Watch more of our hoop house cold frame plans videos here.