Tyler tells his story of how to buy a farm. Tyler recently bought a small farm with a 3 stall barn and house on 2 acres, and he tells us about the house buying process. If you are thinking of buying a small farm or just buying a house with some land, or just want to hear us talk, listen on.
Tyler walks us through his house purchase, and how important it was to hire a good home inspector, and work with a knowledgeable realtor. Tyler's new house is called a flip, meaning it was bought by a developer or contractor at a lower price, perhaps at a foreclosure, and has fixed up the house for resale.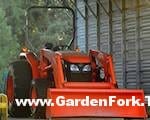 A flip sale may not sound like a good idea, but thinking about it in another way, you've already got someone to do a bunch of the repairs that need doing.
Now being a farmer, Tyler went out and bought a chainsaw, and did the right thing and bought chainsaw chaps and safety gear. Good for him.
The Garden Tractor Dilemma: what to tractor to buy? and what attachments. Eric weighs in on whether to buy a rototiller that attaches to the back of the tractor or to get a standalone rototiller. Eric votes for a stand alone rototiller, the back of tractor rototiller seems like more work.
We move on to storm chasing, as Tyler is CEO of Allison House, the severe weather data company. Rick asks Tyler about the radarscope app , and what is the difference between the different radars available on the app. Tyler and Rick go into probably more detail than the average GF listener wants to know about radar tilts. But if you are into storm chasing, this might be interesting. Tyler uses big words like 'step function improvement' . Let me know.