Moms shows us how to make banana bread with a recipe she has used for years. If you want moist banana bread, I suggest using riper bananas and more of them. You will have to bake the banana bread a little longer.

Banana bread is one of those comfort foods from childhood that still work. Having a bad day? Have some banana bread. I really like this loaf toasted with some butter on it, served with tea. Nice.
I don't recall the name of the cookbook this banana bread recipe comes from, but it was one of those recipe collections put together by a group of people and self published. There are many variations on banana bread, we have one made with coconut here, and a dutch oven banana bread here. But this is mom's standard and its the one we will learn how to make banana bread with. So here we go.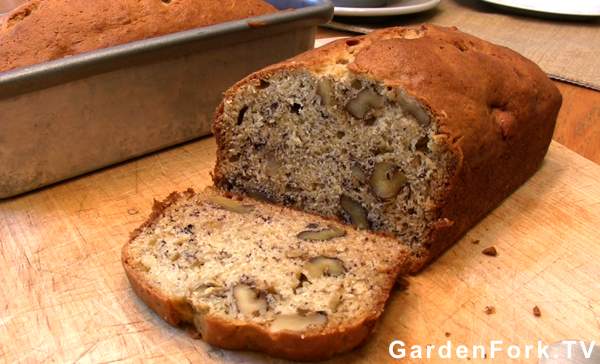 I have found that dark metal or glass loaf pans work better for this, I like the browning of the crust. And if you want a taller loaf use slightly narrower pans than the standard loaf pan. The baking time will vary depending on your oven, they are all different.
I'm all about saving bananas in the freezer. Have some your family wont eat? Put them in the freezer to save for this. They thaw quickly and fall apart in the batter. Nice that you don't have to jump through all sorts of hoops to prepare them for freezing. Just throw them in. Done.
Banana Bread - Mom's Recipe
Author:
Prep time:
Cook time:
Total time:
Here is how to make banana bread, this basic recipe will make a nice loaf, if you want a moist banana bread, add more bananas and bake longer.
Ingredients
1 cup sugar
½ cup butter
3 ripe bananas
2 eggs
2 cups all purpose flour
1 teaspoon baking soda
½ teaspoon salt
Instructions
Mix together the sugar and softened butter with a hand mixer
Add in the bananas and eggs, mix them in.
Mix the dry ingredients together in a bowl with a fork.
Add the dry ingredients into the wet batter and stir to combine, but don't overmix.
Pour into a greased loaf pan and bake for 1 hour at 350F