Start Podcasting Now. Start a podcast by listening to this podcast. Kevin emailed me asking about how to podcast, and I suggested we do a skype call and create a podcast on podcasting!
Creating a podcast consists of:
Preparing To Record
Recording the Show
Editing the Podcast
Posting the Podcast on a website and/or server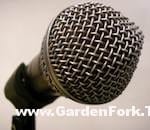 Preparation involves whatever you need to do to set up the recording, schedule guests, research topics, create a discussion list, schedule the recording.
Recording the show can be as simple or complicated as you want it to be. We use Skype to do most of our shows, and we use a plug in by Ecamm called Record A Call to record the skype call.
At this point you can just convert the audio recording into an mp3, or edit the recording to include music, introductions, and remove glitches.
You have to post the show on a server that is connected to the internet. You can use inexpensive hosts like BlueHost or HostGator, you don't need anything fancy. Keep the site design real simple when you first start. Use the default wordpress template. Simple is Good.
You then need to create an iTunes compliant RSS Feed, here is some info on that from Apple.
We post each audio recording on our WordPress site as a post, and use a podcasting plugin to create the iTunes compatible RSS feed. We have also used Feed For All to create iTunes compliant RSS feeds
You can also use a service like Libsyn, who for a small fee, can take care of most of this for you.
What Equipment is needed to make a podcast?
I suggest you get a good quality USB headset
. Test out the microphone of the headset to see how it records, it might sound fine, it might not.
I use a Blue Snowball USB microphone, which I really like. Kevin, our guest here, is using a Blue Snowball microphone for this show.
For in person recording we use a Zoom ZH1 Portable Digital Recorder
, with a a wind screen, aka dead cat, covering the microphone.
You can use Garage Band or Audacity to edit the audio file.
photo from MorgueFile.