Thinking about buying a propane pizza oven? GardenFork pizza expert Katherine is on the podcast to tell us her pizza making journey, and which oven she uses now.
A few key things from the podcast.
Follow Katherine on Instagram @kcrosbie .
We have both used Blurb to print photobooks with good success.
AND Katherine is a GardenFork Patron. Want to get the behind the scenes photos and The After Show? Learn how here.
The best propane pizza oven? Katherine uses the PizzaQue by PizzaCraft.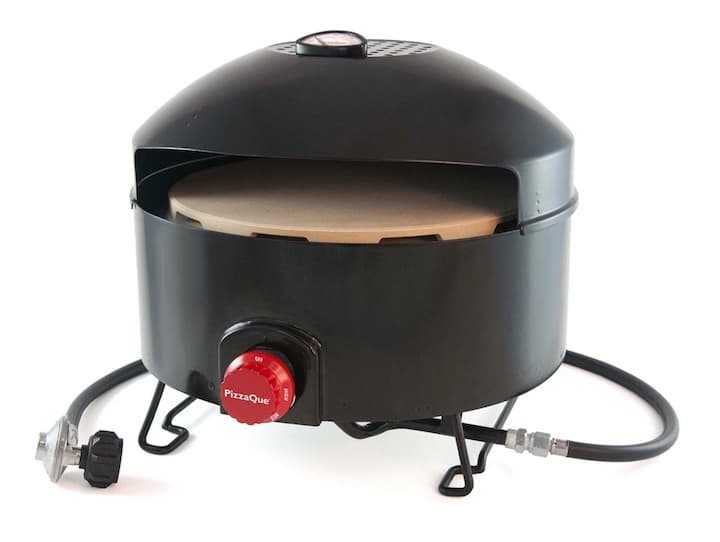 Eric: Hey everyone. Thanks for downloading the show. This is garden fork radio. This is your host, Eric. I am your host. Is that what I say? Anyway? Today we were going to talk about making photo books and making pizza with my friend, Katherine, who I have known virtually. Is that the right word for a really long time? Hey Catherine. Hey there. So a little backstory between me and Catherine. you were one of the first people that started watching garden fork, and then you started emailing me. and then we became a virtual friends and I think that's a great thing.
Katherine: Yeah, it's kind of neat. it's a little different probably from my perspective, because you are like the star and I'm just one of the many fans. but, it is kinda neat to be able to connect with people and, you know, you can check out my Instagram and learn a little bit more about me. I actually know way more about you just because of all the videos and podcasts, but it's an interesting way to get to know someone.
Eric: You can all follow Stu in a bag. She has a terrier that travels with her and I kind of envy it because the Labradors, you just can't put in a travel bag.
Katherine: No, it's very challenging and he, I'm getting worried. Now he's putting on a little bit of weight and he's reaching his, he's consumed to weight, reach his weight limit. So he's going to have to go on a diet before the fall and we get to go traveling again.
Eric: So today we were going to talk about, making pizza in indoor and outdoor ovens and then also making photo books. And we have a huge list that Katherine sent me, which will probably fill up like three shows. And I'm, I'm all for that. But, I just made this a pizza oven out of a barrel and it got, I think people really liked it. I really liked making it, but you actually have, a properly made outdoor pizza oven.
Katherine: Yeah. We have a, it's called a pizza queue. and it's something that, you know, a friend actually gave to us as a Christmas gift, a surprise Christmas gift, which involved me taking a rather large box that I didn't know what was inside it to Mexico on a plane Canada, which my son was horrified. when he learned on the way to the airport that this large box that I planned to take with us, I didn't know what was in it, which of course isn't like a TSA thing is always like, always know what you're taking. so yeah, it was, I'll tell the story briefly, but, so my friend had been down our place in Mexico and they decided that they knew what we needed and they thought it was a pizza oven. For some reason, I thought that they wanted us to have an espresso maker, like a coffee maker because they were totally into coffee.
Katherine: So I figure out that this box in my mind, which they don't want to tell me what it is, which they've wrapped in Christmas wrap is like a large espresso maker. So we get to the airport and, of course we get diverted to the large parcel area to run this parcel through the X Ray machine. And as they're putting it on the box, I'm with my daughter at this stage because my son has totally abandoned me and said, I'm not having anything to do with you and got on the plane with his girlfriend. So my sister, so my daughter and I are sitting there and the he's, the guy says that the X Ray machine, what, you know, what's in the box. I said, well, I think it's a coffee maker anyway. So it goes to the box through the screening machine and he says, that's like, no coffee maker I've ever seen.
Katherine: So anyways, so I said, well, you know, I don't, I actually had to confess, I don't really know what's in it, but I thought it was a coffee maker. So anyway, they open it up in a way it goes and out comes this gigantic propane pizza oven. So it was a nice surprise. But unfortunately when we get to Mexico, of course, I don't have a pizza peel. I don't have, you know, anything for like a roll, roller for dough and all that sort of stuff. So we, we, improvised it first and used cardboard as the pizza peel to get the pizza into the oven and eventually bought ourselves a proper pizza peel and brought it down. But yeah, it's a neat, it's a propane fired, pizza oven. So it heats up really quickly and it has, it utilizes, you know, a stone like a pizza stone that you would use in an oven. It uses two of those. And with this gigantic pizza burner up underneath and fires right up and gets up to like 900 degrees Fahrenheit.
Eric: Wow. So once you turn it, turn on the flame, do you have to wait 10 minutes or is it just ready to get going or,
Katherine: Yeah, it takes about seven or eight or, you know, minutes or so. And usually the first pizza is not the best one. So I probably should always, I mean, patient didn't want to get one in the oven and out as quickly as possible, but usually the second or subsequent pizzas work the best, because, it's, you know, properly heated up and they get nice and bubbly on the top and those little leopard spots on the bottom that you're supposed to have in the crust.
Eric: Yeah. I, my issue with the barrel oven was the fire was a little too womp and hot. So the side of the pizza that was near the fire was burning crispy, and I have to spin it. Do you, in the pizza oven, do you have to spin it or is it the, the, the heat is kind of all round?
Katherine: Yeah. The heat is all around because there's an opening at the front and no opening at the back and there's no actual cover for the front opening. I I've thought of, I should have some sort of little thing I could hang on that would, you know, keep the heat in. So because of that, it is a bit hotter at the back. And I usually spin it halfway through halfway through the cooking. but I found a great, what I do is prepare the pizza on a sheet of parchment paper. And then I just put the parchment paper in the oven with the pizza and leave it with that. So that makes it really easy. First of all, to get off the peel, and makes it easier to spin around. And usually the pizza, the pizza just comes off the parchment paper and then those, you know, some of the parts of paper might burn on the edges. I usually trim it. So it's not too big. It doesn't start a big fire in the oven, but using the parchment paper is, is makes it super easy, especially to make a lot of pizzas. Like if you have friends around and everybody's going to make a pizza, they can all make their pizza on a piece of parchment paper, and then you can go around and pick them up and throw them in and you don't have to wait, you know, to kind of bake it on the peel or whatever.
Eric: I never thought of that.
Katherine: Yeah. It's an, it's an amazing pack. It just makes it that much easier. You can, and you can have more pizza, doughs rolled out ready to go. but yeah, mostly I use that when I have, I started doing it when I had friends over for a pizza party and you know, you, everybody kind of grazes on pizza as it comes, but you want them to kind of go in and out a little bit quicker and have people engaged. So while one person's cooking, another person could be making their pizza. That one comes out, you know, you can whip the other one in.
Eric: So with the parching paper that the bottom of the crust still crisps up there. Okay.
Katherine: Absolutely. There's like no difference whatsoever. Wow. Yeah.
Eric: So many people in the YouTube videos are like, for some reason, they don't like the idea of the dough being right on the clay brick. Cause it's used used clay brick, which I'm fine with. and they're like, can I put in my pizza stone? I'm like, yeah, but you'd have to have the charcoal, the coals on the pizza stone to heat it up anyway. But the idea that of the parchment would be brilliant because that way people would feel okay about it. And yet they'd get the good crust.
Katherine: Yeah, no, it works out really well. And then you end up with this, it's funny when the paper comes out, because usually the, sometimes the paper comes out before the pizza's done, you know? Cause when I go to turn the pizza, the paper is just isn't attached to the dough anymore and it just comes out. It's almost, it looks like, like old Papyrus kind of, you know, tea, stained paper. It looks like some piece of art when you take it out. It's kind of interesting, but no, I mean it, and it also cuts down on the amount, cause I used to use like a corn meal or semolina on the peel. so that the dough wouldn't stick. Right. So that you could kind of shove it in really quickly and it would, it would just separate from the, from the pizza peel, but then you get a lot of that.
Katherine: I found that in burning up in the oven and make, it would just make a huge mess. So, this way I don't have to use the, the corn meal or the semolina. And although you could, if you like that texture right on your crest. Yeah. And I use the, New York times pizza dough recipe, make it usually the night before one of their recipes makes, for, you know, balls of pizza dough and you let it basically, you let it slow rise in that plastic bag in the refrigerator and take it out. Basically I take it out and put it on, you know, like a cookie sheet and leave it in the oven with the light on, if it's cool in Mexico, it's not so much of an issue, but if it's cool, you know, it just take, take the dose out of the fridge, put them on that. like on a, either on a piece of parchment or a sill Pat and throw them in the oven with the light on and they just have their second rise there.
So were you making pizzas before the pizza oven gift? The mystery gift came?
Katherine: Yes, I was. I started, I've made pizzas a couple of different ways over the years of the first things I did actually was make it on the barbecue using flour tortillas. And I can't remember even where I heard about that, but it's a super easy, quick, and pretty tasty way to get like an extremely thin crust pizza, but you just do it right on the barbecue and you can't put too many toppings on it. Cause of course the tortilla is very thin, but it makes a lovely, a lovely pizza, really easy, really quick. And so that was probably the first thing that I used. And then I, I had one of the ceramic pizza stones for a while and would use that in the oven, but I wasn't all that happy with the results, with that. So I ended up purchasing and I think, I think you were the inspiration for getting the modern steel, pizza steel, huge rectangular, extremely heavy. I'm not sure. Do you know when it's made, it's made of steel obviously. and put that in my oven and made pizzas on that and had a lot more success. Cause it just holds that much more heat than the pizza stone
Eric: And it doesn't crack. It's not fragile, you know, I have one and, it was just kind of, I was just making a pizza video about what's better than pizza steal or the pizza stone. Cause I was never a fan of the pizza stone. I, the two I have are both cracked. I still use them cause I just shoved the pieces back together, you know?
Katherine: Right. I remember from your videos in the, in your country place with you kind of just joining the fractured stone,
Eric: You know, me too well. Oh and yeah, so that, that's my go to now the New York times pizza dough recipe, there's one that they have where they made a video about it. And it was just kind of a light bulb for me. I think the key thing with pizza dough is it just needs an overnight rise and in a refrigerator
Katherine: I think. So that helps develop the, the, the flavor. And I guess the gluten, I mean, I definitely don't know anything about the science of it, but the slow rise, like the no knead bread. I mean, I think just that slow rise just gives you a much better result in terms of the texture and the flavor at the end of the day.
Eric: Yeah. Cause the New York pizza places, I'm an, I, you can see them, you know, they shaped their pizza doughs right at their, at the counter, you know, and they have below this marble counter is a frigerator basically what those big stainless steel doors and individual pieces of dough are in these round, but just like stackable round bowls. And I got to talking to the one guy at Romano pizza near me and he's like, yeah, we make the pizza day before. And we, and we do a cold rise and it was just like, Oh, just like just like bread, you know? So it was kind of a light bulb moment for something really simple.
Katherine: Yeah. And it, and the other thing is, is I often will freeze the extra balls and then you have them, you know, before you do any rise, basically just as soon as I make them put them in the plastic bags and just throw them in the freezer and then you've always got pizza dough ready for people come out, you can basically take it out, let it, let it defrost on the counter. And it doesn't really take that long. And you've got, you know, homemade pizza dough ready to go.
Eric: I love that. I love that kind of thing. So yeah,
Katherine: What I would love to have is one of those, Breville pizza ovens that they use on, on Bon Appetit. Have you seen those? No, it's an electric countertop pizza oven that heats up to like a thousand degrees in five minutes.
Eric: What's, what's the name of it they're made by Breville.
Katherine: I L L E but they're like a thousand dollars, which just seems insane.
Eric: Yes, they are a thousand dollars.
Katherine: So one thing, so I'm waiting for those to go down in price, because it's, you know, it's an extremely extravagant thing. I mean, I could see spending, I don't know, I don't need, it's be hard to justify spending more than $200 on a pizza oven, which I think is what the outdoor ones cost. the one that, I have my friends bought at Canadian tire, which you guys don't have in the United States, but they go, they have, they have what they call fantasy pricing. So they're, most of their large items are priced at about twice of what, you know, anybody really wants to pay for them. And they go on flyer specials, you know, two or three times a year. And that's when everybody buys that particular item. So anyway, these, these things, you know, the outdoor pizza Q is probably only about $200 Canadian when it's on sale.
Eric: All right. I like that. Cause I'm on YouTube. Kenji Lopez all has been making these videos where he literally slaps a GoPro on his forehead and just cooks. And he's been, he did a review of the two different pizza ovens he has and one's called an uni. And I can't remember the other one, the Oni is about $330 online here. And he has quite good results with those two ovens. But man, the thousand dollar one looks very interesting.
Katherine: It's you have to watch one of the Bon Appetit pizza videos that use it. And it's, you know, they've done deep dives into pizza and, you know, episodes about the sauce and episodes about the dough and episodes about the toppings and all that sort of stuff that they, this is what they use because it makes a pizza and, you know, in three or four minutes and they get really good results from it. But I've seen that Oonie one, that's an interesting pizza oven. the other, the other great way to make pizza and you've done this, I think is cast iron pan right on your stove. And I think, the Kenzie, what's his name? Jay Kenji Kanzi Lopez. He has done the same thing. I've watched some of those videos when he has the YouTube, when he has the, the GoPro on his head. And, I really enjoyed those.
Eric: He's a good guy is a good energy and he is wicked smart.
Katherine: Is he located in New York as well or Houston, San Francisco?
Eric: Most recently he was at, America's test kitchen. And then he moved to, a website whose name I'm blanking on. And then he wrote several amazing cookbooks. And now he's, he has a restaurant called versed, versed hall, like sausage hall basically. And then the Corona thing hit. And so he went back to making YouTube videos. He already had some YouTube videos up and he just, I mean, I don't know him personally, but I think he was like, well, I needed to do something. And he just slapped the GoPro on his head and it's wildly successful and a complete lack of production value, which I love.
Katherine: Yeah. Well, isn't it great. And you can just, you just do it, you just film it right through. It's done in a short period of time. You get to see in real time how long it takes them to do things. And every now and then he does like a, fast forwarded thing where he started does, you know, you're, this is where I I'll get to the next stage. Cause this is the boring five minutes where I'm stirring this particular thing. But yeah, no, I've, I've really enjoyed his, his videos very accessible. He makes things very accessible
Eric: And he's, he always feeds his dog at the end.
Katherine: [inaudible]
Eric: Does Stu get fed at the end of the meal or is he a as the
Katherine: Yes, yes. He's, he's an extremely food oriented dog. So he, he gets fed through the meal at the end of the meal and and he eats almost anything. So he's kind of like your Labradors
Eric: Yeah. With our new lab, we're trying to figure out, she gets really, really excited. She's one of those dogs that does the circle spins when it's time to eat her food. And it just must be built in somehow. Cause I just, like, I was like, I didn't train her to do this. It's just that my other labs would never do this, but she just does these spins and I'm like, okay, sit down so I can give you your food, you know?
Katherine: And I see she likes tomatoes.
Eric: Yeah. She's a character. It's she'll she is, she's a good fit for the family. She's a good fit. So yeah, it's always amazes
Katherine: Me when dogs, we used to have, a vegetable garden and the, our black lab would like the carrots love the carrots out of there. And she also was able to pick blackberries off the bushes with her. Like she could just put her head in a Blackberry Bush with all the thorns and everything and pick off blackberries and eat them. It was amazing.
Eric: Yeah. It, it, mine, we'll take the sugar snap peas off the vine. So I just planted a seed for my second crop of sugar snap peas. That'll hopefully, bear fruit, bear sugar snap peas before it gets too cold up there. So
Katherine: Yeah. So how long, when, when do you get your first frost?
Eric: Well, with the climate change thing, it's, it keeps changing up. There comes later in, late in the year, but the F the first frost is usually in November. but we'll see. So like last year, it barely, it barely snowed, you know?
Katherine: Yeah. Yeah. Well, we get a PR we have pretty mild climate here in Vancouver, so it's, you know, we off, we have had years where we don't get any snow at all and somewhere we just get a dusting and then we have years where we just get walloped, but
So amongst our huge list that we put together here, something that intrigued me is that you make photo books.
Katherine: Yes. Well, I, photography has been probably one of my longest and most consistent hobbies. although I took a fairly long break, I guess, from any sort of serious photography when my kids were growing up, I started out, you know, with a Canon [inaudible]. Yeah. That's, I think that's so many people's first serious cameras. And I started that out with that. I think when I was 16 or something, I thought a and eight, you want, I still have it. And, got back into it, photography, more serious obviously to, you know, family photos and that sort of thing when the kids were young. but back into it a little more seriously when they were back at school full time, and I had a little bit more time to devote and camera's changed dramatically, you know, ditch, I got back in just before digital.
Katherine: and so, but quickly made, I got back in because of autofocus. Cause that was the old cameras that we had were not autofocus we, you know, manual focus, manual everything. And, you know, so the next camera I had after the one was one of the Nikons, a Nikon SLR with autofocus, which I thought was like revolutionary, but then within, within a year or two, you know that with the digital revolution. And, so I got got right into the digital thing. And, but the big thing with digital is that you don't print your photos. And I missed that tangible thing to show people, digital photo frames, you know, they never, they never really took off people have screensavers on their, their TV's. And I do that with, through flicker. I have, you know, like a screensaver on my television, but nothing beats, you know, something that people can pick up and hold in their hands and look at, also because not just for other people, but for your, for yourself as well, because you don't sit back and say, you might, you know, you sit down and you're having a coffee, you might scroll through one of your photo books.
Katherine: It's sitting out on your coffee table. You don't sort of scroll through all your photos on your computer, partly because you have so many of them and you just don't have them curated in a way that makes them accessible. So the photo book was something that I got started on. I don't know when my first photo book was, but I've been making them for at least 10 years. I would say
Eric: My thing with that is just trying to edit through everything.
Katherine: Yeah. And that's where, and that's a discipline thing. So if I, if I've taken a bunch of photographs or I've been somewhere, or I, I know I'm doing something that I'm going to want to, make into a book, so it might be a family vacation, it might be some sort of an adventure. then I will, when I, when I upload those photos to my computer, I will take the time. And I use Lightroom for my, both my editing and my storage or organization of photos. So I've never been good at, you know, tagging things. I mean, that was, you know, supposed to be the way to do things. But what I do is I basically create a collection in a Lightroom and I will go through basically, well, you know, right after I've uploaded my photos and I will do, I will create a collection of kind of the best photos and save that as a, basically like, Oh, you can do the same thing just with your computer by saving photos into a folder or creating an alb I guess, is the way that you would do it probably on your back in the photos app or something.
Katherine: So I try to right away, create some sort of an album or collection that has a subset of the photos, the ones that I like and kind of cuts out some of the duplication so that I that's usually what I start with when I do a book. And I usually don't, you know, go back to the, the bigger collection, unless I think, you know, as I'm going through things, I've missed something that I want to tell the story.
Eric: So what are you, how are you creating the book? is it an online company or,
Katherine: Yeah, it's a company called blurp. and they, they have a Canadian and a U S website. I like the fact that they have a Canadian website because I can order and have a book and not have to pay, you know, shipping and duty or extra shipping costs or duty, an import duty costs on it when it gets here. and they also, one of the big reasons I use them is that they have a link through Lightroom. So there's actually a book module in Lightroom. Oh, wow. That is linked to blurb. and the nice thing about that is that when you, so you create your collection, your, you know, you do your layout and basically decide which photos are gonna go, where in your book. And then, then you can only, you can decide to only edit the photos that are going into your book. and I don't necessarily do a lot of editing, but I will, you know, go in and correct the exposure or the white balance if that's screwed up. and the nice thing about the blurb thing is even after their photo book, the photos are in your layout. When they're in light room, you can go back and edit them and it will automatically update so that when you upload your book, it gets uploaded with the most recent version of all the photos that you have.
Eric: Oh, that's brilliant. So it's like auto updating and it's one less thing you have to do.
Katherine: Yeah. So, because I mean, one of the other things is you have to kind of pick all your photos, edit them, all, save them. You know, if, if you, you know, if you upload your photos in raw, then you have to edit them, save them as JPEGs in a folder. And then if you go in and you're, you know, you're creating your book and you say, Oh, well, I don't really like that photo. I need to edit it or do something different with it. Then you might need to go back to the original image, change it, you know, and then save it again as a JPEG and then upload it again to whatever site you're using. So this way you kind of do it all, and then you just click the upload button in light room and it uploads it to the blurb website. And you can order your book from there.
Eric: Sweet. I know since you said blurb, I've actually, haven't used it in awhile, but I used blurb to create a couple of books about the dogs, and then we've also used it for our family. And, they're not paying us to feature them, but it's a really straightforward process. And I like that they have templates for photo books and you could just pick one and it's different layouts. And some of the pictures overlap sometimes it's three across, but man, is it easy and fun?
Katherine: Yeah. And they, they offer, so there are a few different ways. So the way I use it is through the Lightroom logical, but they have an online product. And then they also have, I think it's called book-smart or something, which is some sort of their own software, which you can download for free and use on your computer. And then basically do it the same way I do it in the sense with Lightroom. so it doesn't have to be done online, but I've used, I've also used a company called I don't even know how you pronounce it, but Xenos Zed, or do you pronounce it C, Z or Zed and Oh, and they, they do really nice books as well. really nice quality. And they do like a little, I think they're more professional, maybe more of a professional site, but they do these lay flat books, which are more like a cardboard kind of paper, you know, and that the quality of those is really good. I, I made, I only made one through there just kind of on spec of a bunch of, photos from our boating. We have a boat. So we do a lot of boating up here in the Pacific Northwest. And, so I did a, they had like a free book promo or something. It was like, all you had to pay was the shipping. So I ordered one of their books and the quality was very, very nice as well.
Eric: Now I want to go make photo books. So yeah.
Katherine: Well, it's, it's great. So I, I also follow, a couple young couple from Newfoundland. they go by the name, I think their YouTube channel is Becky and Chris. Oh, I love them. Do you love them? Yeah. Yeah. Let's, it's funny. Actually, Becky lived just down the street from where, cause I'm from, I'm not from Newfoundland. My husband's from new Finland and my kids were born in Newfoundland, excuse me. So we, we lived in basically in the same neighborhood in st John's and I think my kids, you know, played with her sister or something, but so we have that, a bit of that, that Newfoundland connection, which is what got me started on their site. But she posted a video recently on making photo books and she's much more organized than I am, but one of the ideas that she had was like me, she takes photos with her camera, but also takes photos with her phone.
Katherine: And the challenge for me has always kind of been integrating those, right. Cause the, you know, you have your kind of more photography that you do with your camera, but then the iPhone photos are, are so good now. And you take a lot of the more photos of those, where with your iPhone, how do you integrate those into the photo books? So her idea, which is what I'm going to use when I do my next book is that she basically creates grids at the back of her photo books with all the iPhone photos from that trip. And so, you know, and those are more of the, like what you would think of as a snapshot, right? So all the, not the serious landscape photos are the most beautiful photos, but they tell a story. And so she has like a grid maybe with like, I don't know, 16 or 20 photos on a page. And that then she throws all the iPhone photos in at the back and it looks really cool. And it's a great way to kind of not leave out those things without bulking up your photo book too much.
Eric: I love that. My challenge with photos is the color balancing. And, I just start to get overwhelmed in my edit software. I use Adobe premiere, like I'll shoot some of the video with my main Canon. It's a camcorder actually. And then I have my GoPro and the GoPro has a kind of a preset it's called a lot, color lookup table. It applies, but for it basically kind of enhances for, for your average person, the GoPro enhances the video to make it kind of look, saturated in contrast. But to match that back to the other camera's video, there's literally a button you press that says match the colors.
Katherine: Wow. Yeah. That, that, that whole thing, you know, editing video, I've done a little bit of video and tried to edit. I can't even just, I mean, it's challenged for me just to, you know, splice things together. I still think of splicing. Cause I think back in the days and we shoot, you know, you actually cut the film and joined it together, but this whole, yeah, the latter, less people call them that whole thing. Like you shoot your video in an, in a neutral format or something and it has no color. And then you apply the color to it afterwards. It's flat. Yeah. Yeah. It's very, sounds very complicated.
Eric: It's, it's really easy. I, my cam Carter shoots flat and then I lay on a, a preset that is in Adobe premier. It's called golden tobacco, I think. And it just warms it up a little bit almost. And I set it to, there's a scale from zero to, I set it about 40 and then I just crunched the blacks a little bit. I darkened the blacks and the shadows a little and add a little saturation and I've done sometimes don't even color. Correct.
Katherine: And can you create a preset your own preset for that sort of thing or?
Eric: Yes. And why? I've never done that before? I don't know. Yeah.
Katherine: Well we're creatures of habit, right? We do things the same way, whether it's the best way or not. Yeah.
Eric: So we're almost at the end of the show, but I'm going to throw this out, Katherine, and you tell me whether you want to do it or not. is, is to ask Eric, anything
Katherine: I can ask Eric anything. Oh, Eric, anything
Eric: We could skip this part if you want.
Katherine: who would you most like to interview on this podcast that you haven't interviewed so far? that would be like a stretch maybe.
Eric: Oh, who's the guy Nelson Mandela.
Katherine: Okay. How about if we pick someone who's alive? Oh,
Eric: I'd like to, I would like to have Gary Vaynerchuk back on the show.
Katherine: Oh, so you you've interviewed him.
Eric: We did a video together. It's still on, it's still on the channel. It's still on the YouTube channel. And I met him when he was scaling up his father's liquor store into a big wine business and he wanted to go, he wanted to use YouTube. He wanted to use web video to drive business to his store. And then from that became Gary, the personality, Gary who would describe wines is tasting like a mix of Kool-Aid and RO you know, raid Roach spray. And he was advertising in the newspaper of all things about his video show. And so I just emailed him and I said, can I, can I bring my camera? You want to be in my garden fork show? And he said, sure. And we talked about wine and you know, I look, I wasn't balding or anything, and he's got the near jets bucket there. And, but, and then we,
Katherine: I'm going to have to, I'm going to have to look that one up,
Eric: We would meet at different, you know, web web 2.0 events, and then he just blew up. But I love what he's doing now. He's basically telling people stop worrying and just start. And don't worry about what people are gonna think, you know, lead with your heart and, and, don't be mean don't be a jerk. Basically. He uses more colorful language. Like there's one video of him addressing like a sixth grade class. And he was just like, he was telling them and really blunt terms, don't be a jerk to the other in your class because one day you're going to get to be adults. And, and that nerdy guy over there is going to be running the tech company that you want a job at, you know?
Katherine: Yeah. Don't, don't burn. Bridges is what we used to always say. Right.
Eric: I just believe that karma is boomerang, but that would be, that'd be a fun one,
Katherine: But he would be up, you know, I thought I learned about him through my son because my son watches a lot of his videos. And, I think during the whole COVID thing he's been doing, like just like iPhone chats with people maybe, and yeah. And posting those. And, yeah, my son has sent me a number of those and we've watched some of them together and yeah, I think he's been, you know, helped a lot of people through, you know, rough times.
Eric: And I love that. He's, he's, self-made, he's, you know, he's got money in the bank he's okay. And he doesn't have to do this, you know, he can live, he could live off his profits for the rest of his life, but he's out there spreading a message of good and he keeps it a political, which I think is really important even, you know, I mean, I occasionally make a comment about the national politics, but, he's just positive, positive, and I love that. So, yeah. That's great. Well, Catherine, would you come back on the show? Cause we have a bunch of other stuff to still talk about.
Katherine: Sure. I'd love to, well, I'll have to listen to the episode first and see how I sound.
Eric: It sounds like a Skype call and that it is what it is.
Katherine: It's fun. It's been fun chatting with you. So yeah, no, I'd like to do it again.
Eric: We're going to chat more cause we're going to do the Patrion, after show, but, this was a lot of fun. You guys should check out the Becky and Chris YouTube channel. Cause it's, it's very inspiring what they do, especially Becky and Chris is a doctor, so he's never there half the time, but I've learned a lot from him. She's she's a neat person.
Katherine: Yeah. They're, they're an interesting, they're an interesting couple. They have a lot of fun and they don't take each other too. They don't take themselves too seriously, which is nice.