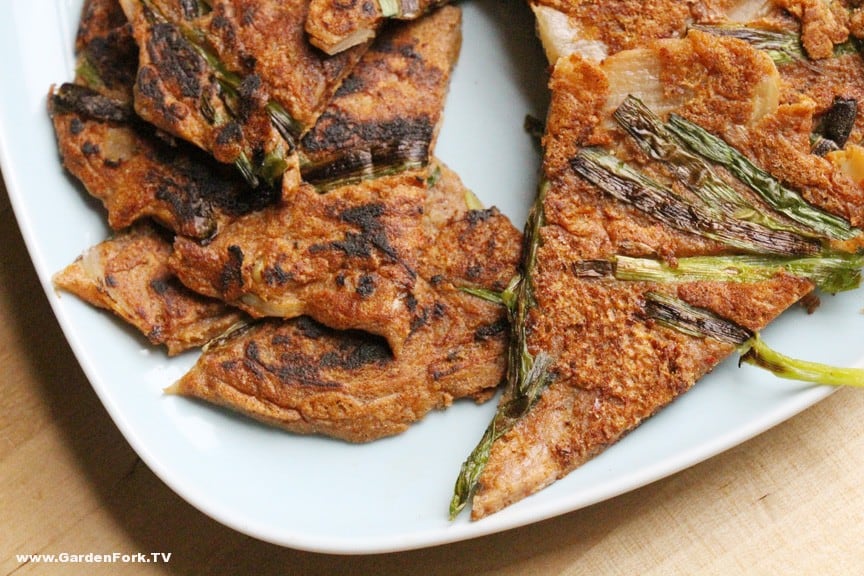 These kimchee scallion buckwheat pancakes (kimcheejeon) were drop dead easy to make. Kimcheejeon is a very traditional Korean dish that's served as a side dish (panchan) or as the main meal. It has a sweet and savory flavor that complements so many foods. It's probably better if you made your own batter, but I used a good off-the-shelf buckwheat pancake mix. It's easier to make these with a non-stick pan (Teflon works well) or a well-seasoned cast iron skillet. The buckwheat batter has a very soft texture that's more like a crepe; it brings out the sweet quality in the scallions.

Kimcheejeon in Buckwheat Batter
¼ cup Napa cabbage kimchee, slice into thin strips
½ cup scallions, cut into 3" long pieces
¼ cups onion, thinly sliced
½ cup Arrowhead Mills organic buckwheat pancake mix
½ teaspoon salt
½ teaspoon sugar
½ cup water
3 tablespoon kimchee juice or 1 tablespoon Korean chili paset + 2 tablespoon water
cast iron or non-stick skillet
canola oil
Mix buckwheat pancake mix, sugar, salt, water and kimchee juice together in a bowl and let it sit for 10 minutes. Add sliced kimchee and onion to the batter and mix well. The batter should be thin enough to pour but not as thin as yogurt. If it's too thick add a little water. Bring your skillet to medium heat and grease with a little oil. Arrange scallion pieces loosely in the pan and let them sear for about a minute. Carefully spoon in kimchee buckwheat batter and cover scallions evenly. When the batter start to form bubbles along the edges (around 3 minutes), lift edges slight to make sure they don't stick then flip. Flip and cook until the pancakes are evenly browned on each side. Serve hot!
Although this dish is vegan, the sweet and savory flavors goes well with leftover shrimp and crab meat. Experiment with your favorite ingredients, it's a great way to move some leftovers. Serve it with dipping sauce as a dinner appetizer or have it with eggs at breakfast.