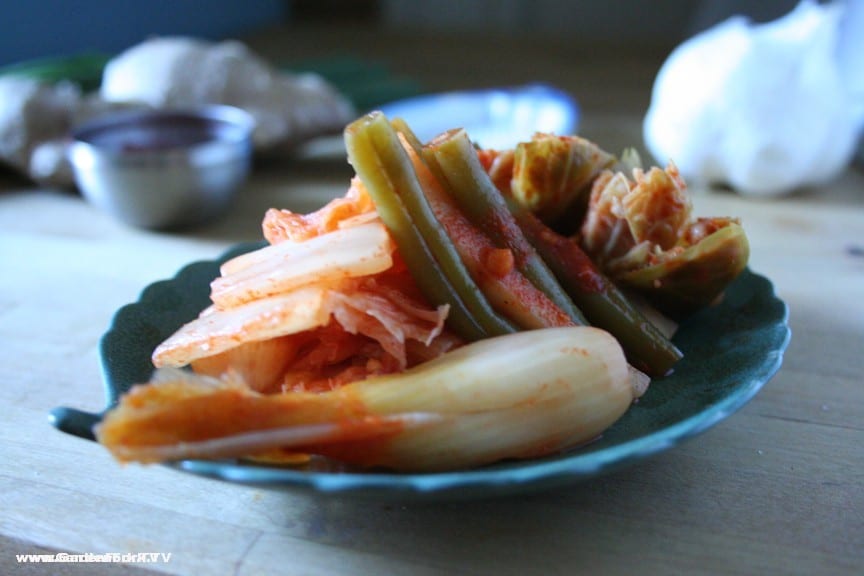 At $4 per half-pint container, I found I could conceivably go broke buying my favorite pickle from my local Korean food market — Kimchi, the spicy banchan (side dish) that is quintessential  to every Korean table. There are many varieties of kimchi that are defined by season and region. Most people are familiar with Baechu Kimchi — Napa cabbage that's been deeply fermented with ground Korean chili, garlic, and freshly grated ginger. Baek Kimchi (white kimchi) on the other hand is made without ground chili, but the chili is sliced into fine "hair." This type of kimchi has a clean, mild flavor and crunchy texture. It can be made then served the following day.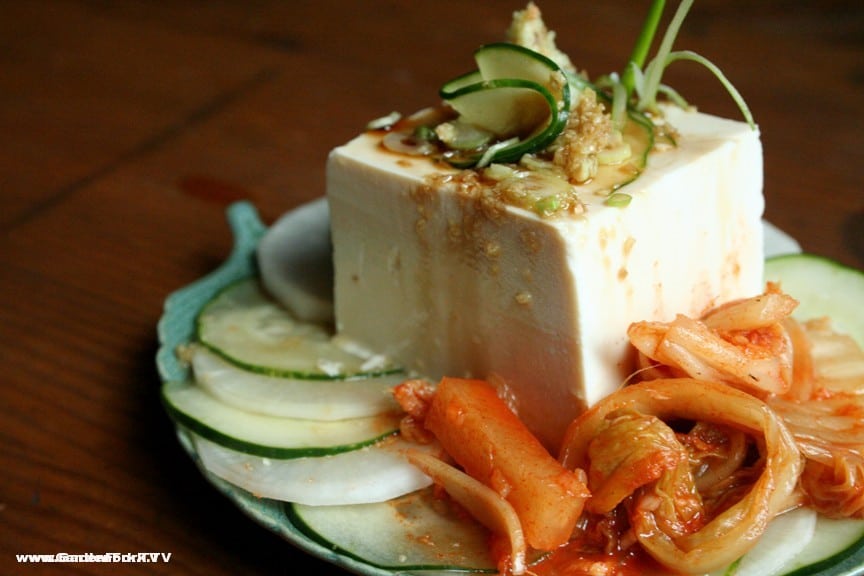 The traditional method of making kimchi is not very practical for the urban kitchen. It can be an onerous and odorous task that your family and neighbors may not fully appreciate. A Korean friend told me that her parents have a second Kimichi refrigerator to avoid influencing other foods — the "Kim-cheese cake" was quite a surprise. With a little experimenting I came up with a solution that works for my tiny Brooklyn kitchen. Salt is an essential ingredient in this Asian pickling process. It conditions the cabbage, allowing it to absorb spices. Be sure to use non-iodized salt, it blackens the cabbage. Instead of the traditional salting process, I found that brining is more practical and less smelly. The spices on the other hand are very pungent. Korean chili is not as spicy as the South American variety. It's mildly sweet and fragrant much like Hungarian paprika. Nuk mon (fermented fish sauce) is optional, but it serves as a catalyst to fermentation. It's very potent, so buy a small bottle.
You'll need:
a large non-reactive pot (enough to hold 2 ½ gallons of stuff)
a mixing bowl
a deep non-reactive storage containers with an air-tight lids (mason jars, Glad 48 oz containers, Tupperware, ... etc.)
brine (2 cups sea salt to 2 gallons of water)
1 large head of Napa cabbage
½ medium size white onion cut into thin strips
8 small scallion greens cut into 1 ½" strips
Asian white radish cut into short, wide strips
Gochujang (Korean Chili Paste)
2 packed cups Korean chili (dried and powdered)
2 tbs sea salt
1 ½ tbs unrefined sugar
¼ cup minced garlic
¼ cup grated ginger root
1 cup water
optional: 2 tbs nuk mon (fish sauce)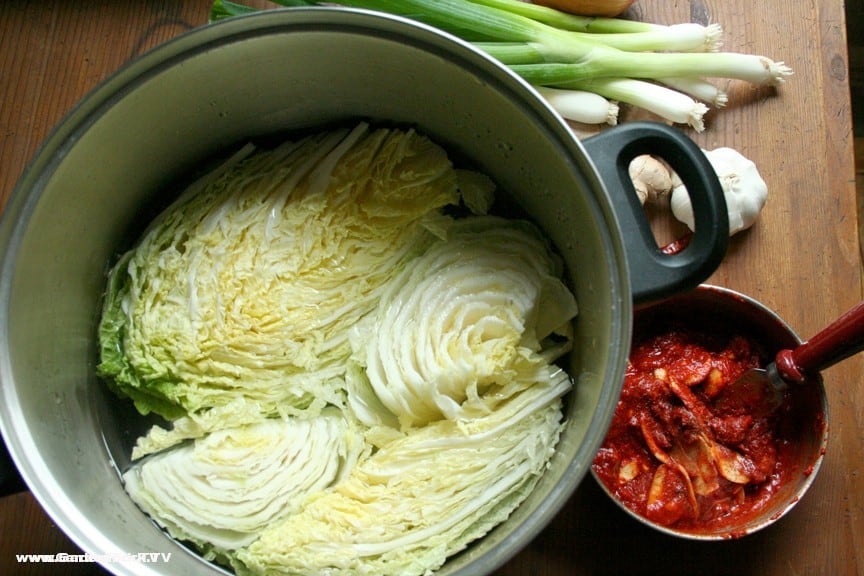 Step 1: Slice the white radish into short wide strips and dust lightly with salt. Place strips in a colander and allow them to release liquid and drain for an hour. Make a brine in a large non-reactive pot. Cut cabbage into 2" x 2" squares, and place in brine. Now add the salted radish strips and weigh everything down with a heavy plate. The brine should cover everything completely. It should brine for at least 6 to 8 hours in the fridge, but brining for a day yields the best result.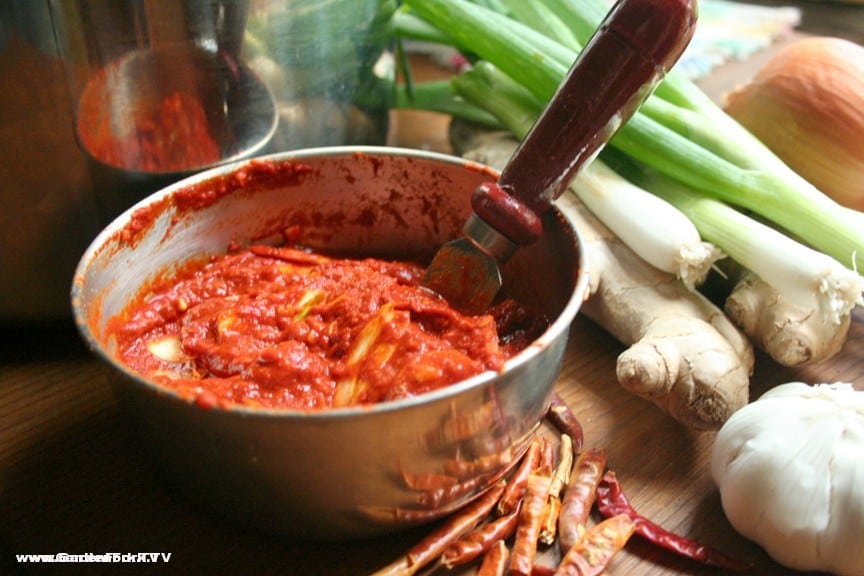 Step 2: Make your own gochujang. Korean chili paste can be expensive, and you will need a lot of it, so make your own. In a mixing bowl, add all the spices and dry ingredients with water to make a chili paste. If you don't have a ginger grater, slice ginger root into ½" thick medallions and pulverize them with a mallet. Stir until the texture is consistently smooth and thick, adjust sugar or salt to taste.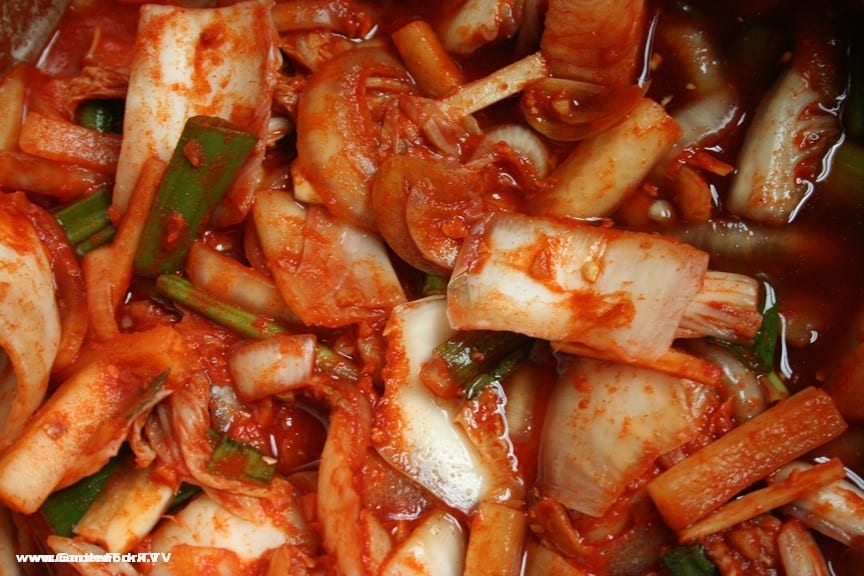 Step 3: Drain the cabbage and radish and let it air-dry slightly for roughly an hour. Be sure to reserve  the brine. The cabbage should feel a bit leathery. Mix cabbage, white radish, sliced onion, and scallions into the chili paste. Use your hands and be sure to coat everything thoroughly, wear rubber gloves if you need. Warning: If you must use the bathroom, do so before this step.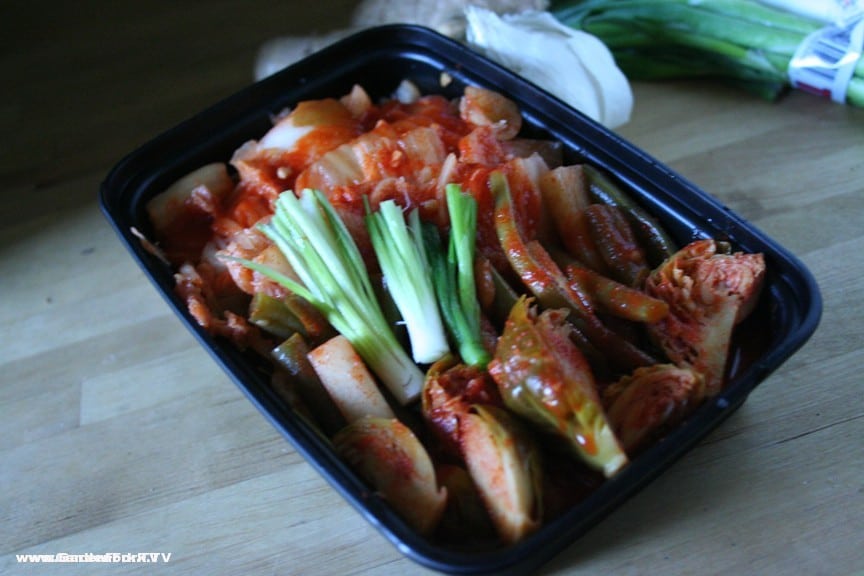 Step 4: Transfer everything into a deep air-tight container, cover and seal well and let it rest for a day at room temperature — this activates fermentation. Day two, add enough of the reserved brine to cover contents, mix well, tamp the bottom of the container to remove air bubbles. Seal tightly and store in the refrigerator. It should be ready to serve in 1 to 2 weeks, but for a deeper flavor let it ferment for about a month. When your kimchi is ready, you can re-package them in jars as gifts. Give it a shot and share with friends.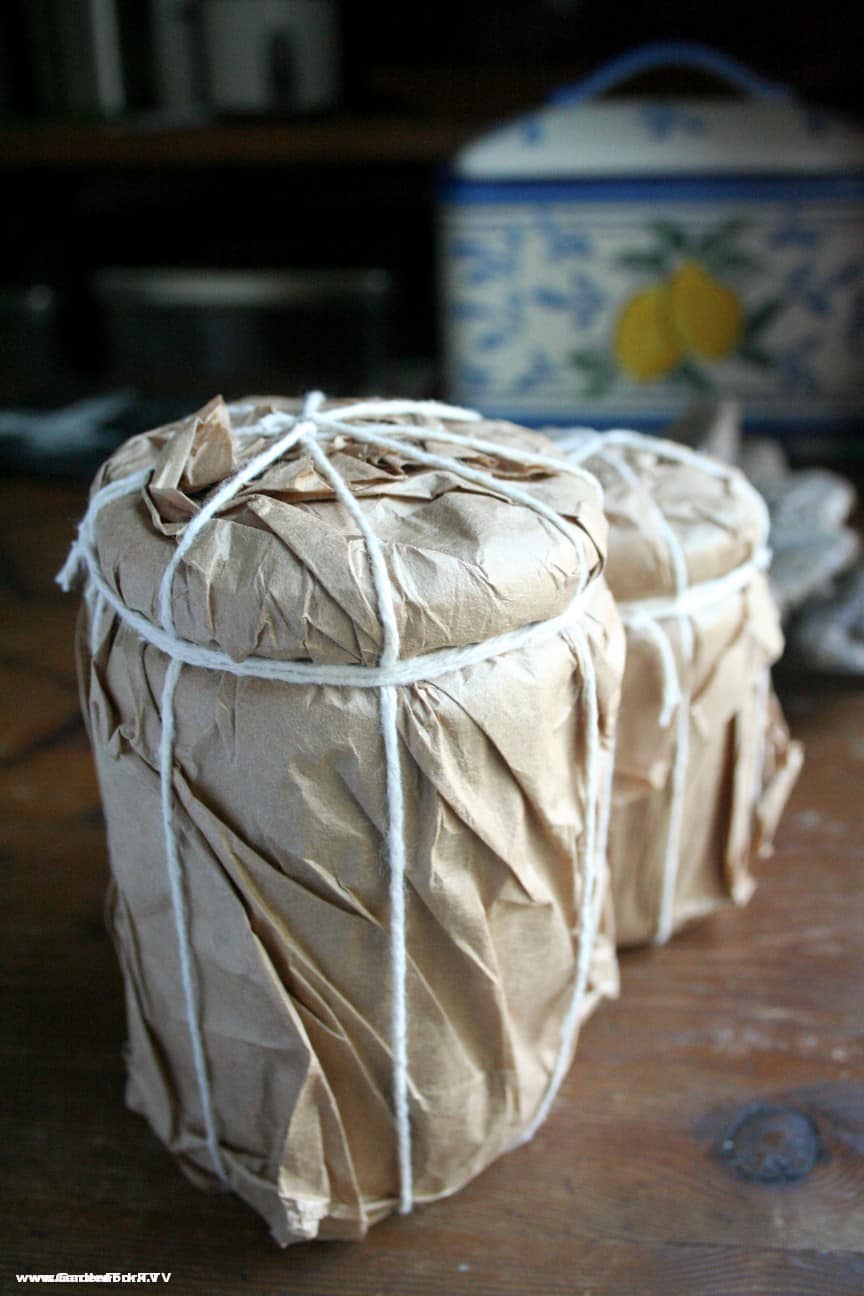 When kimchi is served at the table most of the liquid should be drained. A good Korean grocery store sells kimchi in grades of fermentation. The older kimchi is more acrid and pungent and is used as a soup base, or even a meat tenderizer. The younger grade of kimchi is suitable for the table. If you plan to make kimchi on a regular basis, save some of the old brine to use for the next batch. This will shorten the fermentation process.
Try other vegetables. You can make kimchi with leeks, fiddle head ferns, long cucumber strips, or watermelon rinds. Some vegetables such as green beans, whole garlic cloves, and Brussels sprouts must be blanched in boiling water first. You can also flavor your kimchi by adding other fragrant spices such as green pepper corns, smoked Hungarian paprika, perilla seed, or roasted black sesame seed.