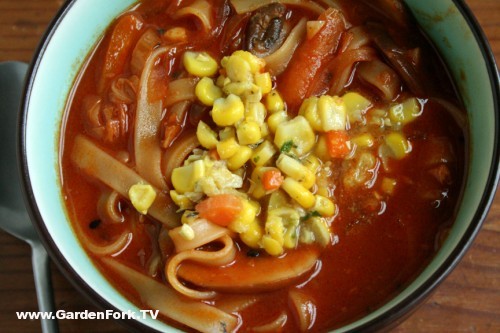 Kimchi Jigae, or kimchi soup, is a traditional winter stew from Korea. It's like a very spicy hot and sour soup made with fermented cabbage — some call it the cure-all for all winter ailments. It's simple to make and many of the ingredients are not considered as exotic anymore. You might be able to get everything at an Asian market, or like me substitute a few things. Sliced pork belly is a key ingredient to this soup, which I have left out. It gives this soup a silky texture and a deep smoky flavor. Instead I added butter before serving and used a dried chipotle pepper to give it that smoky flavor. The secret to this soup is low, slow cooking.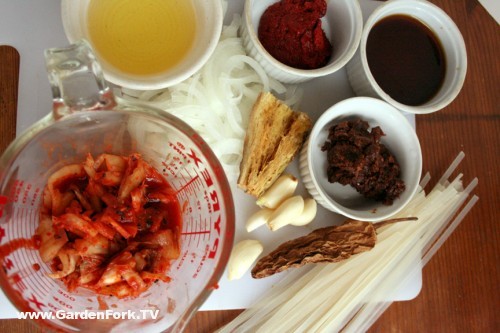 You'll need:
1 cup or more kimchi, the thicker pieces sliced into thin strips
½ cup kimchi juice (right from the kimchi)
2 teaspoon gochujang (sweet Korean chili paste)
3 teaspoon red miso
1 small onion, sliced thinly
1 cup mushroom, sliced
1 cup carrots, sliced diagonally
½ cup pureed pear
¼ cup sugar
½ tablespoon salt
5 cloves of garlic, minced
2 cups chicken or pork broth
2" stem of pulverized old ginger root, or 1 teaspoon of powdered ginger
1 large dried smoked chipotle pepper
1 tablespoon soy sauce mixed with ½ cup water
1 teaspoon rice vinegar
½ cup cubed firm tofu or glass noodle
½ cup light sesame oil
½ cup sweet butter
sliced green onion, garnish (optional)
If you plan on making your own stock, do it the day before, otherwise buy a good low sodium stock. So let's get cookin'. In a large stock pot heat sesame oil then add mushrooms, carrots, and onion. Add salt, cover and sweat everything until enough liquid covers the bottom of the pot. Now add the kimchi and juice, stock (chicken or pork), soy sauce, water and vinegar. Bring to a boil then add ginger, garlic, red miso, chili paste, sugar, pureed pear, and dried chipotle pepper. Lower heat, cover and let everything simmer for about half an hour. If you have sliced pork belly add this to the pot , but do use regular bacon.
Let the soup simmer on low for another 20 minutes then add glass noodles or firm tofu, stir occasionally. Simmer for another 25 minutes, or when the kimchi is soft enough to fork through. Remove from heat and add ½ cup butter. Stir then let it rest for another 5 minutes, remove the ginger root and the chipotle pepper. Serve hot and garnish with sliced green onion. I like mine with lots of sweet corn on top.