If you are using compact fluorescent bulbs, hear me out on the LED vs CFL debate. Below I'll list out 5 ways LEDs are better than CLFs. For a long time I was an advocate for CFL bulbs, but then LEDs became affordable, and the tables turned. I now also use LEDs for dusk to dawn light installations.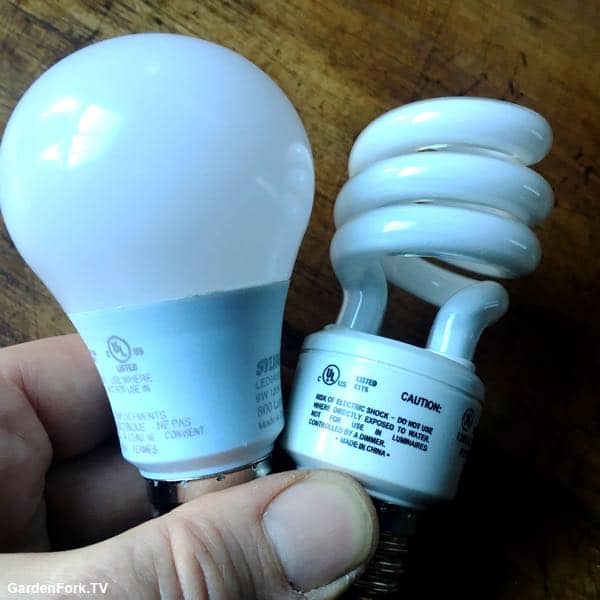 LED vs CFL  Here are 5 ways LED are better:
1.CFL Bulb shape = design fail. CFL lights have always had a bad reputation for being, basically, ugly. I still see some hanging lights in buildings that have those curled CFL bulbs in them. Not a great look. LED bulbs have the same look and feel as incandescent bulbs.
2. Most of them put out an ugly green tinged light. The light cast is reminiscent of those tube fluorescents of gym class. You can get a warm white compact fluorescent, and some are not bad. But there is still that tinge of an ugly cold white light reputation.
3. LED bulbs are much cheaper to use. I was always loyal to the CFL for the energy savings. You could leave lights on without feeling guilty. Then LED lights showed up in the hardware store and costs pennies to operate.
4. LEDs are dimmable! There are a few CFLs that are kinda dimmable, but the light level steps up and down instead of being on a continuous dimming spectrum. You need to use quality dimmer switches with LEDs, the cheap ones don't work. Learn from me. And buy LED bulbs that specifically say dimmable on the package.
5. CFL bulbs contain a trace amount of mercury, and you have to bring them to the hardware store to dispose of. This means the CFLs sit in my car until I remember to drop them off on the next store trip. Even then I will forget them in the car for several weeks. LEDs do contain electronic circuitry, and whether we should recycle them is a work in progress.
Recommended dimmable LED bulbs on Amazon. Get this dimmer switch to use with dimmable LEDs