I have been consumed by (and have been consuming) all things winter squash. I love trying all the varieties the local farmers grow - noting differences in texture to determine how best to use them. This was my first year to try a cheese pumpkin, and it's now one of my favorites. Its flesh is smooth and so savory it could almost be served as soup without even adding stock.
Despite the fun I have experimenting with various squash, I always feel comfortable falling back on butternut. Some may argue its popularity arose from its ease of transport and preparation, but there's no denying it also has good flavor. Did you know there are different varieties of butternut squash? Nutterbutters in particular are very sweet, and conveniently grow to a medium size.
I use butternut in this snack cake, but feel free to use any pumpkin or winter squash you're currently enjoying. Just cut the squash in half, scoop out the seeds and pulp, rub with a little oil, and roast "face down" on a baking sheet until the flesh is tender.
Why a snack cake? I think this is too sweet to be called a pumpkin loaf, but it's not so decadent as to be restricted to dessert. Heavily spiced and loaded with dried fruit and nuts, I think it's a great afternoon pick-me-up but you could easily get away with eating a slice with your morning cup of coffee. Anything you top with a dollop of yogurt is breakfast, right?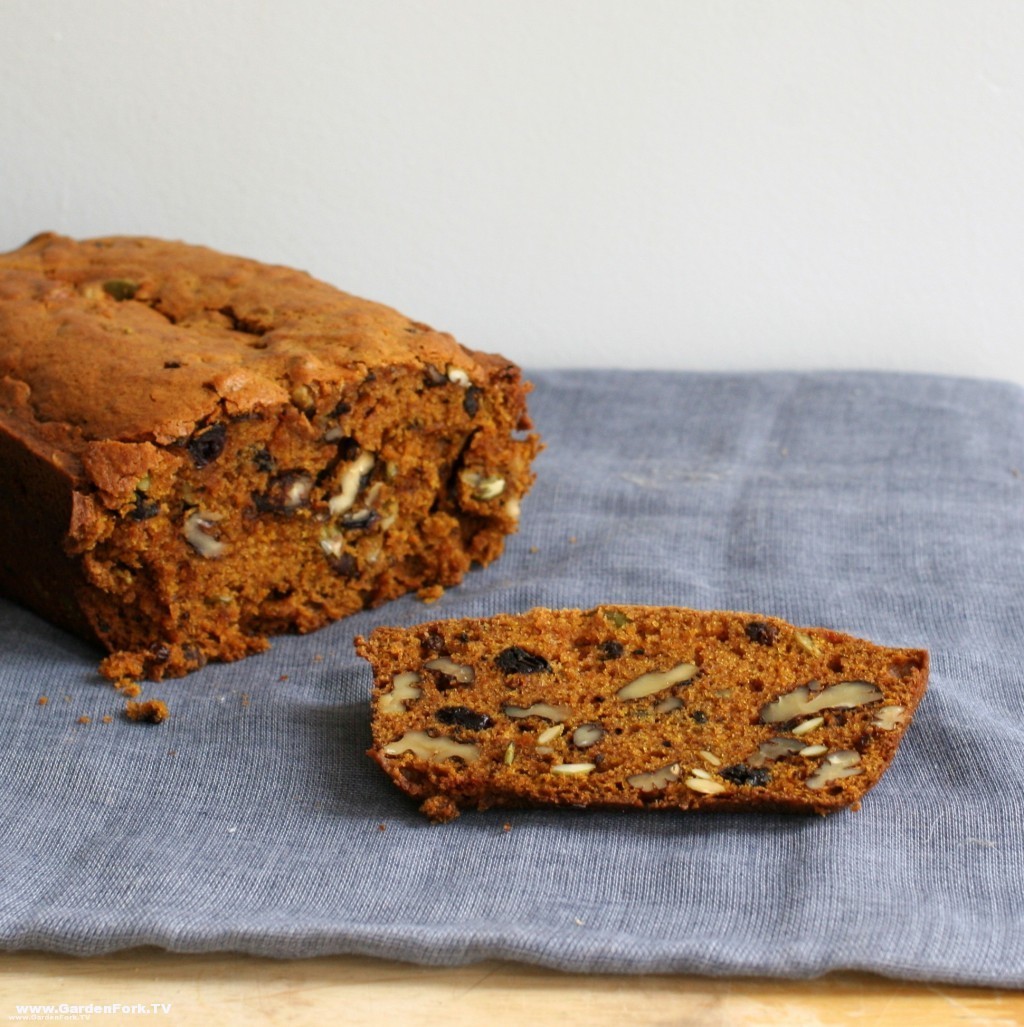 Loaded Pumpkin Snack Cake
Ingredients
• 1 stick (½ c, 8 tbsp) butter
• 1 c sugar
• 1 egg
• 1 ½ c flour
• ½ tablespoon baking soda
• ¾ teaspoon freshly grated nutmeg
• ½ tablespoon cinnamon
• ½ tablespoon cloves
• ¼ teaspoon salt
• 1 ¼ c pumpkin/winter squash puree
• 1 ½ c lightly toasted nuts (I used a combinatin of pecans and walnuts)
• ½ c dried fruit (I used a combination of tart cherries and raisins)
• ¼ c lightly toasted seeds (I used pepitas)
Cooking Directions
1. Preheat the oven to 350 degrees. Butter a loaf pan and set aside.
2. In a large bowl, beat the butter and sugar until light and fluffy. Add the egg and beat until just combined.
3. In a medium bowl, whisk together the flour, baking soda, spices and salt. Add the dry ingredients to the butter mixture and stir until just combined.
4. Stir in the pumpkin puree until just combined. Stir in the nuts, fruit, and seeds until about evenly distributed. Pour into the prepared loaf pan and bake 50-60 minutes, or until a toothpick comes out clean.