A slow cooker brings to mind meals like all-day-long beef stew, chicken noodle casserole, and Super Bowl chili. But if you're stuck at home all day, make a slow cooker meatloaf. It's ready in just… five hours. So why would anyone use slow cooker to make meatloaf? It's a great no-fuss meal that you can make while doing your chores. The first two meatloaves I made in my slow cooker were a bit dry in the center, even though it made a lot of liquid. After a little experimenting I found two things that help this stay moist and full of flavor: using moist, fresh, finely minced vegetables (onion, celery, bell  peppers, zucchini, etc.); searing the entire meatloaf before slow cooking.
So get your mashed potatoes in order, make a small salad, and give this recipe a shot. This recipe feeds three people, it may sound like a lot of food, but it actually shrinks down in the slow cooker.
Slow Cooker Meat Loaf Recipe
You'll Need:
a large electric slow cooker with a temperature setting (and timer)
a mixing bowl
a large nonstick frying pan
2 wide flippers
Ingredients:
1/2 lb ground beef
1/2 lb ground pork, or veal
1/2 lb ground turkey
2 tbsp olive oil
1 large egg, beaten
3/4 cup plain bread crumbs
1 tbsp sea salt
1 tbsp granulated garlic
1 tbsp dried basil
1 tsp dry thyme
1 tsp, black pepper
1/2 cup each: finely minced bell pepper (red or green), onion, celery, parsley
1/2 cup chicken stock or other cooking liquid
Glaze:
3 tbsp ketchup or cocktail sauce
1 tsp liquid smoke
1/2 tsp dried mustard
1 tsp Worcestershire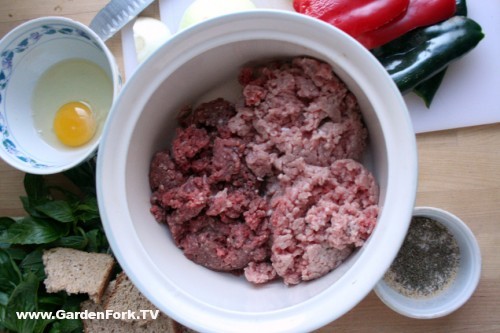 Put ground meat into a mixing bowl with all dry ingredients and spices, mix well. Then add all finely minced vegetables (pssst, use the food processor) and egg and mix again until all ingredients are evenly distributed. On a cutting board, form a rectangular loaf that is shaped more like rounded brick than a loaf of bread. You'll round off the top in the slow cooker later. Let it rest in the fridge for about half an hour.

Add olive oil into a hot non-stick pan. Carefully lower the loaf into the pan and sear the bottom until its firm enough to flip over. Sear all sides evenly, to a light golden brown.

Set the slow cooker to high, add a little olive oil, and set the meatloaf in carefully. With the back of a spoon round the top of meatloaf and adjust the sides to a good fit. Make sure there is about a 1/2″ of space from the inner edge of the slow cooker. Now add the chicken stock (or other cooking liquid). Cover and let it cook on high for two hours, then flip it over. Baste every hour or so. The meatloaf should release more liquid. If the liquid is deeper than 1/2″, remove some of it with a turkey baster.
After four hours, turn the slow cooker down to medium heat and flip the meatloaf over once more. Mix up the ketchup glaze and spoon it generously over the top of your meatloaf. Replace cover and let it cook on medium for another hour. Set the slow cooker to warm until you're ready to eat, then let it sit for 10 more minutes on a cutting board before serving.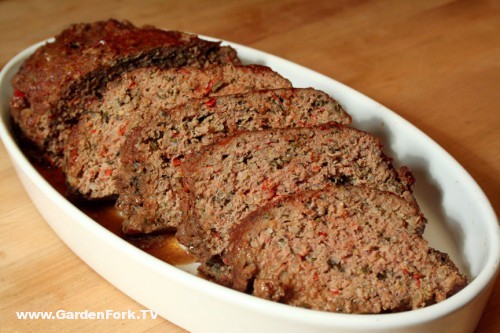 Be sure to drizzle some of that thick cooking liquid over the meatloaf before it hits the table, and serve it up with a generous helping of Parmesan & chive mashed potatoes and steamed carrots.    ©gardenfork.tv  all rights reserved