After getting lots of feedback and more ideas of what to do while stuck at home practicing social isolation, Will and I have more DIY ideas for you.
More Things To Do At Home During Social Isolation
Detail your car microfiber towel or Swiffer
Clean the inside of your windshield put Rain X on your windshield
Change the wiper blades and air filter
Remove the haze and fog from your headlights
Sow grass seed in late winter early spring
Clean your kitchen stove
Clean your outdoor grill
Scrub out your microwave oven
Vacuum behind the couch, wash the cushions and pillows.
Organize the loose screws and bolts from previous projects
Clean and prep your bike before the warm season
Clean your computer keyboard
Catalog the photos on your phone and computer
Order seeds for the garden
Listen to our first show on this topic, 15 Things To Do At Home.
Hey! Thanks for downloading the show. Welcome. This is garden fork radio. It's a DIY, eclectic DIY channel that I have. I also have a YouTube channel of the same name with, I just do interesting stuff and I make videos about it and I talk about it. And today the most interesting person in the world is here. We'll Wallace from the weekend homesteading.
Will: How are you doing buddy?
Eric: I'm here. Cause you called and said get on Skype.
Will: Yeah, it's time to go. It's a Monday. Here we go.
Eric: You're lying. You're like 10 cans of Red Bull without even drinking.
Will: So I actually haven't even had any caffeine today, which is kind of strange. I'm really trying hard to kick the soda habit and I've made it so far through the day without having one.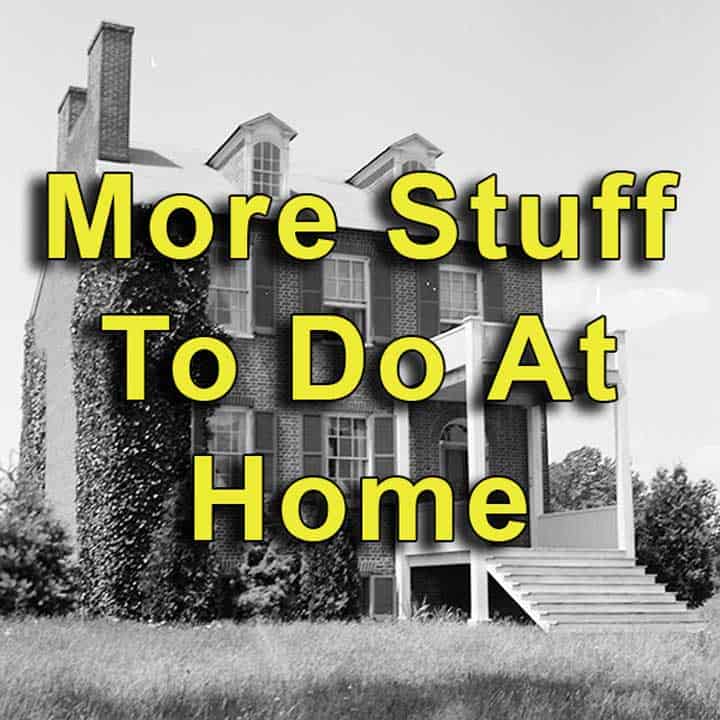 Eric: That's good. We, our last episode together was 15, 15 things to do when you're stuck at home and it got such a great response and we got a bunch of suggestions from you all on our garden for our Facebook discussion group or by direct email that we thought we do a followup show because we both had more ideas as well after the fact. Right.
Will: It was amazing how many people either reached out through the apps or through social media and just like even some people were posting their projects, like they are like, Hey, we took our homework and we did it and here's the pictures of the end result, which was was pretty cool to see.
Eric: Yeah. Kristy posted on our garden fork Facebook group. The link to that is in show notes, but just if you type in garden fork discussion group, it should show up in Facebook. But she has a picture of her open refrigerator, which is a pretty big deal for people. Thanks for the recent podcasts on household tasks to accomplish while sheltering in place. I'm D scaling the coffee maker and I cleaned the fridge. My husband started seeds. Cool. Huh.
Will: That is very cool. That is the nicest, cleanest refrigerator ever. Actually. It makes me feel like I need to go clean my refrigerator.
Eric: Yeah. Everything's lined up and stacked, you know,
Will: Almost organized by category even.
Eric: And then you got a nice one that you sent to me, right?
Will: Yeah. I don't have it on my computer right now, but I do it up here in a minute. Oh, go ahead.
Eric: From Carrie, I just wanted to say how great the latest, the last podcast you shared from garden for not sure what you two did different, but it was great to hear your back and forth. I really liked the fact that you didn't drone on like most have about the virus and instead just Sarah shared some fun, easy ideas. It was like listening to two guys sitting in the garage with beers talking about weekend plans and I hope you get your squirrel. Hmm.
Will: I have a squirrel issue that I'm dealing with right now. So,
Eric: Oh, we have bears.
Will: I we had some electrical cords laid out in the, for some items and I went out the other day to start picking stuff up because the snow starting to melt and one of the electrical cords, my nicest one was true to all the way through and in two pieces. So now instead of a nice hundred foot one, I have like a 20 foot and an 80 foot.
Eric: That's an expensive squirrel.
Will: Yes it is. It's very much so,
Eric: But anyway, Carrie who follows will on social media wrote that to Will. So we had some special, a karma the last episode.
Will: It seems like it. Let's see if we can repeat it again.
Eric: All right. So what is one of your stay at home projects?
Will: So somebody had messaged me and said, you know, you guys talked about the house a lot and one item that you guys didn't touch on is things to do in the car, you know, cause you have your cars and I don't know if you're like me, but we have little kids and it's full of Graham crackers and pretzels and food and anything else that ends up in the car. And one of the things that they came back with as they said, maybe talk about some of the things you can do to your car. So that was kind of one of the items I thought we kind of covered today is a project you could do in your house.
Eric: Yeah, I used to work on cars. So
Will: Yeah, I mean almost, we're not saying, Hey, take your engine out and rebuild it or anything like that. But stuff like, you know, replacing your air filter, you know, maybe replacing your windshield wipers. How about something simple like vacuum out your car, you know, that would be, you know, some simple things that people can do that you might not normally have time for, that you might be able to do now because of, you know, being at home and looking for things to do.
Eric: If you don't have a like a indoor, outdoor, wet, dry shop vacuum, maybe your neighbor does and they'll roll it down the driveway and then you can go meet the shop and roll it to your house. And a deep clean on the car is, is, is a cleansing experience.
Will: I will say the one, the one trick that I learned from a guy was take a a rag and spray some window cleaner on it and actually wipe the inside of your windshield. Everybody washes the outside of their car, but you never realize how much builds up on the inside of your windshield. And it's like all of a sudden you're driving down the road in high definition when that inside of the windshield is clean.
Eric: I've actually watched a video of how there's actually YouTube channels about detailing your car. And he was like, here's the best way to clean the inside of your windshield. Cause I actually am kind of neurotic about that because when I drive at night I can see the glare on the inside of the glass. He uses a microfiber cloth and I think an ammonia based cleaner when you know window cleaner. But the way he contorts himself to get the whole windshield because you can't get your hand down where the bottom of the windshield meets the dashboard. Usually if I can find this video I will post a link to it. But if you go, if you just type in car detailing wash your windshield, clean your windshield, there'll be a couple of very interesting ones there. But yeah, it's brilliant to clean the inside of your windshield and the non-fee, the microfiber helps eliminate streaking.
Will: The a one trick or hack that I've seen is if you have one of those like Swiffer dusters for your house or like a feather duster to put the microfiber cloth on there and tape it to it. And then make it kind of like a attachment and you can actually reach further up into your windshield without having to contort your body to get in there.
Eric: Oh wow. Well you just might've invented something there.
Will: There you go. The other one too is like a lot of people are worried about like, well what does my car need for parts? A lot of the websites out there, like even Amazon now you can type in the make and model of your vehicle and then when you type for, let's say air filters, it only brings up the air filters that would be compatible with your car. So it's really easy to find, you know, the windshield wiper blades and the air filters and you know, some of the consumable parts of your car are really easy to find on some of the shopping engines nowadays.
Eric: Yeah. Costco sells some pretty high end windshield wipers too, and you get what you pay for with windshield wipers and you know, if it's pouring down, dumping rain at night, you want, you want to be able to see what's going on. And if you cheap out on your windshield wipers, well you're, you're going to regret that if you haven't already.
Will: Not to do a brand type pitch or something like that. But what is your experience with the rain X products? We use it on our stuff all the time and I think it's worth its weight to, you know, put that on your vehicle. What are your thoughts on that?
Eric: Oh, I think it's great. I just forget to do it. Now's a perfect time. Yeah. So any other car suggestions,
Will: That's all I had for cars. You know, it was interesting to have the feedback from people on it, on things that I hadn't even thought of. Like, you know, the replacing your windshield wipers, I guess. You know, that'd be a great time. Now that winter is over for most States.
Eric: Yes. So I'm detailing, cleaning out your car, windshield wipers, take a look at the cables that are going to your car battery. If there is this white powdery stuff or corrosion you can try and replace themselves to clean them. But you could also have a shop do that as well. And that will go a long way, especially when it's cold. Radio Rick who is a former police officer has told me many times how he's helping out a co, a motorist and he opens the hood and the cables would just kind of come right off the battery because of all that deterioration. So look at that now and save you from being towed home.
Will: You know, somebody had a video online, I can't remember who it was about possibly getting the Hayes off of your headlights also.
Eric: Yeah, I don't know who did that, who would do that? That's good
Will: Video though. I mean that was, that was great. I never thought of doing that before, but it's definitely a lot cheaper than buying new headlights.
Eric: Yeah, the your plastic headlight lenses now are basically sandblasted as they go down the road. And also I think also UV the UV sunlight contributes to fogging those lamps as well. And you can buy a kit. A, I'll link to one I used went from three M and you are basically wet sanding the lens down to clear plastic again. And it works really well to the point that it's a very popular YouTube video of mine and will help me re edit it for a Facebook friendly format and it got like 20,000 views when we put it up there.
Will: It's amazing. I would've never thought that would be a popular thing, but boy it really took off.
Eric: So you can order that kit and then clean your and the kit will last longer than just two headlights. So you could, maybe you could do both of your car as well. If you have two cars, that's a two car to pure person family. Sure. Ah, I want to move out into the yard and this is late winter, early spring, which is a perfect time to work on those hard parts of your yard that the grass is all beat up maybe where you rode your quad through in mud season and tore up all the, all the grass. That doesn't happen ever. No, not at all. It's grasp grows better and cool weather anyway and right now your, your yard isn't getting a lot of traffic but it is getting quite a bit of moisture. So late, rough up the soil with a metal rake, lay down grass seed, don't bury grassy, does not grassy needs to be on top of the soil to sprout, but it needs to be in contact with the soil. So you spread it out, you know, you're like, you're kind of like pretending you're feeding the chickens. Instead you're putting a grass seed and walk over it with your shoes. So it, you're, you're pressing the seed into the top of the soil and then cover it with straw or they have that kind of mulched up straw that doesn't germinate and water, if it dries out water at and your grass will grow.
Will: One tip on that that I learned from somebody is do not use fertilizer on top of it. Usually if you fertilize on top of grass seed, it actually can inhibit it from growing or potentially even kill it because the grass has to start to establish itself before it's strong enough to take fertilizer.
Eric: Yeah, the nitrogen is just too high. Yup. Wow. There you go. Another one I saw actually a friend of mine posted on Facebook, but he finally cleaned his stove
Will: Like in his, in his house. Yeah. You know if you're talking about outside stuff, how about cleaning your gas grill? I mean it, it's fairly simple to take apart, you know, get the garden hose out and a little bit of like an SOS pad or some kind of steel wool pad and you know, go to clean out the inside of it and it'll make your burners last a lot longer. It'll make your grill last a lot longer and if you're going to be at home cooking out, especially since the weather's getting nice is always kind of a fun thing to do.
Eric: Exactly. Also spiders like lay eggs and build webs inside the tube, the burner tubes and clog up the jets of your gas grill. And if you get out your pancake air compressor, because I keep talking about that or your canned air. I like the pancake compressor where some eye protection and ear protection cause those compressors allowed. You're going to blow junk in your eyes, but if you blast it all out, your gas grill works so much better and it will last longer too.
Will: Getting that material out from the inside that holds the moisture against the metal is really what causes all the rust to start accumulating on the inside of your grill. That and if you do a good job cleaning your grades, you know, taking them out, flipping them over, cleaning them off really well. Those small particles that build up on there don't end up in your food.
Eric: Yeah, you're scraping the seasoning off the great.
Will: Yup. Hey, you know what? There is a place to have a little that inside of your gas grill, but at the same point, sometimes he gets to a little bit overboard and that's when you run into problems.
Eric: Hey, would you like more of garden fork or more of Eric? Would you like to get it in your email inbox? I send out just about every week I send out a little email about Eric's world and new stuff I posted. I even talk about podcasts I've listened to or just interesting stuff and usually almost always at least one picture of the Labradors and Regan Charlie, you can get that by signing up for Eric's garden fork email newsletter thing. There should be a link in the notes to the show. Just scroll down to the description of the podcast in your app and I'm hope it's a clickable link. It should be or go to garden fork.tv and on almost every page at the top of the page, so would be a signup if you're on a mobile device, you might have to tap on the little, there's a little menu bar and then hopefully there will be a signup or scroll the bottom of posts and you can sign up. There should be a link in the app here, more of Eric. It would be fun to have you along for the ride. It's kind of more brain dump Eric.
Cool stuff. All right.
Eric: We were talking about things to do in the kitchen and someone suggested on Facebook in addition to the things we suggested was to scrub out your microwave oven.
Will: Like the, the ceiling of it.
Eric: Yeah, the whole, if you look at that thing close, it's it's like a Petri dish. You know,
Will: I was actually embarrassed to say that the upset you know, I clean out the, the, the, the turntable and you know, the stuff that you can see. And then one time I kind of looked up in the microwave cause ours is fairly low and looked and there was all sorts of stuff stuck to it and I'm like, Oh, how long has that been there? So yeah, it happens. It's melted. The
Eric: Microwave.
Will: Yup. 75 things. I'm Mac and cheese in the microwave that have exploded actually now have still leg tights hanging from the top of the roof.
Eric: One thing I actually just did was I moved the couch away from the wall and I vacuumed behind it.
Will: Did you find any change in the couch cushions? Yes. Why is that? I don't know. I invited all of my friends over and have them sit on the couch and then when they leave I lift up the cushions and see what kind of donations we get.
Eric: I found like eight quarters and I'm like, how does this work?
Will: That's nice. That's like a four games of Pac-Man right there.
Eric: I also vacuum the couch. If you have a a cloth couch. Some vacuums actually have a small upholstery brush, but you can just take the, the dust nozzle usually has a little brush thing that you can go onto it and just sweep it back and forth and you'll be blown away at how much dirt you get off of a couch.
Will: When, when we used to have dogs one of the things, the tricks we do is the lint roller that you'd normally use on your pants or your sweater or something like that. Using that to take the dog hair off of the cushions if you have a cloth cushion really makes a huge difference too.
Eric: Yeah. I actually, we have some throw pillows on the couch and I wash them because you're, you're falling asleep on them. You're, you know, the oil from your hair is getting on there and people just forget that. I mean they change the sheets on their bed but they don't change the sheet. That's essentially wrapping around your couch pillow. And I also wash the pillow, the stuffing part as well. This is more information that you need to know but
Will: Okay. Well if we're going down this rabbit hole, let me ask this, how do you dry them to make sure that they end up drying out completely? Just hang them outside or put them in the dryer or what do you do?
Eric: I hang them in the basement near the furnace. Nice. I stretch them cause they're cotton. Usually I stretch them. If you put them in the dryer they shrink and get all wrinkly.
Will: Gotcha. You want to talk about the garage a little bit? Yes. So one item that somebody had sent me was, you know how you like you do a project and I am guilty of this, I don't know if you are, but I am, which is you get done with the project and then all the miscellaneous screws and parts just kind of get thrown in a bin and all that kind of small stuff keeps piling up. And my wife calls it the project graveyard where you know, all the stuff that didn't get used in the project goes to pile up and we're actually spending some time going through that stuff and getting a little bins to organize it or you know, peanut butter jars and so on and just kind of organizing that stuff in the garage. Cause I always say I'm going to get to it someday, but I always am too busy. Well now I have time on my hands, so we're kind of getting back to that stuff. So that could be something that people can work on.
Eric: I have some old metal hubcaps that are kind of small, but they're from one of my pickup trucks and they make great parts holders. When you're working on a project and at the end of the project there's some leftover screws and washers and stuff and they end up cluttering up my work bench in the garage and I should go do that. I should just reorganize all that stuff and put the all the lock washers in one place and all the nuts and bolts in one place and that would save me time going forward. When I, and I have a lot of time on my hands right now,
Will: A little hack to on those somebody showed me was take a magnet, you know like a refrigerator magnet, one of the little bit bigger size ones and stick it in the bottom of that. So when the hubcap is upside down, you're throwing this stuff in there. Anything that's small kind of works its way to that magnet and then it doesn't slosh around in the bin and it kind of makes the whole bowl almost a magnetic bowl to keep all your parts in.
Excellent. Excellent.
Will: There's the price of admission focusing.
Eric: You had a suggestion of bike maintenance.
Will: Yes. So, you know, it's starting to get nice outside and you know, you can go for bike rides and things like that. I think that like, give you example of the state of Wisconsin said it's okay to go for walks and go for bike rides, but nobody really, they usually dig out their bikes and just get out of them and start riding. But before you go out, maybe do a little bit of maintenance on it, you know, fill up the tires, grease some of the parts, you know, check things to make sure you know, they're there, there's nothing broken, you know, do that on your bikes and on the kids' bikes. And then it can be a fun thing to do as a family together, you know, and go for a bike ride.
Eric: Yeah. Because that, you know, the minute the kids want to go out and they discover that there's a flat tire or something, it's like just kind of pours cold water on the project.
Will: Well that and even maintenance on a bike, I mean, if you feel uncomfortable about doing DIY projects or you know, turning a wrench on some equipment and things like that, starting with a bicycle is actually probably one of the easiest things to maintain. Cause you really can't do anything wrong to it. It's you, you only can make it better. It's very difficult to make it, you know,
Eric: Worse yet. A little chain lube goes a long way. Just make sure it's not splatting all over your kid's pants. But I guess kids don't wear pants on bikes probably.
Will: Yeah, mine do. They'll wear jeans every once in awhile, but it's, it is important to go and, and, you know, just tighten all that stuff up. That, and it's a safety thing. And I'll be honest, we do it as a actually a family and you know, my son always wants to work on little projects and things like that. And that's kinda one of those ones where you can kind of get, do it together and get them into the idea of maintaining their stuff and kind of show them a little responsibility towards their stuff. And then, you know, hopefully that'll pay off in the long run
Speaker 4:
You hope.
Will: Absolutely.
Eric: I had a couple ideas with computers. Let's hear it. One is to clean your keyboard, which is kind of like the microwave oven of the computer.
Will: Do you ever use canned air on there and all of a sudden like stuff is flying out of the keys? I'm like, I don't remember having Chinese food. When did I have Chinese? Oh, that was about like month and a half ago. And there's like a little pieces of rice or food coming under the keyboard. I'm guilty of it. I'll say I am,
Eric: I use a vacuum and I use the dust nozzle, which is the smallest gizmo that the vacuum has and I run it across the keys and try and get into the corners as much as I can. I'm reluctant to blow into the keyboards, like the idea of sucking stuff out of the keyboard. And then I go ahead.
Will: I was gonna say most keyboards nowadays are actually sealed compartment keyboards. So back in the old days when there used to be spaces around the keys, you'd have a scenario where you didn't want to do that were blowing into it. But if you have something that's within the last probably five years, most of those are sealed because most of the manufacturers are trying to make sure that you don't get moisture in your keyboards. So if you have older stuff, vacuum in and out as best. If you have newer stuff using the canned air or the vacuum, either one of them will work
Eric: Or your pancake air compressor,
Will: You and the air compressor. Here we go. Huh.
Eric: You can also, I also take Windex on a kitchen towel and I cleaned the keys and it's amazing how your keys actually wear a different color a while ago.
Will: I will say warning on that, do not use something that is very harsh because I made that mistake and I have a keyboard that is missing a number of the letters on the keyboard. So you definitely have to remember where your keys are at that point.
Eric: I mean Windex works simple green. I think I'll work.
Will: Definitely do not use acetone. I'm just saying.
Eric: And then inside the computer maybe you could go through and catalog all those photos that you dumped on there from your phone.
Will: Isn't it amazing how many photos and how much video you collect on your computer from your phone? I looked at it and we have, I mean we do a lot because we do blogging and things like that, but I think 5,000 photos from the last year on my phone.
Eric: Yeah. Yeah. I should probably outsource that.
Will: I dunno why I have like 17 photos of pancakes, you know, just for like one meal. Like I was trying to get the perfect shot of the pancake, so took 17 different versions. I kept one of them and ain't never deleted the other 16.
Eric: So that is my additional list.
Will: Yeah, that's, that's, that covered a lot. I mean there was a lot of good feedback back and forth and I'm really happy to see that, you know, people are looking at the list and going at it and, and doing some things to better themselves. I mean, a couple of people even made comments about the online courses that they're taking, or Hey, I'm going to try learning a language or I'm going to do these types of things to even better themselves. It doesn't necessarily always have to be a DIY project or fixing something on your house or cooking in your kitchen. Sometimes you can do something for yourself.
Eric: And if you do want to do the gardening thing our friend Erin from the YouTube channel, the impatient Gardner, so type that in the inpatient Gardner has a brand new video about starting your spring garden.
Will: It was awesome. I mean, it really covered a lot of the questions that I've had about what I should do with my garden. So it's great.
Eric: She knows all the names of the plants.
Will: That is very impressive. Like she's like, Oh, this is the genus. Such a shock. And I'm like, ah, I see that as the red flower. Sorry.
Eric: I'm like, that's a Brown eyed sees Susan. She goes, no, that's a rude Becky. I hurt a blip. Blow blow, you know?
Will: Yeah. And I'm even one further back then. It's the green plant that grows in my yard.
Eric: Our neighbor gave us some Dahlia tubers last year and we plant. I just threw him in. I'm like, ah, okay. You know, and they're phenomenal and they're really easy to grow. You have to dig up. If you're in the, I'm just looking outside and there's a snow storm but you have to dig them up in the fall. If you live in an area that gets a freeze, but it's pretty easy to do and man, are they beautiful? So my neighbor is going to give us some more, but I think we're going to order some as well. Aaron gave me a link to a good company to order them from. So I'm
Will: I'm amazed at how many online companies there are that you can order seeds and plants from these days. You know, it always used to be, Oh, I'm going to go to the home improvement store down the road or the big box guys and get some stuff there. And there are tons of places where they can deliver it right to you. So you could go online right now, pick a couple of things. And because FedEx and ups and all the different shipping companies and the mail is still going, you can have things to help your projects out, get delivered to your house and away you go.
Eric: Yeah, I love it. High mowing seeds is a pretty cool company that I just discovered from my neighbor who runs a farm market stand. He has a farm in and on the corner of the property by the road. He has an honor system, you know, a shed. And the garlic that I bought from him was phenomenal. And it's actually his partner who is in charge of the garden and it's a certified organic garden. So I have to actually give her the credit. Not him. They they're great people and they have, but they really like high mowing seed. So I ordered some stuff from there. So
Will: You know, some people have been asking me about the Apple orchard and went to plant trees and kind of do that cause that's one of the things that we did a couple of years ago and it's been going really well and surprisingly enough those trees were actually, a number of them were ordered from this thing. It's called stark brothers and you'll just get this long cardboard box and inside of it will be these basically a stick and a, it's got a root ball on it that's got some jelly on it or something like that to keep the moisture on it and you can plant them and away you go. You know and it was pretty amazing by the way, this isn't a paid sponsorship from those guys, but that is where we got our, a lot of our trees from.
Eric: Cool So let us know. We could do a third show this if you want a it's radio@gardenfork.tv or you can reach out to will and I on the garden fork Facebook group and Rick from the podcast and Erin from the podcasts are also active in the Facebook group as well. If you have any specific questions, anything else my friend, I think that's good for today. Alright, go out or stay in and do cool stuff and then let us know.
image from Library of Congress