Easy to make no knead bread recipe, this time we add black olives for extra flavor. Oil cured black olives are what a friend of mine calls 'little salt bombs' they are that and more. Watch the video and check out the recipe.

Lately I've been doing a whole wheat - white flour mix for my no knead bread recipe. I'm adding more whole grains into my diet, and the whole wheat adds that nice nuttiness to the bread. Making 100% whole wheat breads can be tough, especially no kneads.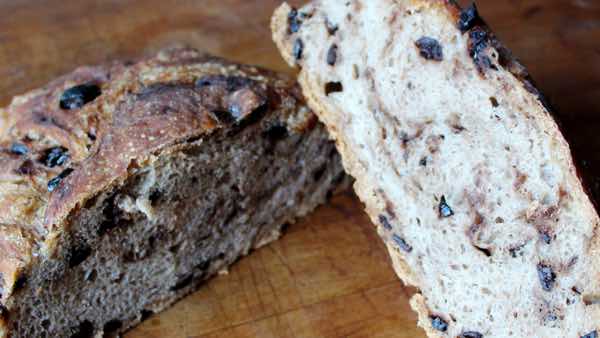 But the main ingredient here are black olives! Don't buy the watery black olives in a can, get oil cured olives. These are usually available in a deli or gourmet shop. I have seen oil cured in a jar, but not often. Buy pitted olives, but when chopping them, keep an eye out for pits, you may run across one or two.
For some time  now I have been using parchment paper to move the dough from the the bowl it rises in into the dutch oven. This eliminates the risks of flopping the formed dough into the dutch oven. Its ok if the parchment paper sticks out of the lid of the dutch oven, it will help with removing the baked loaf when its done.
For my basic no knead bread recipe, the bread is done with the internal temperature reaches 200F. I usually bake the bread for 35 minutes covered and then 15 minutes uncovered. With your oven these baking times may change. Its better to over-bake bread than to under-bake it. Wet dough bread is no fun.

Even if you are a big fan of black olives, using less is more here. Olives pack a lot of flavor in a little portion, OK?
No Knead Bread Recipe with Olives
Author:
Prep time:
Cook time:
Total time:
An easy bread recipe that adds more flavor with black olives. Serve this at dinner, your friends will like it.
Ingredients
2 cups all purpose flour
1 cup whole wheat flour
¼ teaspoon active dry yeast
1 ½ teaspoons salt
1 cup chopped & pitted oil cured black olives
1 ½ cups warm water
Instructions
Mix together the two flours, the salt, and the yeast. I like to use a whisk for this.
Add in the pitted and chopped olives, be sure they don't have any pits in them. Bad things can happen.
Add in the warm water and mix together.
The dough will be stiff and will not come together. Don't worry, it won't. You want the dough to be 'shaggy' like shag carpet, not wet.
Add water by the teaspoon if needed, but a bit too much water will make the dough wet.
Cover the bowl with plastic wrap and place is a warm place to rise. I use my oven with the light on.
Let the dough rise 12-18 hours. The dough should have strands pulling away from the bowl when its ready.
Flour a board lightly. Scrape the dough out of the bowl onto the board. Dust the dough with a bit of flour and turn the dough into itself to form a ball.
Place the ball of dough onto a sheet of parchment about 18" long. The parchment should be wide enough to sit in the dutch oven and stick out the top a bit, as shown in the video.
Gather the corners of the parchment/dough and put into a bowl with high sides. One similar to the one I use in the video is good.
Cover with a towel and let the dough rise for two hours in a warm place. I use the oven with the light on again.
After 1 ½ hours of rise, put the dutch oven and lid in the oven and set the oven to 450F.
After 30 minutes, remove the dutch oven from the preheating oven, lower the parchment with the dough into the dutch oven, cover and bake for about 30-40 minutes. It all depends on your oven.
After 30 minutes, remove the lid of the dutch oven, the bread should be starting to brown. Bake another 15 minutes with the cover off.
Check the temperature of the bread, its done with the bread reaches 200F