I love the simplicity and versatility of the no knead bread recipe, this no knead bread variation being a great example of taking the basic recipe, adding a few tweaks, and baking an artisan bread that rivals those in the bakery.
I don't often use steel cut oats for anything, but I saw this recipe and I thought, wow that's a great reason to buy some steel cut oats. After we made this recipe, I cooked the steel cut oats in the pressure cooker, making a nutty oatmeal that was a lot of fun.
This recipe is based on one on the Breadtopia website, a great source for all sorts of bread baking info and tools. Go check them out, the site is run by a web food guy named Eric, so you know its good.
But back to the no knead bread recipe. I've become a big convert to using a digital scale for measuring out the flour for recipes. I've learned that it makes a big difference and I talk about it in this video: Five No Knead Bread Tips
Pay attention when you're toasting the steel cut oats on your stovetop. Use a nonstick pan or cast-iron pan. You want to heat this up, but stay right there while it's toasting. I burnt the first batch of these because I walked away, the oats go from toasted to burnt in very short order. So watch out for that; once again, learn for me.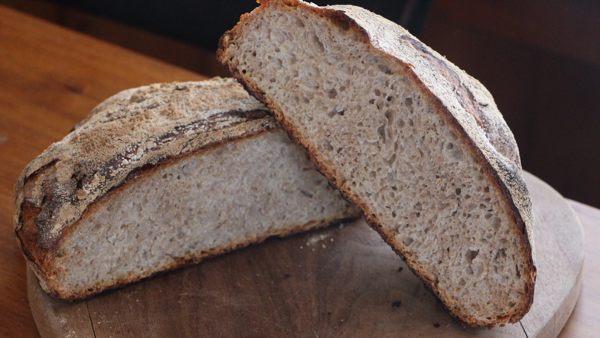 But once you get those toasted oats into the bread dough, it's a great thing. It adds a neat texture and flavor. It's subtle, it's not like super oatmeal bread ,but I think it's just enough. I also added whole wheat flour - I'm trying to eat more whole grains rather than refined flour. I think it works really well here. you can watch our other no knead bread videos here
Let me know your thoughts, have you made the artisan bread recipes or the no knead bread?
Oatmeal  No Knead Bread Recipe
10 ozs  (2 ¼ cups) bread flour
3 oz (¾ cups) whole wheat flour
3 oz (½ cup) steel cut oats
1 tablespoon coarse salt
heaping ¼ teaspoon active dry yeast
1 ⅝ cups water filtered preferably
Toast the oats in a pan on the stove, you want them toasted, not burnt.
Add the flour, salt, yeast, and oats in a large bowl and stir together
Pour in the water, (warm water is best, I think) and mix.
Cover the bowl with plastic wrap and place in a warm area overnight. 12-18 hours.
Flour a board or counter and shape the risen dough into a ball. Turn the ball into itself several times as shown in the video.
Place the dough on a piece of parchment paper larger than your dutch oven.
Place this in a bowl and cover with a towel, let rise for about an hour.
Preheat the oven and dutch oven at 500F for 30 minutes.
Dust the dough with flour if you like, and cut a design into the top, as shown in the video.
Use the parchment paper to lift the dough out of the bowl, and place in the hot dutch oven.
Cover and bake for 30 minutes at 450F. Take off the lid and bake an additional 15-2o minutes.
You want the crust browned and the internal temperature to be about 190F.
Remove from the dutch oven and cool on a wire rack. Do not cut it right away, let it cool.