In our honey tasting episode, I described one of my favorite smoothies – one made with beets– that subsequently caught some Twitter flack. I should have noted that the beets should be roasted, and since this is a snack I really do love, I thought I'd elaborate on the recipe and perhaps provide a disclaimer.
Actually, let's cover the disclaimer first: This smoothie is for the beet-lover. If you are in the camp that beets taste like dirt or if you are on the fence regarding this vegetable, this will not be the preparation to convert you. Still interested in a taste? Alright then, let's go…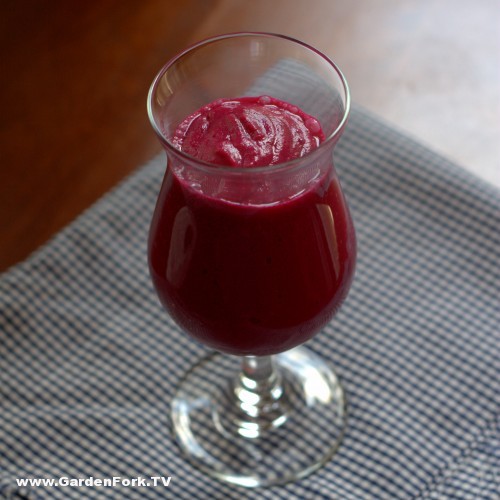 The natural sweetness of apples and roasted beets plus a stealthy dose of spinach make this smoothie a great way to start your morning or to sip on as an afternoon pick-me-up. Even its fuchsia hue it uplifting. Bonus: It can also be served as a cold soup.
Roast the beets ahead of time so they have an opportunity to chill in the fridge. Use whatever apple variety you'd like, but I highly recommend Pink Lady – its tart sweetness makes the smoothie a little special. The recipe is easily doubled, tripled, etc.
Beet Smoothie
1 serving
Ingredients
•    1 medium beet, roasted, cooled and peeled
•    1 apple, cored (Pink Lady is best)
•    handful spinach
•    kefir, yogurt, milk, or water as need (I use kefir)
Cooking Directions
1. Blend the beet, apple, and spinach on high in a blender or powerful food processor until smooth.
2. Add liquid as needed to bring to desired consistency.