Setting up our simple cheap hoop house greenhouse for seed starting. This PVC hoop house cold frame works well for us and it was easy to build, here is the video of us building our the hoop house. The hoop house greenhouse allows you to get a head start on planting vegetables and seed starting. We started this in February to start warming the soil. This can be made for free if you find some scrap leftover lumber and PVC pipe. This plan uses short lengths of PVC pipe, which you may find laying around your yard, or your neighbor's yard.
My hoop house plans for this mini greenhouse are simple. Some 2x4s, some PVC pipe, and a piece of plywood. The thermal actuated vent keeps the hoop house from overheating. Link to buy the thermal greenhouse vents
I use 3 mil clear plastic from the hardware store, it lasts a few years with care. I hang our mini greenhouse on the back of a shed when i am not using it. To attach the plastic to it, I fold the plastic over on itself and use lots of staples. You could also use a piece of lath or thin wood to hold the plastic to the wood. For the ends, I staple the plastic to the plywood end with the thermal vent and then cut off the excess plastic. For the other end of the cold frame hoop house, I simply bunch up the plastic and staple it to the 2x4.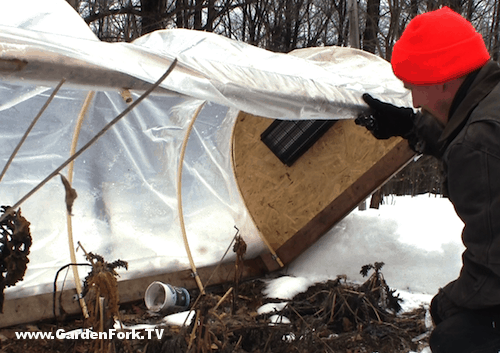 After a few days on your vegetable bed, this portable greenhouse will start warming the soil. Its amazing how warm it is inside the hoop house compared to the outside temperature. We have a video showing how a hoop house greenhouse can defrost your garden soil coming soon.
In the video, the plywood I used for the end of the greenhouse, OSB, is not the best kind of plywood for outdoor uses. Use a better piece of plywood and paint it with a few coats of latex paint, it will last much longer if its painted.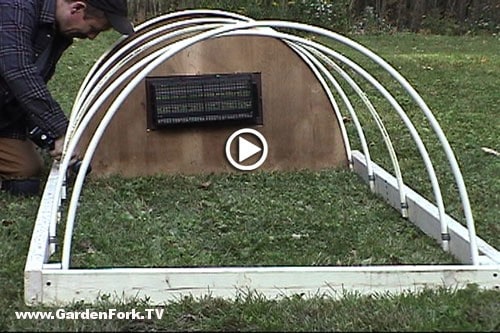 Click here to watch our How To Build a Hoop House Cold Frame Video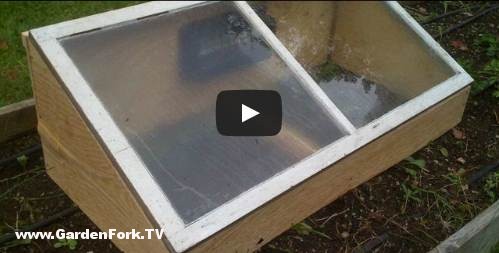 Click here to watch How to build a cold frame video.
Learn how to grow food year round, read Eliot Coleman's Four Season Harvest book and Nikki Jabour's Year Round Vegetable Gardener.
Do you use a hoop house greenhouse? let us know comments or questions below: