Want to run your a general store 2.5 hours from Brooklyn? here's your chance.
The Connecticut town where we live part time, Colebrook, CT, had until recently the longest continually operating general store in Connecticut. It was the central hub of our small town; get a coffee, sandwich, or groceries, and also get an update on what's going on in town.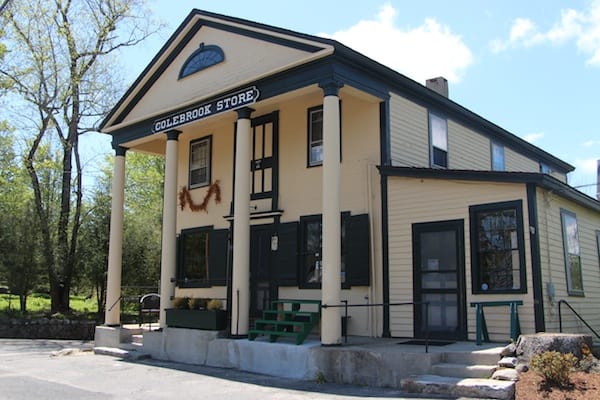 It was the place where one could buy home-made donuts and find out about the cardboard boat race happening at the annual town fair.
After a new owner took over, the store closed, (its not easy running a food business) and a group of town residents formed a non-profit and bought the building. They have fixed up the store, and they are now looking for someone to run a general store - food business.
In the right hands, the Colebrook Store will flourish, it is a destination for cyclists, bicyclists, tourists, and anyone with a craving for eclairs, which the store is known for.
The store has three customers, the local residents who need a central social hub to buy a weekday egg sandwich, lunch, milk, butter, coffee, toilet paper, etc., the passerby who is driving through town on the way to the nearby YMCA camp or ski hills, and the destination tourist out for a ride and wants some eclairs or a sandwich.
To be successful, I think, the store would need to be a hybrid of what the town residents need and what out of town residents would travel for, plus the desires of whoever runs the business. Yes, it could feature seasonal locally sourced foods, but the store also has to sell food staples the town needs: milk, toilet paper, pasta, tuna,  sandwiches.
The non-profit that now owns the building is accepting proposals from people interested in running the store. One must have food retail experience to be successful, plus a business plan and sufficient funds to open the store.
I think the startup could be crowdfunded, and with most of the infrastructure in place - range, oven, coolers - it would not take a large amount of funding to get the store up and running again. The crowdfunders would also be a built in base of supporters-customers.
And the general store has an apartment upstairs, so if you chose to, you could live very inexpensively and have short commute to work.
Colebrook is 2.5 hours from Brooklyn, NY . There is a bus from Port Authority that runs twice a day to Winsted, CT, which is just down the road from Colebrook.
The area around here is amazing, lakes for fishing, state forests for hiking, country roads for cycling.
This store, done right, is a great opportunity. If you've been thinking about running your own small town food establishment, here's your chance.
Email me:  eric@gardenfork.tv , and I'll put you in touch with the non-profit that owns the store.