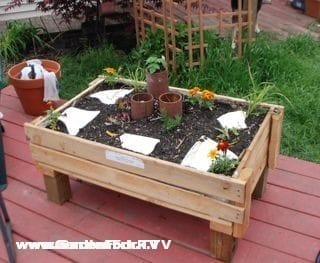 I love this. It turned out so much better than I thought it would. Jim found this melon crate at one of his stops. As soon as he saw it, he thought small, raised bed. When I saw it, I asked for more to share!
Jim screwed some 8 inch legs from left over lumber on the bottom of the box. I lined the box with a new product I'm trying out. Hydro cloth. I got it from Gardeners.com. Then came the fun. We planted marigolds, lettuces, radishes, basil, and a cherry tomato that I hope cascades down from a clay pipe.
Most importantly, and what makes it a coffee table as opposed to salad table, are five "tiles" made from a broken ceramic pot. Each one big enough for the largest of cups or bowls. I'm hoping that in a few weeks, all the plants will take off and this little table will just be the jewel of our back yard paradise.