A simple apple crisp recipe that you can make for a quick dessert with minimal effort. We visited our local pick your own orchard, Riiska Orchard in Sandisfield, Mass, and picked way too many apples! This is our go to recipe for a quick dessert. You can use store bought apples, but we're all about local when we can, so please consider supporting your local orchards.
We usually add a lemon juice or orange juice to the sliced apples for flavor. The juice also keeps the slices from browning, but this isn't a big deal for us, because its going to be baked anyway. We like to use the apple slicer gizmo - link here - but you can also just use a knife to cut them up. Thinner is better, but the apple slices don't have to be wafer thin, just thin, OK? I have found it handy to use an apple corer when slicing the apples with a knife, this round handle device cuts out the core of the apple, saving time. Yes it is one of those uni-tasker tools, but I have one.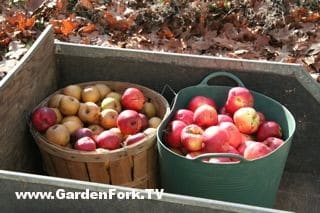 Avoid using the instant oatmeal in this apple crisp recipe, its cut too thin, and I like the big flakes of the rolled oats, aka old fashioned oats. You can use different nuts, again use what you got, I like walnuts, but pistachios would be neat in this, or almonds or whatever you have.
This is for a 8x8 pan, but works for something slightly larger. Glass or metal pans work fine. Glass might produce a more crunchy apple crisp along the sides and bottom, not sure why. We served this with our homemade ginger ice cream, but it tastes great alone as well. You can dial back the sugar more , but not too much or the topping wont work as well, I think.
Simple Apple Crisp : GardenFork.TV
Ingredients
• 4 sliced apples
• 1 tablespoon lemon or orange juice
• 1 tablespoon lemon or orange zest
• 5 tablespoons butter
• 1 tablespoon sugar
• 1 cup rolled oats
• 1 handful walnuts
• ½ cup sugar
• ½ cup flour
Cooking Directions
1. Slice up your apples, not paper thin, but not chunks either. Use the slicer rig or a knife. Either way core the apples.
2. Put the slices in a bowl and mix with 1 tablespoon sugar and lemon or orange juice and zest. If you like it sweet, you may add more sugar. Keep in mind a little zest goes a long way with flavor.
3. Put the oats, flour, ½ cup sugar, walnuts, and butter in a food process and give it a few whirls. You want to cut in the butter, but not over mix it.
4. Grease an 8x8 pan, and put the apples in the bottom.
5. Top with the flour-butter mixture, and bake in a 350 oven for 45 minutes or when the top starts to brown and a bit bubbly