Make this simple rhubarb cake and and learn how to cook rhubarb in this easy cake video. This rhubarb recipe is based our Peach Dump Cake Dessert Recipe video, link here. What's great about this recipe is that it doesn't take long to bake and you're ready to go out in the yard instead of being in the kitchen.
This rhubarb recipe can be adapted to use most any fresh or canned fruit. Like its cousin, the Peach Dump Cake recipe, it uses a quick cake recipe and adds in fruit. We found that simmering the rhubarb in some sugar before adding it to the cake batter works really well. Our oven usually takes longer than most to bake cakes, so this recipe should take about 30 minutes in  your oven.
If you want to make this recipe and its winter, you can buy frozen rhubarb in larger supermarkets now. Neat. I imagine frozen would not need to be cooked as much beforehand, as the freezing breaks it down some.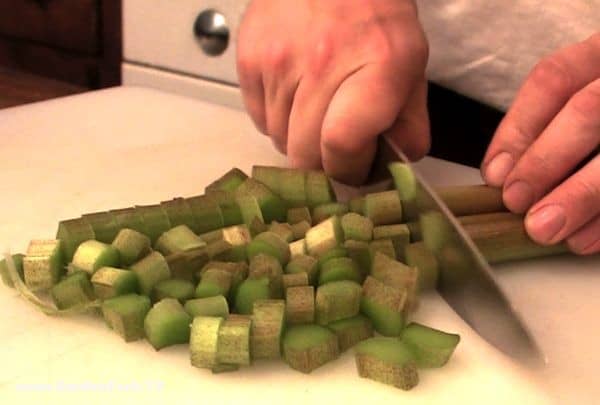 We have a bunch of how to grow and cook rhubarb videos on our site, here is the link. Our first rhubarb video we did when our Yellow Labrador Henry was just a pup, and she was eating my notes while we were shooting the show. Watch our first rhubarb recipe video here.
Let us know your thoughts and suggestions and ideas in the comments below, are there new ways to use rhubarb in recipes? Have you ever eaten it raw? I have, it has quite a taste!
Simple Rhubarb Cake Recipe
Ingredients
•    1 cup All purpose Flour
•    1 ½ Teaspoon Fresh Baking Powder
•    ½ Teaspoon Salt
•    1 stick Butter
•    1 cup milk
•    1 ⅓ cups sugar - use less if you want
•    2 cups rhubarb
Cooking Directions
1. Preheat the oven to 375F
2. Cut the Rhubarb into ½\' pieces, toss into a small pan with ⅓ cup sugar over low heat, simmer for 5 minutes or until the rhubarb is slightly soft. You may want to drain off some of the water from this to keep the cake batter from being too wet.
3. Mix all the dry ingredients together
4. Add the milk and slightly cooked rhubarb. The batter may look pretty wet
5. Pour the batter into a greased 8 x 8 cake pan. I like to use a glass pan for this. It browns the cake nicely.
6. Bake for 30 minutes and test for doneness. The top of the cake should be nicely browned, but not too toasted.
7. This rhubarb recipe goes well with ice cream.