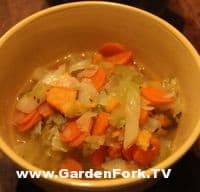 I like Jacques Pepin. I don't know him personally, but I watch his cooking shows, and his cookbooks. His style is GardenFork: a lack of pretention, a desire to share and teach.
In his book, Fast Food My Way, [ Amazon Link

, IndieBound Link ] there is a recipe for what he calls Fridge Soup. Jacques looks in the fridge, pulls out whatever leftovers there are, and makes a soup. Hence the name, Fridge Soup.
What I found neat was his use of grits in this soup. ( we talked about making grits with my neighbor Charlie on this episode of GF Radio here ). Jacques uses instant grits as a thickener for the vegetable soup.
Lightbulb moment for me, the un-expert in the kitchen.
We live quite a way from the nearest grocery store, and I avoid making a trip just to buy a few things, so for dinner this weekend, I decided to apply the Fridge Soup Methodology to a real world situation.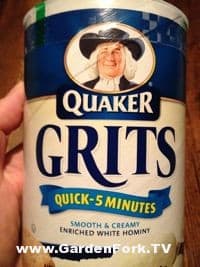 In our fridge we had carrots - we always have carrots, horse people, you know - cabbage left over from a fermentation experiment, onions, and a sweet potato.
So all this went into the pot. I started first with the onions and olive oil, added some crushed garlic. Then in went the carrots sliced up. ( Charlie Pup knows when you are slicing carrots, and will arrive to take care of the top of the carrot for you; Henry won't eat carrots ) I like to try to get some browning on the carrots, not sure if it makes a difference, but I do it. Then the cabbage and sliced up sweet potato ( skin on , BTW ).
I added water to top it off and let is simmer. You could also do this in slow cooker. I did not add any vegetable stock or boullion; basically the ingredients were the stock, was my thinking.
I had some thyme from the garden that I hard harvested before the last big snowstorm, and it was slowly drying in a bowl in the kitchen, so in it went, though technically it wasn't in the fridge.
Some wayward egg noodles from a half open bag were thrown in when I served the soup, and there you go: Fridge Soup .
I'll have to experiment with using grits as a thickener for soup, neat idea. What do you do for simple soups from the fridge? Let us know in the comments below:


Click Here to Buy Fast Food My Way From IndieBound Here
Click Here To Buy Fast Food My Way From Amazon