I was walking with my neighbor on some land he owns near my house. He was having the woods opened up by the local sawmill. They were taking oak, beech, ash and pine out of the woods. We came across two deer stands, built probably 10 years ago, and he said I could use the deer stands.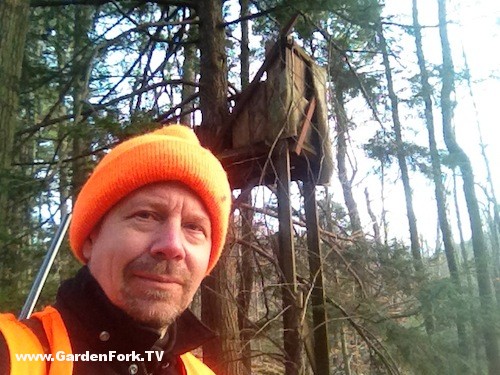 This afternoon, a few days into the deer season, I was up in the better looking of the two hand built deer stands. Made of scrap lumber, they have this backyard tree house look to them. They would not pass any building code inspection. But they work for what they were built for. Seating consisted of a milk crate, the sides of the stand had carpet tacked to it, with some pine boughs whose needles had dropped attached to the sides of the stand.
In other words, a perfect DIY tree stand.
You see many deer stands for sale by the sporting stores, with ladders and steps and soft chairs, but this one works for me. Plus the fact that it was already in the woods. I didn't have to carry a stand into the woods, assemble it, and hope that no one stole it. ( happens rarely, but one never knows )
I am not the most accomplished deer hunter, I don't have all the bells and whistles, just a deer rifle and insulated coveralls. One can go crazy with gear, much like other endeavors - glad I don't own a boat...
What I like most about deer season is I make myself go into the woods in the early morning or late afternoon, despite my aversion to cold weather, and just sit. You do a lot of staying in one place with hunting, it forces you to pay attention to subtle changes and sounds. Eventually your mind clears, and all the noise of the modern world is turned off.
What was that click of a branch over there?
Next you notice the sun changing. A cloud has moved, and the sun shines clear on the trees, but its getting near the ridge line. I know when the sun sets below the ridge, its time to go home.
Today there were no deer, but it was good to be out anyway, thanks to my neighbor.