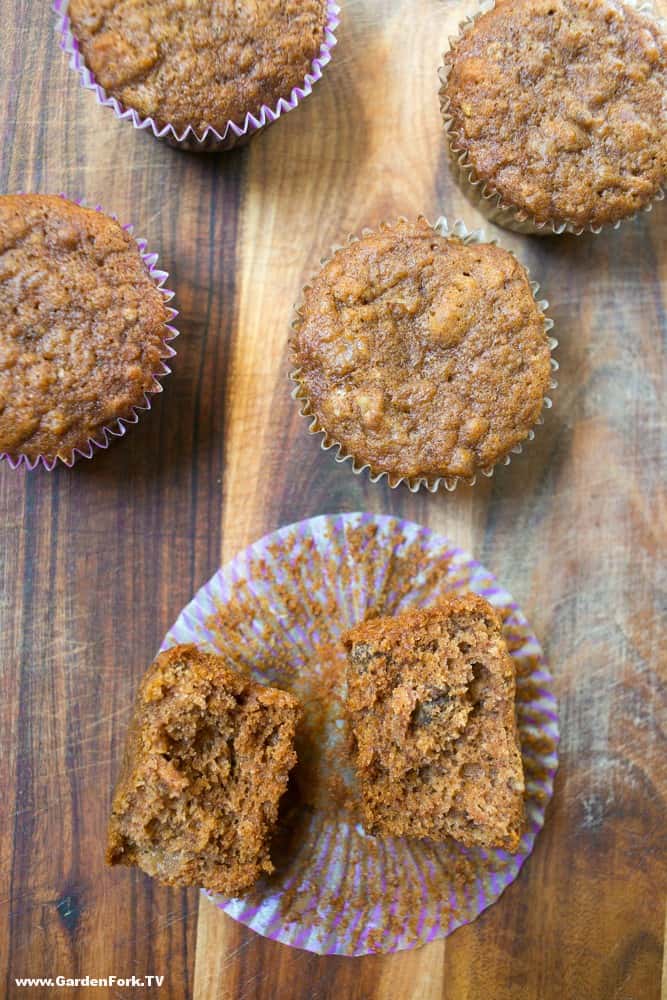 Sometimes I literally work for food, like last week when Eric brought by a mix of Bosc and Bartlett pears. They were speckled and imperfect but still beautifully fall, boasting shades of yellow and green fit to make the barely-changing leaves here in Brooklyn jealous.
We ate some with the most minimal of processing - a scrub and some spot- and worm-removal, but I saved just enough to make an adaptation of one of my favorite bundt cakes. The family recipe for pearsauce cake is one I treasure but sometimes hesitate to replicate because it never tastes quite as spectacular as at the farm, where it is executed not only with pears from the property but also estate walnuts and raisins (well, estate-grown grapes, also dried on premises). These muffins didn't disappoint, though - buttery, sweet, and bursting with warm spices, in particular a hefty dose of ground cloves. I skipped the raisins and swapped walnuts for toasted pecans because they were what we had on-hand, but feel free to use whichever you like best. You can also substitute the pearsauce with 1 ¼ c applesauce, although you'll miss out on that ever-so-slight and I daresay delightful grittiness from the pears.
Spiced Pearsauce Muffins
18 muffins
Ingredients
• 4 c peeled, chopped, fresh pear
• 1 cinnamon stick
• pinch freshly grated nutmeg
• 1 ½ c all-purpose flour
• ½ tablespoon (1 ½ tsp) baking soda
• ½ tablespoon (1 ½ tsp) ground cinnamon
• ½ tablespoon (1 ½ tsp) ground cloves
• ¾ teaspoon freshly grated nutmeg
• ¼ teaspoon salt
• 8 tablespoon (1 stick) butter, room temperature
• ¾ c sugar
• 1 egg
• ½ c roughly chopped walnuts or toasted pecans
• ½ c raisins (optional)
Cooking Directions
1. Make the pearsauce. Add the fresh pear, cinnamon stick, and pinch of nutmeg to a medium pot over medium heat. Cover and cook, stirring occasionally, until the pears are completely soft. Add water if the pears start to stick to the bottom before they are fully cooked. Use a potato masher to mash the pears until only small chunks remain. Cook uncovered until the pearsauce is reduced to 1 ¼ c. Remove the cinnamon stick and cool to room temperature.
2. Preheat the oven to 300 degrees F. Line a muffin tin with liners. (I have never tried greasing/spraying the pan so I\\\\\\\'m not sure whether that would do that job.) In a medium bowl, whisk together the flour, baking soda, ground cinnamon, ground cloves, nutmeg, and salt.
3. In the large bowl of a stand mixer, cream together the butter and sugar on medium-high using the paddle attachment until light and fluffy. Reduce speed to low, add the egg, and beat until just incorporated. Add the flour mixture and beat until just combined. Add the cooled pearsauce (1 ¼ c, see step 1) and beat until smooth. Stir in the nuts and raisins.
4. Fill each muffin cup about ¾ full and bake until a toothpick inserted comes out clean, about 45 minutes. Serve warm or room temperature. Store in an airtight container.
Love pears? Try my pear and carrot soup recipe on punctuated. with food.