Well, I'm still working my way through that big jar of tamarind paste and really enjoying the journey. A dish that's a hit in my household is one I've been making for a couple years now and was inspired by the overabundance of poblano peppers we had at the farm. We always had a surplus, in part because they are easy to grow organically but also because it seems like people don't really know what to do with them. If you've never had poblano peppers before, I urge you to give them a try. They are considered a hot pepper but have a mild, pleasant heat that pairs beautifully with eggs, and they're a great fit for stuffing.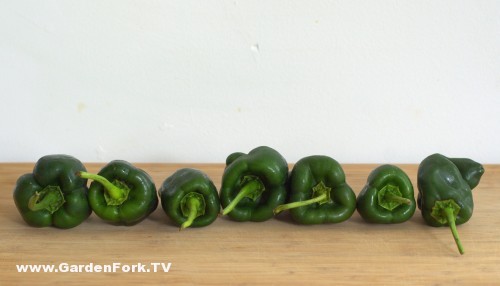 This recipe is one that originally began by following Pham Fatale's mirchi ka salan recipe but that I've adapted and simplified over time, so much that I'm avoiding calling this mirchi ka salan for fear of being called out by an Indian food expert. It may not be authentic, but it's loaded with the flavors of Indian spices. Speaking of which, don't let the long ingredient list deter you from giving it a try – I'll bet you have some jars of spices just waiting to be put to good use.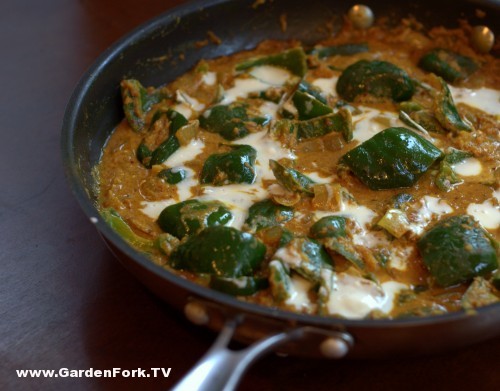 We usually eat this Indian poblano dish over plain rice but sometimes switch it up by adding boiled, cubed potatoes to the sauce instead.
Spicy Indian Poblano Peppers
Ingredients
•    1 tablespoon tamarind paste
•    1 tablespoon honey
•    ¾ c water, divided use
•    coconut oil (or neutral oil)
•    1 large onion, roughly chopped
•    3 garlic cloves, finely chopped
•    large pinch of salt
•    2-inch piece of ginger, peeled and finely chopped
•    2 teaspoon cumin seed
•    1 teaspoon turmeric
•    1 teaspoon ground coriander
•    1-2 teaspoon chili pepper flakes (or omit, depending on your heat preference)
•    2 teaspoon garam masala
•    8 poblano peppers, chopped into bite-size pieces
•    ½ c peanuts, finely ground in a food processor or spice grinder
•    ½ c shredded coconut
•    ½ c plain yogurt
Cooking Directions
1. In a small bowl, mix together the tamarind paste, honey, and ¼ c of the water. Set aside.
2. Place a large pan over medium-high heat and add enough oil to coat the bottom. Add the onion, garlic, salt, and spices and cook, stirring occasionally, until the onion is soft and translucent, about 5 minutes.
3. Add the peppers and cook another 5 minutes, or until they are just tender. If at any point things are looking too dry, add a tablespoon or two of water or oil.
4. Add the peanuts, coconut, and remaining ½ c water, reduce heat to medium-low, and let simmer for 5-10 minutes or until the mixture is a thick, cohesive sauce.
5. Stir in the tamarind-honey mixture and cook another minute.
6. Remove from heat and stir in the yogurt.