Wondering how to start an olive grove? Listen to GardenFork radio as we talk with Mara and Sarah on what is involved with planting olive oil trees and how to harvest olive oil.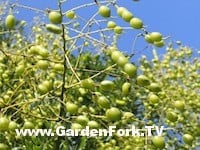 Mara tells us about she and her partner bought a small farm and planted 100 olive trees, and how they harvest olive oil, how it is processed, and what is involved with running a small olive oil business. For Mara its not quite a business, they use a lot of what they crush, though they do sell some at the farmers market.
Mara corrals her friends to hand pick the olives and manages to get it done in one day. They then truck them to another county to an olive crusher.
Mara talks a bit about the olive fruit fly, which has become a problem for olive oil groves in California. It is the main pest and one has to sort out olives that have eggs laid in them. They use GF 120 that is painted on the trees and attracts the flies and cuts down on the amount of damage.
Want to start an olive grove?
Mara says the varietal is important. Mara tasted many olive oils and settled on what kind of olive trees to plant, and managed to buy olive trees from a nearby olive orchard. Soil conditions to affect the taste of oil does make a difference, just like with wine. Mara does most of the work herself, and on picking day, she hires a crew, they are better than relatives!
There is a mobile olive oil press that will come to your farm, but one has to have a certain amount of olives to press.
Olive Oil adulteration is a big problem in the US, Eric thinks. Mara points out that her cost is $100 / gallon just to make extra virgin olive oil, so even at larger amounts, with economies of scale, real extra virgin olive oil can't taste $8 for a bottle
Tom Mueller's blog, Truthinoliveoil.com, has a list of quality olive oils available in the supermarket and suggests what you should buy. Tom also is the author of the book, Extra Virginity, The sublime and scandalous world of olive oil.