This winter feeding sugar cake recipe is an alternative to making fondant to feed your bees. From what I read in beekeeping magazines and online forums, it seems many people are moving to simple cakes of sugar, an alternative to sugar candy, which is a pain to make. We use these cakes in our winter insulated inner covers.
Note: I no longer use sugar cakes, I now use the Mountain Camp dry sugar method, its much easier.

I use shallow foil cake pans to make these sugar cakes, you can use whatever you want, or you could just hand form them into patties or rounds.
My point here being you don't need to use foil pans for molds, you can free form the things, I just like how the foil holds the sugar cakes together, and are easy to transport in my truck.
The cakes do not always dry perfectly, it has to do with how much moisture is already in the sugar. I suggest you make these a few days before you are going to use them.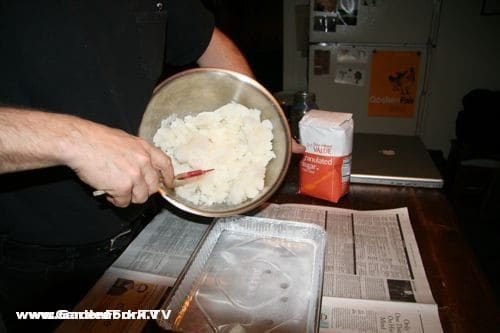 Sugar Cake Recipe For Honeybees
To make what I call sugar cake is pretty simple:
Take a 5 lb bag of white sugar
Mix it in a bowl with 7.5 ounces of water and a few drops of an essential oil mix. our honeybee essential oil recipe below
Mix the water in well
Spread into the foil pans, or drop onto wax paper or paper plates and make round sugar mounds.
Depending on how warm and humid your house is these dry overnight or a few days. Sometimes they crumble and crack, I think this is due to the moisture content of the bag of sugar you are using. Chunks of sugar cake are fine, the bees don't care, really.
It is key to measure the water precisely, i use scale; it makes a big difference. if you add too much water it doesn't dry right, i think.
You can also press this cake mixture into the inside of an insulated inner cover, if its deep enough.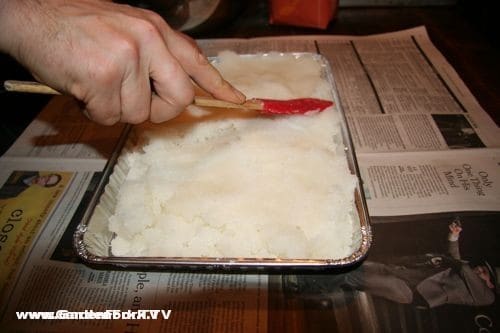 Let the cakes at least dry overnight, a few days is better, and you are ready to place them on the top of the hive. Take care not to crush any bees when you do this. You need to use a spacer shim, or an insulated inner cover with a built in space for feeding when adding sugar cakes to the top of your hive.
Read more of our beekeeping posts here and watch beekeeping videos here. Here is the Honeybee Essential Oil Recipe Thx!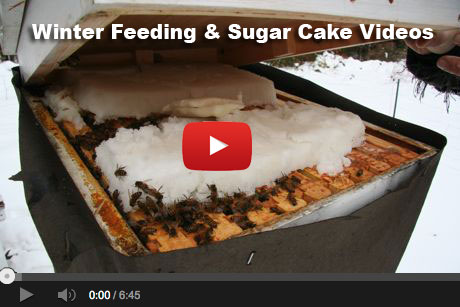 Do you use sugar in your hives in winter? let us know below: