This post may contain affiliate links, it helps us pay the bills, more info here.
Here is a cheap sous vide machine that works almost as well as an expensive sous vide machine. My beer cooler sous vide setup works just as well as those immersion sticks. Watch the video and read on!
The beauty of this cheap sous vide machine is, you probably already have all the parts to make it happen. Its not even a 'machine', I think, it's a big insulator sitting on the shelf in the garage. So go get it, clean it out, and let's go.
One key thing: the lid of most coolers is hollow. Get a can of regular spray foam (not the kind for big gaps) and drill two ⅜" holes in the lid, along the front edge near the corners. Fill the lid with spray foam. Its ok if it spills out the holes, it will dry and you can snap it off. Its best if you prop the lid up so the front edge of the lid is pointing up, that way the foam will flow down into the lid. Let this dry overnight.
How to use the Cheap Sous Vide Machine, aka Beer Cooler Sous Vide
Go buy good steaks. They don't have to be expensive, but I've found steaks at least 1" thick work best. I have also used blade steaks and they work quite well. What kind of steak is up to you.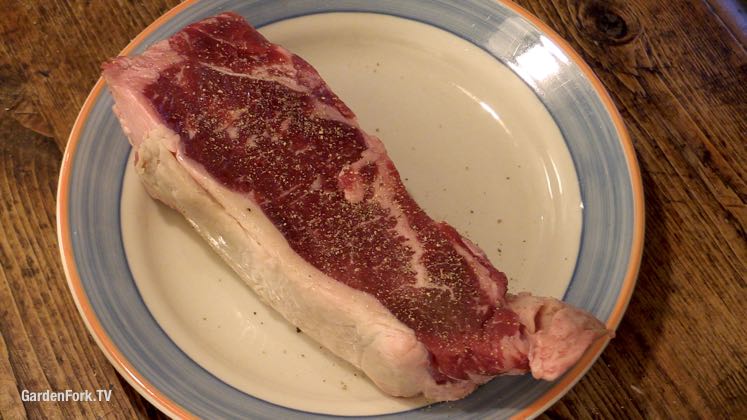 Put the steaks on a tray or plate, and season with salt and pepper on both sides. Put them in the fridge overnight. This allows the salt to permeate the meat and the fridge dries out the steak a bit. Kind of like dry aged steaks only not as dry. It does help.
But if you are like me and don't plan, just salt and pepper the steaks and put each in a zipper bag. Drop the bags into a bowl of water to push out as much of the air as possible. See the video for how to do this. You can drop in some herbs if you want, and add some butter. Nice.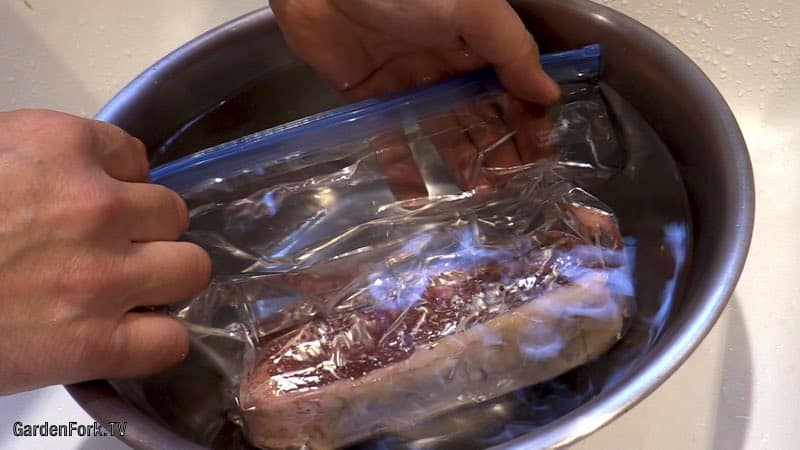 I like my steaks medium rare, so I aim for an internal temperature of about 132º F. This tells me to fill the beer cooler, aka cheap sous vide machine, with water that is 135º F. There will be a bit of a temp drop in the cooler, so bump the water temp a bit higher than your ideal internal meat temperature. Keep in mind you are going to sear the steak after the beer cooler, so it will raise the temp a bit of the meat.
Once you are happy with the temp of the water in the cooler, drop in your meat in the zipper bag. If the bag wants to float, you need to remove more air. If you've gotten as much air as possible out, use a rubber band some silverware to the bag to keep it submerged. Close the lid.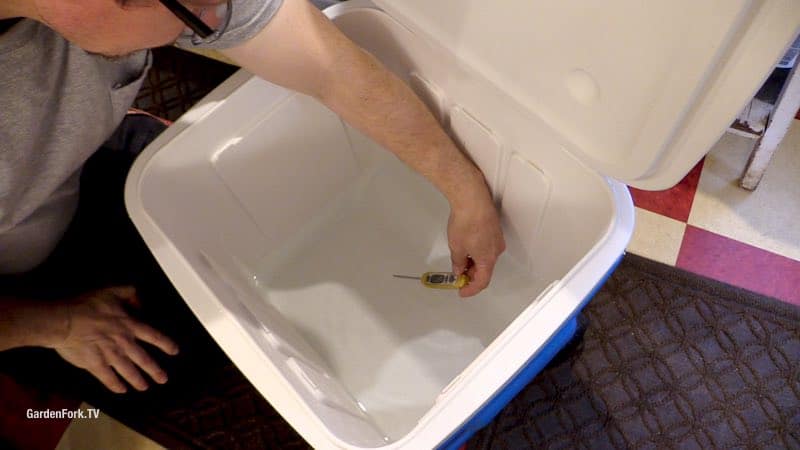 A few times while the water heats the meat, I will pop the lid and stir the water real quick. After an hour, I take out the bags and fire up the grill or the cast iron pan.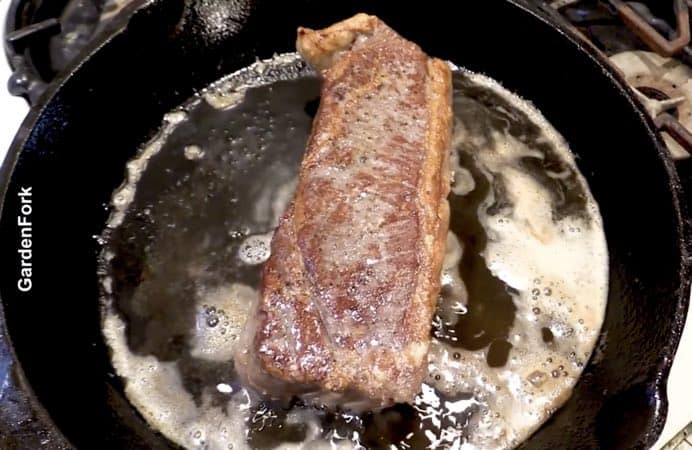 IMO, the best way to sear a steak is a cast iron pan, but you can use the grill if you want. OK with me...
Dry the meat after pulling it out of the bag, preheat and oil your pan, and drop in the steaks. Sear each side quick, you can add butter if you want to make a quick sauce - like we do in this steak cooking video - and place on a plate. Let the steak rest at least 5 minutes, OK?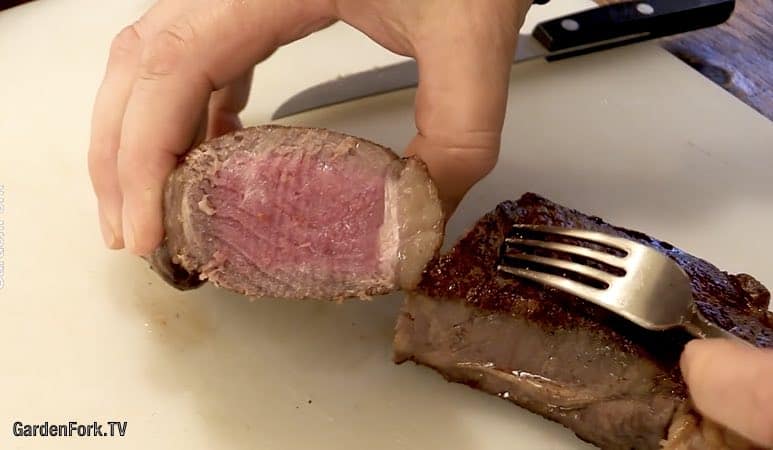 Then pour a nice glass of red wine, sit down with those mashed potatoes you made, and enjoy. You've cooked an amazing steak with gear from your garage.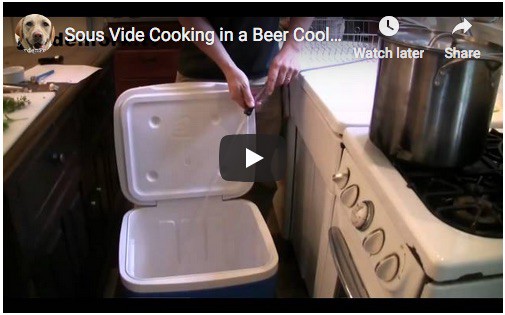 A while back I made my first video about the beer cooler sous vide rig.
You want to cook a steak, right, and you want to try that sous vide method. I mean, what's that all about? But the problem is is those sous vide machines are, like, wicked expensive, right, and I'm not gonna go out and buy one of those things and you're maybe thinking but you want to try something, right? Let me take you on my journey of the cheapest, if not free, DIY sous vide machine. You probably already have one in your basement. Hello? Beer cooler sous vide. Ready? Here we go.
I made a video about this cheap sous vide machine quite a while ago and the other day, the light bulb went off. I had some steaks. I had more than this and I was like, Let's sous vide these puppies again and I brought out my DIY sous vide beer cooler machine. Total credit, I did not invite this. Invite? Invent this. Kenji Lopez Alt from Serious Eats and also the fantastic book, The Food Lab, he came up with this.
I'm just showing you his, I'm spreading his word, okay? This thing is brilliant. It's a cooler but it's also a heater. I mean, it keeps things warm and it keeps things cool. Let me show you.
So coolers are insulated waterproof plastic boxes, right? The trick here is that the top is usually hollow so what Kenji suggests, and I did, was I got some spray foam and I drilled two holes here and then you spray foam the whole lid and that helps insulate. Basically, a giant insulated thing and you usually coop but keep. I can't talk. You usually use it to keep things cold, right? But it equally keeps things hot and sous vide is all about maintaining a constant temperature to cook something to X degrees, right? Enter the beer cooler and hot water and this.
I salted this steak last night and then I put it in the fridge. I didn't cover it. I kind of like that it dries out a little bit but I'm gonna add some pepper. Salt and pepper, yellow Labrador, beer cooler. You don't need to use this big of a cooler. GardenFork is all about, Hey, let's try this and see what happens and use what you got. And this is what we got. So that's what we're using.
And I got a thermometer thing. So I want to see how hot the water comes out of the tap at. Medium rare is what, 130 degrees. This is 128. Maybe it'll kick up a little bit. 127, 126. I'm gonna heat this water up to get that a little above our ideal temperature.
Salt and pepper, zipper bag. Um, this goes in here at the bottom, whoa, there we go. Yeah, like that. And then the goal is to get all or as much of the air out of here as possible. We're gonna do this by submerging it in the water, bringing it all the way up to the zipper part and then sealing this. 'Cause my cooler's so deep, it's kind of hard to show that so I'm gonna show you in a pan of water here. So this is submerged and the water pushes all the air out of the bag there. I don't know if you can see that. So we're just gonna push the bag all the way down. Just fold it on top of itself. That's totally fine. A little bit of air is totally fine and then see how I got this, it's hitting the zipper? The level of the water is hitting the zipper like that? So just push this all down. I run the zipper across while holding this down. It's not rocket science, doesn't have to be perfect. Because on GardenFork, done is better than perfect and this is almost done.
Now, into the cooler. More hot water needed. More hot water. I guess it would help to turn this on, right? Okay, so this is at about 132. That's pretty good. That's like medium, medium rare. This goes in here and it sits like that. And that's it. That's, I mean, you don't have to use this giant cooler. Just a six-pack cooler makes a fine inexpensive sous vide rig. Kenji, in his video on Serious Eats site, has just a six-pack cooler. This just happens to be what I got so that's what we use, right? But it's brilliant and you don't need to be buying one of those fancy machines, right? That in there, one hour. Let's watch Labradors. Ready? Go.
All right, steak time. Wow, it's, wow, you can really feel the warmth in here and that is at, this thermometer runs really slow, so. Shaking it helps, you know. Whoa, it fogs the lens. Sorry. 129. Pretty good. Pull this out. How cool is that? So it looks brown. It doesn't look super tasty but just hold on, okay? Wait 'til we taste this at the end of the video. So this doesn't look great. That's okay. It's going to be fantastic. Stick around for the tasting at the end of the video. Keep that up really hot. So you want this to be what I call wompin' hot. That's hot. We're gonna throw some vegetable oil in here and then we want to get it to the smoke point of the oil and then lay the steak in.
All right, vegetable oil. I want to get it to its heat smoke point, which it's pretty much close to right now. Heat, fan on, sorry. This is hot. This . All right, every 30 seconds now, according to Kenji, I'm gonna turn this. I'm being splattered right now. 30 seconds, turn. 30 seconds, turn, and a wadge of butter. Maybe there's too much vegetable oil in there. Let's see what happens. Okay, after about two minutes of searing, I want to cook the fat along the edge there. Now comes the hardest part. Let your steak rest a couple minutes. This smells great.
Let's just go right for the center and see what happens. Wow, look how nicely that cuts. Oh, look at that. That, all the way through and then the sear. Pink all the way through and the sear. That is amazing. That is amazing. It's tender. It's got flavor from salt and pepper. It's not that overcooked edges. I'm talking really well with food in my mouth, aren't I? Phenomenal.