While making biscuits for the Biscuits and Gravy Recipe Show, we were using a short glass to cut the biscuits.
The biscuits came out OK, but I was underwhelmed by the rise. Watch the video here to see the epiphany of using freshly made baking powder.
But I was also thinking about the glass we used to cut out the biscuits. I was wondering if the glass, which is fairly thick, was actually kinda pinching the biscuit dough as it pressed down and twisted the glass.
On the Gardenfork.tv website, I read some comments that a thick glass does indeed pinch the biscuit and that you should not twist the cutter either, as that also binds the edges of the unbaked biscuit dough.
I thought I should go buy a stainless steel biscuit cutter, but I'm in the woods here ( in more ways than one ), and not into filling my kitchen with more stuff.
I looked around the kitchen for what was round and similar to a biscuit cutter. Online someone suggested a tuna fish can, but still it seemed the lip on the tuna can might hinder rise.
I then saw one of my salt shakers, and had the eureka moment.
I pressed out my biscuit dough, and cut the biscuits with and without twisting. Its much easier the get the biscuits to cut with the twist.
I put them on parchment, marked the biscuits sans twist, and baked them
None of the biscuits in this batch of dough were amazing, but they were not bad. But my very unscientific test ( we're not America's Test Kitchen here ) shows that twisting the cutter has no difference on the rise of the biscuit. A number of the biscuits that were twisted were taller than the non-twist biscuits.
I still need to work on cutting the flour and butter together. Maybe I can find a food processor at a garage sale. The bowl of mine seems too big for the blades. Not sure why, might have to embark on more America's Test Kitchen style adventures. Where's my apron....
Added: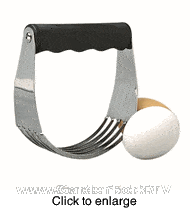 Pat, who commented below, makes a good point. You can just use a pastry blender to cut together the flour and butter. But you've got to have a good pastry blender, like the one Pat has linked to.